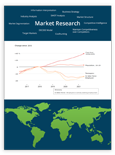 Global Logistics Robots Market Growth (Status and Outlook) 2021-2026
ID: 100749

February 4, 2021

130 pages

LP Information
According to this study, over the next five years the Logistics Robots market will register a 24.4%% CAGR in terms of revenue, the global market size will reach $ 6380.3 million by 2020, from $ 2666 million in 2019. Specially this report presents the global revenue market share of key companies in Logistics Robots business, shared in Chapter 3.
This report presents a comprehensive overview, market shares, and growth opportunities of Logistics Robots market by product type, application, key manufacturers and key regions and countries.
This study specially analyses the impact of Covid-19 outbreak on the Logistics Robots, covering the supply chain analysis, impact assessment to the Logistics Robots market size growth rate in several scenarios, and the measures to be undertaken by Logistics Robots companies in response to the COVID-19 epidemic.
Segmentation by product type:
Picking Robots
AGVs
Others
Segmentation by Application:
Warehouse
Outdoor
This report also splits the market by region:
Americas
United States
Canada
Mexico
APAC
China
Japan
Korea
Southeast Asia
India
Australia
Europe
Germany
France
UK
Italy
Russia
The report also presents the market competition landscape and a corresponding detailed analysis of the major players in the market. The key players covered in this report:
KUKA (Swisslog)
Daifuku
Knapp
Dematic
Grenzebach
Bastian
CIM Corp
Amazon Robotics
Vanderlande
Vecna
Hitachi
Hi-tech Robotic Systemz
Adept Technology
Grey Orange
IAM Robotics
Fetch Robotics

1 Scope of the Report
1.1 Market Introduction
1.2 Years Considered
1.3 Research Objectives
1.4 Market Research Methodology
1.5 Research Process and Data Source
1.6 Economic Indicators
1.7 Currency Considered
2 Executive Summary
2.1 World Market Overview
2.1.1 Global Logistics Robots Market Size 2021-2026
2.1.2 Logistics Robots Market Size CAGR by Region
2.2 Logistics Robots Segment by Type
2.2.1 Picking Robots
2.2.2 AGVs
2.2.3 Others
2.3 Logistics Robots Market Size by Type
2.3.1 Global Logistics Robots Market Size Market Share by Type (2021-2026)
2.3.2 Global Logistics Robots Market Size Growth Rate by Type (2021-2026)
2.4 Logistics Robots Segment by Application
2.4.1 Warehouse
2.4.2 Outdoor
2.5 Logistics Robots Market Size by Application
2.5.1 Global Logistics Robots Market Size Market Share by Application (2021-2026)
2.5.2 Global Logistics Robots Market Size Growth Rate by Application (2021-2026)
3 Logistics Robots Key Players
3.1 Date of Key Players Enter into Logistics Robots
3.2 Key Players Logistics Robots Product Offered
3.3 Key Players Logistics Robots Funding/Investment Analysis
3.4 Funding/Investment
3.4.1 Funding/Investment by Regions
3.4.2 Funding/Investment by End-Industry
3.5 Key Players Logistics Robots Valuation & Market Capitalization
3.6 Key Players Mergers & Acquisitions, Expansion Plans
3.7 Market Ranking
3.8 New Product/Technology Launches
3.9 Partnerships, Agreements, and Collaborations
3.10 Mergers and Acquisitions
4 Logistics Robots by Regions
4.1 Logistics Robots Market Size by Regions (2021-2026)
4.2 Americas Logistics Robots Market Size Growth (2021-2026)
4.3 APAC Logistics Robots Market Size Growth (2021-2026)
4.4 Europe Logistics Robots Market Size Growth (2021-2026)
5 Americas
5.1 Americas Logistics Robots Market Size by Countries (2021-2026)
5.2 Americas Logistics Robots Market Size by Type (2021-2026)
5.3 Americas Logistics Robots Market Size by Application (2021-2026)
5.4 United States
5.5 Canada
5.6 Mexico
5.7 Brazil
6 APAC
6.1 APAC Logistics Robots Market Size by Regions
6.2 APAC Logistics Robots Market Size by Type (2021-2026)
6.3 APAC Logistics Robots Market Size by Application (2021-2026)
6.4 China
6.5 Japan
6.6 Korea
6.7 Southeast Asia
6.8 India
6.9 Australia
7 Europe
7.1 Europe Logistics Robots by Countries (2021-2026)
7.2 Europe Logistics Robots Market Size by Type (2021-2026)
7.3 Europe Logistics Robots Market Size by Application (2021-2026)
7.4 Germany
7.5 France
7.6 UK
7.7 Italy
7.8 Russia
8 Market Drivers, Challenges and Trends
8.1 Market Drivers and Impact
8.1.1 Growing Demand from Key Regions
8.1.2 Growing Demand from Key Applications and Potential Industries
8.2 Market Challenges and Impact
8.3 Market Trends
8.4 Market Ecosystem and Roles
9 Key Investors in Logistics Robots
9.1 Company A
9.1.1 Company A Company Details
9.1.2 Company Description
9.1.3 Companies Invested by Company A
9.1.4 Company A Key Development and Market Layout
9.2 Company B
9.2.1 Company B Company Details
9.2.2 Company Description
9.2.3 Companies Invested by Company B
9.2.4 Company B Key Development and Market Layout
9.3 Company C
9.3.1 Company C Company Details
9.3.2 Company Description
9.3.3 Companies Invested by Company C
9.3.4 Company C Key Development and Market Layout
9.4 Company D
9.5 ……
10 Key Players Analysis
10.1 KUKA (Swisslog)
10.1.1 KUKA (Swisslog) Company Details
10.1.2 KUKA (Swisslog) Logistics Robots Product Offered
10.1.3 KUKA (Swisslog) Logistics Robots Market Size (2021 VS 2026)
10.1.4 KUKA (Swisslog) Main Business Overview
10.1.5 KUKA (Swisslog) Latest Developments
10.2 Daifuku
10.2.1 Daifuku Company Details
10.2.2 Daifuku Logistics Robots Product Offered
10.2.3 Daifuku Logistics Robots Market Size (2021 VS 2026)
10.2.4 Daifuku Main Business Overview
10.2.5 Daifuku Latest Developments
10.3 Knapp
10.3.1 Knapp Company Details
10.3.2 Knapp Logistics Robots Product Offered
10.3.3 Knapp Logistics Robots Market Size (2021 VS 2026)
10.3.4 Knapp Main Business Overview
10.3.5 Knapp Latest Developments
10.4 Dematic
10.4.1 Dematic Company Details
10.4.2 Dematic Logistics Robots Product Offered
10.4.3 Dematic Logistics Robots Market Size (2021 VS 2026)
10.4.4 Dematic Main Business Overview
10.4.5 Dematic Latest Developments
10.5 Grenzebach
10.5.1 Grenzebach Company Details
10.5.2 Grenzebach Logistics Robots Product Offered
10.5.3 Grenzebach Logistics Robots Market Size (2021 VS 2026)
10.5.4 Grenzebach Main Business Overview
10.5.5 Grenzebach Latest Developments
10.6 Bastian
10.6.1 Bastian Company Details
10.6.2 Bastian Logistics Robots Product Offered
10.6.3 Bastian Logistics Robots Market Size (2021 VS 2026)
10.6.4 Bastian Main Business Overview
10.6.5 Bastian Latest Developments
10.7 CIM Corp
10.7.1 CIM Corp Company Details
10.7.2 CIM Corp Logistics Robots Product Offered
10.7.3 CIM Corp Logistics Robots Market Size (2021 VS 2026)
10.7.4 CIM Corp Main Business Overview
10.7.5 CIM Corp Latest Developments
10.8 Amazon Robotics
10.8.1 Amazon Robotics Company Details
10.8.2 Amazon Robotics Logistics Robots Product Offered
10.8.3 Amazon Robotics Logistics Robots Market Size (2021 VS 2026)
10.8.4 Amazon Robotics Main Business Overview
10.8.5 Amazon Robotics Latest Developments
10.9 Vanderlande
10.9.1 Vanderlande Company Details
10.9.2 Vanderlande Logistics Robots Product Offered
10.9.3 Vanderlande Logistics Robots Market Size (2021 VS 2026)
10.9.4 Vanderlande Main Business Overview
10.9.5 Vanderlande Latest Developments
10.10 Vecna
10.10.1 Vecna Company Details
10.10.2 Vecna Logistics Robots Product Offered
10.10.3 Vecna Logistics Robots Market Size (2021 VS 2026)
10.10.4 Vecna Main Business Overview
10.10.5 Vecna Latest Developments
10.11 Hitachi
10.12 Hi-tech Robotic Systemz
10.13 Adept Technology
10.14 Grey Orange
10.15 IAM Robotics
10.16 Fetch Robotics
11 Research Findings and Conclusion

List of Tables
Table 1. Logistics Robots Market Size CAGR by Region (2021-2026) ($ Millions)
Table 2. Major Players of Picking Robots
Table 3. Major Players of AGVs
Table 4. Major Players of Others
Table 5. Global Market Size by Type (2021-2026) ($ Millions)
Table 6. Global Logistics Robots Market Size Market Share by Type (2021-2026)
Table 7. Global Logistics Robots Market Size by Application (2021-2026) ($ Millions)
Table 8. Global Logistics Robots Market Size Market Share by Application (2021-2026)
Table 9. Date of Global Key Players Enter into Logistics Robots Market
Table 10. Global Key Players Logistics Robots Product Offered
Table 11. Key Players Logistics Robots Funding/Investment ($ Millions)
Table 12. Funding/Investment by Regions
Table 13. Funding/Investment by End Industry
Table 14. Key Players Logistics Robots Valuation & Market Capitalization ($ Millions)
Table 15. Key Players Mergers & Acquisitions, Expansion Plans
Table 16. Logistics Robots New Product/Technology Launches
Table 17. Logistics Robots Industry Partnerships, Agreements, and Collaborations
Table 18. Logistics Robots Industry Mergers and Acquisitions
Table 19. Global Logistics Robots Market Size by Regions 2021-2026 ($ Millions)
Table 20. Global Logistics Robots Market Size Market Share by Regions 2021-2026
Table 21. Americas Logistics Robots Market Size by Countries (2021-2026) ($ Millions)
Table 22. Americas Logistics Robots Market Size Market Share by Countries (2021-2026)
Table 23. Americas Logistics Robots Market Size by Type (2021-2026) ($ Millions)
Table 24. Americas Logistics Robots Market Size Market Share by Type (2021-2026)
Table 25. Americas Logistics Robots Market Size by Application (2021-2026) ($ Millions)
Table 26. Americas Logistics Robots Market Size Market Share by Application (2021-2026)
Table 27. APAC Logistics Robots Market Size by Regions (2021-2026) ($ Millions)
Table 28. APAC Logistics Robots Market Size Market Share by Regions (2021-2026)
Table 29. APAC Logistics Robots Market Size by Type (2021-2026) ($ Millions)
Table 30. APAC Logistics Robots Market Size Market Share by Type (2021-2026)
Table 31. APAC Logistics Robots Market Size by Application (2021-2026) ($ Millions)
Table 32. APAC Logistics Robots Market Size Market Share by Application (2021-2026)
Table 33. Europe Logistics Robots Market Size by Countries (2021-2026) ($ Millions)
Table 34. Europe Logistics Robots Market Size Market Share by Countries (2021-2026)
Table 35. Europe Logistics Robots Market Size by Type (2021-2026) ($ Millions)
Table 36. Europe Logistics Robots Market Size Market Share by Type (2021-2026)
Table 37. Europe Logistics Robots Market Size by Application (2021-2026) ($ Millions)
Table 38. Europe Logistics Robots Market Size Market Share by Application (2021-2026)
Table 39. Key and Potential Regions of Logistics Robots
Table 40. Key Application and Potential Industries of Logistics Robots
Table 41. Key Challenges of Logistics Robots
Table 42. Key Trends of Logistics Robots
Table 43. Company A Company Details
Table 44. Companies Invested by Company A
Table 45. Company A Key Development and Market Layout
Table 46. Company B Company Details
Table 47. Companies Invested by Company B
Table 48. Company B Key Development and Market Layout
Table 49. Company C Company Details
Table 50. Companies Invested by Company C
Table 51. Company C Key Development and Market Layout
Table 52. Company C Company Details
Table 53. Companies Invested by Company C
Table 54. Company C Key Development and Market Layout
Table 55. KUKA (Swisslog) Basic Information, Head Office, Major Market Areas and Its Competitors
Table 56. KUKA (Swisslog) Logistics Robots Market Size (2021 VS 2026)
Table 57. Daifuku Basic Information, Head Office, Major Market Areas and Its Competitors
Table 58. Daifuku Logistics Robots Market Size (2021 VS 2026)
Table 59. Knapp Basic Information, Head Office, Major Market Areas and Its Competitors
Table 60. Knapp Logistics Robots Market Size (2021 VS 2026)
Table 61. Dematic Basic Information, Head Office, Major Market Areas and Its Competitors
Table 62. Dematic Logistics Robots Market Size (2021 VS 2026)
Table 63. Grenzebach Basic Information, Head Office, Major Market Areas and Its Competitors
Table 64. Grenzebach Logistics Robots Market Size (2021 VS 2026)
Table 65. Bastian Basic Information, Head Office, Major Market Areas and Its Competitors
Table 66. Bastian Logistics Robots Market Size (2021 VS 2026)
Table 67. CIM Corp Basic Information, Head Office, Major Market Areas and Its Competitors
Table 68. CIM Corp Logistics Robots Market Size (2021 VS 2026)
Table 69. Amazon Robotics Basic Information, Head Office, Major Market Areas and Its Competitors
Table 70. Amazon Robotics Logistics Robots Market Size (2021 VS 2026)
Table 71. Vanderlande Basic Information, Head Office, Major Market Areas and Its Competitors
Table 72. Vanderlande Logistics Robots Market Size (2021 VS 2026)
Table 73. Vecna Basic Information, Head Office, Major Market Areas and Its Competitors
Table 74. Vecna Logistics Robots Market Size (2021 VS 2026)
Table 75. Hitachi Basic Information, Head Office, Major Market Areas and Its Competitors
Table 76. Hitachi Logistics Robots Market Size (2021 VS 2026)
Table 77. Hi-tech Robotic Systemz Basic Information, Head Office, Major Market Areas and Its Competitors
Table 78. Hi-tech Robotic Systemz Logistics Robots Market Size (2021 VS 2026)
Table 79. Adept Technology Basic Information, Head Office, Major Market Areas and Its Competitors
Table 80. Adept Technology Logistics Robots Market Size (2021 VS 2026)
Table 81. Grey Orange Basic Information, Head Office, Major Market Areas and Its Competitors
Table 82. Grey Orange Logistics Robots Market Size (2021 VS 2026)
Table 83. IAM Robotics Basic Information, Head Office, Major Market Areas and Its Competitors
Table 84. IAM Robotics Logistics Robots Market Size (2021 VS 2026)
Table 85. Fetch Robotics Basic Information, Head Office, Major Market Areas and Its Competitors
Table 86. Fetch Robotics Logistics Robots Market Size (2021 VS 2026)
List of Figures
Figure 1. Picture of Logistics Robots
Figure 2. Logistics Robots Report Years Considered
Figure 3. Research Objectives
Figure 4. Research Methodology
Figure 5. Research Process and Data Source
Figure 6. Global Logistics Robots Market Size Growth Rate 2021-2026 ($ Millions)
Figure 7. Logistics Robots Market Size by Region (2021 & 2026) ($ millions)
Figure 8. Global Logistics Robots Market Size Market Share by Type (2021-2026)
Figure 9. Global Picking Robots Market Size Growth Rate
Figure 10. Global AGVs Market Size Growth Rate
Figure 11. Global Others Market Size Growth Rate
Figure 12. Logistics Robots in Warehouse
Figure 13. Global Logistics Robots Market: Warehouse (2021-2026) ($ Millions)
Figure 14. Logistics Robots in Outdoor
Figure 15. Global Logistics Robots Market: Outdoor (2021-2026) ($ Millions)
Figure 16. Global Logistics Robots Market Size Market Share by Application (2021-2026)
Figure 17. Global Logistics Robots Market Size in Warehouse Growth Rate
Figure 18. Global Logistics Robots Market Size in Outdoor Growth Rate
Figure 19. Funding/Investment
Figure 20. Global Logistics Robots Market Size Market Share by Regions 2021-2026
Figure 21. Americas Logistics Robots Market Size 2021-2026 ($ Millions)
Figure 22. APAC Logistics Robots Market Size 2021-2026 ($ Millions)
Figure 23. Europe Logistics Robots Market Size 2021-2026 ($ Millions)
Figure 24. Americas Logistics Robots Market Size Market Share by Countries in 2020
Figure 25. Americas Logistics Robots Market Size Market Share by Type in 2020
Figure 26. Americas Logistics Robots Market Size Market Share by Application in 2020
Figure 27. United States Logistics Robots Market Size Growth 2021-2026 ($ Millions)
Figure 28. Canada Logistics Robots Market Size Growth 2021-2026 ($ Millions)
Figure 29. Mexico Logistics Robots Market Size Growth 2021-2026 ($ Millions)
Figure 30. Brazil Logistics Robots Market Size Growth 2021-2026 ($ Millions)
Figure 31. APAC Logistics Robots Market Size Market Share by Regions in 2020
Figure 32. APAC Logistics Robots Market Size Market Share by Type in 2020
Figure 33. APAC Logistics Robots Market Size Market Share by Application in 2020
Figure 34. China Logistics Robots Market Size Growth 2021-2026 ($ Millions)
Figure 35. Japan Logistics Robots Market Size Growth 2021-2026 ($ Millions)
Figure 36. Korea Logistics Robots Market Size Growth 2021-2026 ($ Millions)
Figure 37. Southeast Asia Logistics Robots Market Size Growth 2021-2026 ($ Millions)
Figure 38. India Logistics Robots Market Size Growth 2021-2026 ($ Millions)
Figure 39. Australia Logistics Robots Market Size Growth 2021-2026 ($ Millions)
Figure 40. Europe Logistics Robots Market Size Market Share by Countries in 2020
Figure 41. Europe Logistics Robots Market Size Market Share by Type in 2020
Figure 42. Europe Logistics Robots Market Size Market Share by Application in 2020
Figure 43. Germany Logistics Robots Market Size Growth 2021-2026 ($ Millions)
Figure 44. France Logistics Robots Market Size Growth 2021-2026 ($ Millions)
Figure 45. UK Logistics Robots Market Size Growth 2021-2026 ($ Millions)
Figure 46. Italy Logistics Robots Market Size Growth 2021-2026 ($ Millions)
Figure 47. Russia Logistics Robots Market Size Growth 2021-2026 ($ Millions)