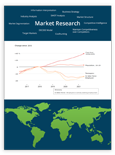 Airport Infrastructure Investment in India (Infrastructure Investments, Projects, Airport, Airlines, & Associations) By Five Year Plans (12th Plan - 15th Plan)
ID: 1033

September 23, 2015

95 pages

Infoholic Research
Aviation industry in India has a persistent pace of growth among the other industries in the world over the past many years. The government's open sky policy has helped a lot of overseas players entering the aviation market in India with huge spending. Emerging business places, increased scope for connectivity, and government initiatives, new operating models of airlines, and tourism drives the dynamic growth of the Airport infrastructure development in India.
Airports offer access to essential infrastructure and services that facilitate air transport. In addition, airports can play a critical role for economic development on local, national and regional levels. The effective and efficient development and functioning of airports is therefore important for the sustainable development of air transport in particular and the economy as whole. The quality of airport infrastructure is a vital component of the overall transportation network, contributes directly to a country's international competitiveness and the flow of foreign investment.
The report defines and segments the Indian Airport Infrastructure spending and identifies drivers and restraints for this market with insights on trends, opportunities, and challenges. Leading players of the industry are Jet Airways, Air India, Indigo, Spice Jet, Go Air, and etc.
Table of Contents
1 Industry Overview
1.1 Industry Trends
1.2 Pest Analysis
2 Report Outline
2.1 Report Scope
2.2 Report Summary
2.3 Research Methodology
2.4 Report Assumptions
3 Market Snapshot
3.1 Total Addressable Market (TAM)
3.2 Related Markets
3.2.1 Smart Airports market
3.2.2 Advanced Airport Technologies Market
4 Market Characteristics
4.1 Evolution of Market
4.2 Value Chain
4.3 Market Segmentation
4.3.1 Airports
4.3.2 Airlines
4.4 Market Dynamics
4.4.1 Drivers
4.4.1.1 Public Private Partnership (PPP) Model
4.4.1.2 Domestic, International and Cargo Traffic
4.4.1.3 Increased Connecting Routes Across Countries
4.4.1.4 Low Cost Airlines
4.4.2 Restraints
4.4.2.1 Maintenance, Repair and Overhaul (MRO) Facilities
4.4.2.2 Inadequate Runways
4.4.3 Opportunities
4.4.3.1 Development of New Airports
4.4.3.2 Employment in the Country
4.4.4 DRO – Impact Analysis
4.5 Porter 5 Forces Analysis
5 Trends & Roadmap
5.1 Market Trends & Impact
5.2 Technology Roadmap
6 Projects
6.1 Ongoing – Global Airport Projects
6.1.1 Future Terminal 1, Lyon–Saint Exupery Airport, France
6.1.1.1 Investment
6.1.2 Tampa International Airport Expansion, Tampa, US
6.1.2.1 Investment
6.1.3 Gatwick Airport Expansion, London, UK
6.1.3.1 Investment
6.1.4 Navi Mumbai International Airport, Mumbai, India
6.1.4.1 Investment
6.1.5 Taiwan Taoyuan International Airport (TPE/RCTP), Taiwan
6.1.5.1 Objectives and Features
6.1.5.2 Investment
6.1.6 John F Kennedy International Airport JetBlue Terminal, New York, US
6.1.7 King Khaled International Airport, Riyadh, Saudi Arabia
6.1.8 Long Thanh International Airport, Vietnam
6.1.8.1 Investment
6.1.9 Halifax Robert L Stanfield International Airport, Nova Scotia, Canada
6.1.10 Frankfurt International Airport Expansion Project, Frankfurt, Germany
6.1.10.1 Objectives
6.1.10.2 Investment
6.2 Ongoing – Indian Airport projects
7 Associations
7.1 Industry Associations
7.1.1 Airports Authority of India
7.1.2 Airports Economic Regulatory Authority
7.1.3 Directorate General of Civil Aviation
7.1.4 Association of Private Airport Operators
8 Airports: Market Size & Analysis
8.1 Overview
8.1.1 International Airport
8.1.1.1 Hotels
8.1.1.2 Shopping Area
8.1.1.3 Conferencing and Entertainment
8.1.1.4 Aircraft Maintenance Engineering
8.2 Domestic Airport
8.2.1 Other Operational
8.2.1.1 Airport Terminals
8.2.1.2 Aircraft Ground Handling
8.2.1.3 Airport Engineering
8.2.1.4 Airport Light
8.3 Vendor profile
8.3.1 Airport Authority of India (AAI)
8.3.1.1 Overview
8.3.1.2 Financial Health
8.3.1.3 SWOT Analysis
8.3.1.4 Objective and Progress
8.3.2 GMR Infrastructure Limited
8.3.2.1 Overview
8.3.2.2 Financial Health
8.3.2.3 SWOT Analysis
8.3.2.4 Objective and progressive
8.3.3 GVK Power & Infrastructure Limited
8.3.3.1 Overview
8.3.3.2 Financial Health
8.3.3.3 SWOT Analysis
8.3.3.4 Objective and Progress
8.3.4 Larsen & Toubro Limited (L&T)
8.3.4.1 Overview
8.3.4.2 Financial Health
8.3.4.3 SWOT Analysis
8.3.4.4 Objective and Progress
8.3.5 Reliance Infrastructure Limited
8.3.5.1 Overview
8.3.5.2 Financial Health
8.3.5.3 SWOT Analysis
8.3.5.4 Objective and Progress
8.3.6 Bengal Aerotropolis Project Limited
8.3.6.1 Overview
8.3.6.2 SWOT Analysis
8.3.6.3 Objective and Progress
9 Airlines: Market Size & Analysis
9.1 Overview
9.2 Air Cargo Traffic
9.3 Air Passenger Traffic
9.4 Vendor Profiles
9.4.1 Air India
9.4.1.1 Overview
9.4.1.2 Financial Health
9.4.1.3 SWOT Analysis
9.4.1.4 Objective and progress
9.4.2 Spice Jet
9.4.2.1 Overview
9.4.2.2 Financial Health
9.4.2.3 SWOT Analysis
9.4.2.4 Objective and Progress
9.4.3 GoAir
9.4.3.1 Overview
9.4.3.2 Financial Health
9.4.3.3 SWOT Analysis
9.4.3.4 Objective and Progress
9.4.4 Jet Airways
9.4.4.1 Overview
9.4.4.2 Financial Health
9.4.4.3 SWOT Analysis
9.4.4.4 Objective and Progress
9.4.5 Air Asia
9.4.5.1 Overview
9.4.5.2 Financial Health
9.4.5.3 SWOT Analysis
9.4.5.4 Objective and Progress
9.4.6 IndiGo
9.4.6.1 Overview
9.4.6.2 Financial Health
9.4.6.3 SWOT Analysis
9.4.6.4 Objective and Progress
10 Infrastructure Investments: Size & Analysis
10.1 Indian Infrastructure
10.1.1 Infrastructure Sectors
10.1.2 Infrastructure Modes
10.2 FDI Policies – Airports Infrastructure/projects
10.3 Aviation Infrastructure
10.3.1 Regional Airports Cost Structure
10.3.2 Air Navigation Services (ANS) Investments
10.3.3 Indian aircrafts investments
10.4 Global & Airport Projects Investments
11 Competitive Landscape
11.1 Mergers & Acquisitions (M&A)
11.2 Venture Capital (VC) Funding
11.3 Joint Ventures & Collaborations
Annexure
Acronyms
List of Tables
TABLE 1 GROSS REVENUE BY INDIAN CIVIL AVIATION SUB-SECTORS
TABLE 2 INDIA'S PER CAPITA DOMESTIC AIR TRIPS
TABLE 3 AIRPORTS AND AIRCRAFTS
TABLE 4 LIST OF DOMESTIC AIRPORTS - INDIA
TABLE 5 AIRPORTS AUTHORITY OF INDIA: REVENUE BY MARKET, 2012-2013 (` CRORES)
TABLE 6 TRAFFIC HANDLED BY AAI DURING 2013-2014
TABLE 7 GMR: REVENUE BY MARKET, 2014-2015 (` CRORES)
TABLE 8 GVK: REVENUE BY MARKET, 2013-2014 (` CRORES)
TABLE 9 LARSEN & TOUBRO LIMITED: REVENUE, 2012-2013 (` CRORES)
TABLE 10 RELIANCE INFRASTRUCTURE: REVENUE BY MARKET, 2013-2014 (IN LAKHS)
TABLE 11 RELIANCE INFRASTRUCTURE: REVENUE BY SEGMENTS, 2013-2014 (` CRORES)
TABLE 12 ADDITIONAL AIRCRAFT FOR DEPLOYMENT ON DOMESTIC SERVICES IN FY2015
TABLE 13 FORECASTED CARGO TRAFFIC (CARRIED) BY FIVE YEAR PLANS
TABLE 14 CARGO THROUGHPUT AT INDIAN AIRPORTS FOR NEXT 20 YEARS BY FIVE YEAR PLANS
TABLE 15 FORECAST OF AIR PASSENGER TRAFFIC (CARRIED) BY FIVE YEAR PLANS
TABLE 16 NON-SCHEDULED DOMESTIC PASSENGER TRAFFIC (CARRIED) BY FIVE YEAR PLANS
TABLE 17 PASSENGER THROUGHPUT AT INDIAN AIRPORTS FOR NEXT 20 YEARS BY FIVE YEAR PLANS
TABLE 18 PASSENGER TRAFFIC BY GREENFIELD AND OTHER AIRPORTS (MMPA) BY FIVE YEAR PLANS
TABLE 19 AIR INDIA: REVENUE BY MARKET, 2012-2013 (IN MILLION)
TABLE 20 JET AIRWAYS: REVENUE BY MARKET, 2013-2014 (` CRORES)
TABLE 21 AIR ASIA: REVENUE BY MARKET, 2013-2014 (INR IN THOUSAND)
TABLE 22 AIRPORT INFRASTRUCTURE INVESTMENT BY FIVE YEAR PLANS (12TH PLAN - 15TH PLAN)
TABLE 23 COST STRUCTURE FOR REGIONAL AIRPORTS
TABLE 24 AIR NAVIGATION SERVICES (ANS) INVESTMENTS BY FIVE YEAR PLANS (12TH -15TH)
TABLE 25 FORECASTED INVESTMENTS FOR INDIAN AIRCRAFTS BY 2030
TABLE 26 AVIATION TURBINE FUEL (ATF) COMPARISION PER KILOLITRE BY COUNTRY
TABLE 27 MERGES AND ACQUISITIONS (M&A), 2014 – 2015
TABLE 28 JOINT VENTURE & COLLABORATIONS, 2011 – 2015
TABLE 29 VENTURE CAPITAL FUNDING, 2015
List of Charts
CHART 1 PEST ANALYSIS OF AIRPORT INFRASTRUCTURE SPENDING IN INDIA
CHART 2 RESEARCH METHODOLOGY OF AIRPORT INFRASTRUCTURE SPENDING IN INDIA
CHART 3 TOTAL INDIAN AVIATION MARKET SIZE, 2005-2025
CHART 4 EVOLUTION OF MARKET
CHART 5 VALUE CHAIN – AIRCRAFTS RETURN OF CAPITAL
CHART 6 AIRPORT INFRASTRUCTURE SPENDING IN INDIA: DRO – IMPACT ANALYSIS
CHART 7 AIRPORT INFRASTRUCTURE SPENDING IN INDIA: PORTER 5 FORCES ANALYSIS
CHART 8 AIRPORT TECHNOLOGY ROADMAP
CHART 9 PROJECT LIFE CYCLE BY PHASE
CHART 10 NEW COMMERCIAL AIRCRAFTS, 2011-2031
CHART 11 PUBLIC-PRIVATE PARTNERSHIPS (PPP), 2010-2020
CHART 12 GLOBAL AIRPORTS AVERAGE CAPACITY, 2013-2014
CHART 13 LIST OF GREENFIELD AIRPORTS
CHART 14 AAI: SWOT ANALYSIS
CHART 15 GMR INFRASTRUCTURE: SWOT ANALYSIS
CHART 16 GVK POWER & INFRASTRUCTURE: SWOT ANALYSIS
CHART 17 LARSEN & TOUBRO LIMITED: SWOT ANALYSIS
CHART 18 RELIANCE INFRASTRUCTURE: SWOT ANALYSIS
CHART 19 BENGAL AEROTROPOLIS PROJECT LTD (BAPL): SWOT ANALYSIS
CHART 20 AIR TRAVEL ACTIVITIES VS ECONOMIC WELL BEING COUNTRIES
CHART 21 ALL AIRLINES MARKET SHARE, FEBRUARY 2015
CHART 22 FORECAST OF CARGO THROUGHPUT AT INDIAN AIRPORTS (2012 - 2032), (MMT)
CHART 23 CARGO FORECAST FOR 2011 – 2032 BY AGENCIES
CHART 24 CARGO THROUGHPUT FOR INDIAN AIRPORTS (MMT)
CHART 25 REBOUND OF CARGO MARKET
CHART 26 FORECAST OF PASSENGERS AT INDIAN AIRPORTS (2012 - 2032), MILLION
CHART 27 PASSENGER TRAFFIC FORECAST FOR 2020-21 BY AGENCIES
CHART 28 PASSENGER TRAFFIC FORECAST FOR 2031-32 BY AGENCIES
CHART 29 AIRPORT'S TRAFFIC MOVEMENT
CHART 30 PROJECTED DOMESTIC & INTERNATIONAL TRAFFIC - 2017
CHART 31 PASSENGER CAPACITY OF ASIAN HUBS
CHART 32 GLOBAL PASSENGER GROWTH BY REGIONS
CHART 33 GLOBAL PASSENGER LOAD FACTOR BY REGIONS
CHART 34 INTERNATIONAL PASSENGER GROWTH BY REGION
CHART 35 INTERNATIONAL PASSENGER LOAD BY REGION
CHART 36 DOMESTIC PASSENGER GROWTH BY COUNTRY
CHART 37 DOMESTIC PASSENGER LOAD BY COUNTRY
CHART 38 TOTAL AIR PASSENGER TRAFFIC MARKET SHARES BY REGION, 2014-15
CHART 39 INDIAN AIR PASSENGER TRAFFIC (IN MILLION)
CHART 40 INDIAN AIR PASSENGER TRAFFIC GROWTH (Y-O-Y %)
CHART 41 INDIAN DOMESTIC AIRLINE PASSENGER – LOAD FACTOR
CHART 42 AIR INDIA: SWOT ANALYSIS
CHART 43 SPICE JET: REVENUE BY MARKET, 2013-2014 (IN MILLION)
CHART 44 SPICE JET: SWOT ANALYSIS
CHART 45 GOAIR: SWOT ANALYSIS
CHART 46 JET AIRWAYS: SWOT ANALYSIS
CHART 47 AIR ASIA: SWOT ANALYSIS
CHART 48 INDIGO: SWOT ANALYSIS
CHART 49 INDIAN INFRASTRUCTURE INVESTMENTS BY SECTORS
CHART 50 INVESTMENT IN INFRASTRUCTURE TO INCREASE - 2020
CHART 51 INFRASTRUCTURE SPENDING BY MODES
CHART 52 GLOBAL AIRPORTS CONSTRUCTION PROJECTS INVESTMENT BY VALUE ($BILLION)
CHART 53 GLOBAL AIRPORTS CONSTRUCTION PROJECTS INVESTMENT BY SHARE (%)
CHART 54 GLOBAL AIRPORTS CONSTRUCTION PROJECTS BY SHARE (%)
CHART 55 APAC VS GLOBAL AIRPORTS CONSTRUCTION PROJECTS SHARE (%)
Airport Authority of India (AAI)
GMR Infrastructure Limited
Larsen & Toubro Limited (L&T)
Reliance Infrastructure Limited
Bengal Aerotropolis Project Limited
Air India
Spice Jet
GoAir
Jet Airways
Air Asia
IndiGo