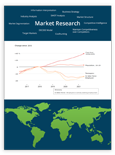 Global Manufacturing Execution System (MES) & Enterprise Manufacturing Intelligence (EMI) Market, By [Enterprise (SMEs & Large), Product (Software, Services, Consulting, Integration, Maintenance), Industries (Process Industries, Discrete Industries), Region] - Trends & Forecast, 2015–2020
ID: 1034

September 27, 2015

130 pages

Infoholic Research
Global Manufacturing Execution System (MES) and Enterprise manufacturing intelligence (EMI) are one of the rapidly growing manufacturing software and service market. MES solutions make things happen in a plant, in a consistent manner, based on prior learning and expert knowledge. Whereas EMI provides real-time plant status visibility, through dashboards, trending and data analysis, downtime and efficiency management, statistical process analysis and control. These solutions have a major role within the organization, where it provides the manufacturing company with improved operations visibility and facilitating real-time decision-making.
Both MES and EMI solution are widely used and have become an industry norm across most industries. Some of the major players include Honeywell, ABB, GE, Rockwell, Siemens, and Schneider Electric.
The report provides an in-depth analysis of global MES and EMI market along with drivers and restraints as well as growth opportunities and best practices in the market. It also contains analysis and forecasted revenues, competitive landscape, company profiles and industry trends.
Table of Contents
1 Industry Overview
1.1 Industry Trends
1.2 Industry 4.0
1.3 PEST Analysis
1.4 Porter Five Forces
2 Report Outline
2.1 Report Scope
2.2 Report Summary
2.3 Research Methodology
2.4 Report Assumptions
3 Market Snapshot
3.1 TAM & SAM
3.2 Related Markets
3.2.1 Smart Factories
3.2.2 Smart Machines
3.2.3 Industry Automation
3.3 Functions and Mapping
3.3.1 MES
3.3.2 EMI
3.3.3 Functional Mapping
3.4 Key Industry Issues and Solutions
3.4.1 Challenges in Manufacturing Industry
3.4.2 How MES and EMI Solve the Problem
3.4.2.1 MES
3.4.2.2 EMI
4 Market Characteristics
4.1 Evolution
4.2 Architecture
4.3 Market Segmentation
4.4 Market Dynamics
4.4.1 Drivers
4.4.1.1 Regulatory, Quality Standards and Government Regulations
4.4.1.2 Economic Scenario
4.4.1.3 Inflexible and Legacy Systems
4.4.1.4 Lack of Visibility in and Across Plant
4.4.1.5 Return on Investments from Existing Assets
4.4.2 Restraints
4.4.2.1 Enabling Non-core Processes First
4.4.2.2 Poor IT Networks and Infrastructure
4.4.3 Opportunities
4.4.3.1 Solutions on Cloud
4.4.3.2 APAC – A Manufacturing Hub
4.4.4 DRO – Impact Analysis
5 Trends & Roadmap
5.1 Market Trends & Impact
5.2 Technology Roadmap
6 Enterprise Type: Market Size & Analysis
6.1 Overview
6.2 Small and Medium Enterprises (SMEs)
6.3 Large Enterprises
7 Product Type: Market Size & Analysis
7.1 Overview
7.2 Software
7.3 Services
7.3.1 Consulting
7.3.2 Integration
7.3.3 Maintenance
7.4 Service Provider Companies
7.4.1 Tata Consultancy Services Limited (TCS)
7.4.1.1 Overview
7.4.1.2 Financial Health
7.4.1.3 Business Units
7.4.1.3.1 Overall
7.4.1.3.2 Market Specific
7.4.1.4 SWOT Analysis
7.4.1.5 Business Strategies & Views
7.4.2 Infosys Limited
7.4.2.1 Overview
7.4.2.2 Financial Health
7.4.2.3 Business Units
7.4.2.3.1 Overall
7.4.2.3.2 Market Specific
7.4.2.4 SWOT Analysis
7.4.2.5 Business Strategies & Views
7.4.3 HCL
7.4.3.1 Overview
7.4.3.2 Financial Health
7.4.3.3 Business Units
7.4.3.3.1 Overall
7.4.3.3.2 Market Specific
7.4.3.4 SWOT Analysis
7.4.3.5 Business Strategies& Views
7.4.4 Accenture Plc
7.4.4.1 Overview
7.4.4.2 Financial Health
7.4.4.3 Business Units
7.4.4.3.1 Overall
7.4.4.3.2 Market Specific
7.4.4.4 SWOT Analysis
7.4.4.5 Business Strategies and Views
7.4.5 Wipro Limited
7.4.5.1 Overview
7.4.5.2 Financial Health
7.4.5.3 Business Units
7.4.5.3.1 Overall
7.4.5.3.2 Market Specific
7.4.5.4 SWOT Analysis
7.4.5.5 Business Strategies
8 Industries Type: Market Size & Analysis
8.1 Overview
8.2 Process Industries
8.2.1 Overview
8.2.1.1 Market Size & Analysis
8.2.2 Chemical
8.2.3 Food & Beverage
8.2.4 Oil & Gas
8.2.5 Pulp & Paper
8.2.6 Life Sciences and Pharma
8.2.7 Power
8.2.8 Sugar & Bio Energy
8.2.9 Water & Wastewater Management
8.3 Discrete Industries
8.3.1 Overview
8.3.1.1 Market Size & Analysis
8.3.2 Automotive
8.3.3 Medical Device
8.3.4 Aerospace & Defense
8.3.5 FMCG
8.3.6 Modular Construction
8.3.7 Semiconductor & Electronics
8.3.8 Metal Precision & Fabrication
9 Regions: Market Size & Analysis
9.1 Overview
9.2 North America
9.3 Western Europe
9.4 Asia-Pacific
9.5 Central Eastern Europe
9.6 Middle East & Africa
9.7 Latin America
10 Vendor Profiles
10.1 Honeywell INC
10.1.1 Overview
10.1.2 Financial Health
10.1.3 Business Units
10.1.3.1 Overall
10.1.3.2 Market Specific
10.1.4 SWOT Analysis
10.1.5 Key Business Priorities
10.1.6 Business Strategy & Views
10.2 ABB Ltd
10.2.1 Overview
10.2.2 Financial Health
10.2.3 Business Units
10.2.3.1 Overall
10.2.3.2 Market Specific
10.2.4 SWOT Analysis
10.2.5 Key Business Priorities
10.2.5.1 Business Strategy & Views
10.3 General Electric Company
10.3.1 Overview
10.3.2 Financial Health
10.3.3 Business Units
10.3.3.1 Overall
10.3.3.2 Market specific
10.3.4 SWOT Analysis
10.3.5 Key Business Priorities
10.3.6 Business Strategies & Views
10.4 Rockwell Automation
10.4.1 Overview
10.4.2 Financial Health
10.4.3 Business Units
10.4.3.1 Overall
10.4.3.2 Market Specific
10.4.4 SWOT Analysis
10.4.5 Key Business Priorities
10.4.6 Business Strategy & Views
10.5 Siemens
10.5.1 Overview
10.5.2 Financial Health
10.5.3 Business Units
10.5.3.1 Overall
10.5.3.2 Market Specific
10.5.4 SWOT Analysis
10.5.5 Key Business Priorities
10.5.6 Business Strategy & Views
10.6 Schneider Electric SE
10.6.1 Overview
10.6.2 Financial Health
10.6.3 Business Units
10.6.3.1 Overall
10.6.3.2 Market Specific
10.6.4 SWOT Analysis
10.6.5 Key Business Priorities
10.6.6 Business Strategy & Views
10.7 Dassault Systemes
10.7.1 Overview
10.7.2 Financial Health
10.7.3 Business Units
10.7.3.1 Overall
10.7.3.2 Market Specific
10.7.4 SWOT Analysis
10.7.5 Key Business Priorities
10.7.6 Business Strategy & Views
10.8 Paper-Less LLC
10.8.1 Overview
10.8.2 Business Units
10.8.3 SWOT Analysis
10.8.4 Key Business Priorities
10.8.5 Business Strategy & Views
10.9 Aspen Technology Inc.
10.9.1 Overview
10.9.2 Financial Health
10.9.3 Business Units
10.9.3.1 Overall
10.9.3.2 Market Specific
10.9.4 SWOT Analysis
10.9.5 Key Business Priorities
10.9.6 Business Strategy & Views
10.1 Emerson Electric Co.
10.10.1 Overview
10.10.2 Financial Health
10.10.3 Business Units
10.10.3.1 Overall
10.10.3.2 Market Specific
10.10.4 SWOT Analysis
10.10.5 Key Business Priorities
10.10.6 Business Strategy & Views
11 Companies to Watch For
11.1 Parsec Automation Corporation
11.1.1 Overview
11.1.2 Key Offerings
11.1.3 Objectives and Progress
11.2 EazyworksInc
11.2.1 Overview
11.2.2 Key Offerings
11.2.3 Objectives and Progress
11.3 Aptean Inc.
11.3.1 Overview
11.3.2 Key Offerings
11.3.3 Objectives and Progress
11.4 Accumence Inc.
11.4.1 Overview
11.4.2 Key Offerings
11.5 iTAC Software AG
11.5.1 Overview
11.5.2 Key Offerings
11.5.3 Objectives and Progress
12 Competitive Landscape
12.1 Competitor Comparison Analysis
12.1.1 Analysis By Vendors' Products functionality
12.2 Market Landscape
12.3 Implementation time and ROI analysis
12.3.1 MESand EMI Implementation time
12.3.2 MES and EMI ROI analysis
13 End-User Views
13.1 End User
13.2 End User
13.3 End User
14 What our Peers are Estimating
14.1 Tech Navio
14.2 Research Beam
Annexure
Acronyms
List of Tables
TABLE 1 PEST ANALYSIS FACTORS ON MES & EMI MARKET
TABLE 2 MES FUNCTIONS
TABLE 3 EMI FUNCTIONS
TABLE 4 GLOBAL MES MARKET REVENUE BY ENTERPRISE TYPE, 2015-2020 ($BILLION)
TABLE 5 GLOBAL EMI MARKET REVENUE BY ENTERPRISE TYPE, 2015-2020 ($BILLION)
TABLE 6 GLOBAL MES MARKET REVENUE BY PRODUCT TYPE, 2015-2020 ($BILLION)
TABLE 7 GLOBAL EMI MARKET REVENUE BY PRODUCT TYPE, 2015-2020 ($BILLION)
TABLE 8 GLOBAL MES SERVICES MARKET REVENUE BY PRODUCT TYPE, 2015-2020 ($MILLION)
TABLE 9 GLOBAL EMI SERVICES MARKET REVENUE BY PRODUCT TYPE, 2015-2020 ($MILLION)
TABLE 10 TCS: REVENUE, 2013-2014 ($MILLION)
TABLE 11 TCS:REVENUE BY REGIONS, 2013-2014 ($MILLION)
TABLE 12 TCS: REVENUE BY SEGMENTS, 2013-2014 ($MILLION)
TABLE 13 INFOSYS: REVENUE BY REGIONS, 2013-2014 ($MILLION)
TABLE 14 INFOSYS: REVENUE BY BUSINESS SEGMENTS, 2013-2014 ($MILLION)
TABLE 15 INFOSYS: REVENUE,2013-2014 ($MILLION)
TABLE 16 HCL: REVENUE, 2013-2014 ($MILLION)
TABLE 17 HCL: REVENUEBY SERVICES, 2013-2014 ($MILLION)
TABLE 18 HCL: REVENUE BY REGIONS,2013-2014($MILLION)
TABLE 19 ACCENTURE: REVENUE, 2013–2014 ($MILLION)
TABLE 20 ACCENTURE:REVENUE, BY SEGMENT, 2013–2014 ($MILLION)
TABLE 21 ACCENTURE: REVENUE BY OPERATION, 2013–2014 (MILLION)
TABLE 22 ACCENTURE: REVENUE, BY REGION, 2013–2014 ($MILLION)
TABLE 23 WIPRO: REVENUE, 2013–2014 ($MILLION)
TABLE 24 WIPRO: REVENUE, BY SEGMENTS, 2013–2014 ($MILLION)
TABLE 25 WIPRO: REVENUE, BY GEOGRAPHY, 2013–2014 ($MILLION)
TABLE 26 GLOBAL MES MARKET REVENUE BY PROCESS INDUSTRIES, 2015-2020 ($MILLION)
TABLE 27 GLOBAL EMI MARKET REVENUE BY PROCESS INDUSTRIES, 2015-2020 ($MILLION)
TABLE 28 GLOBAL MES PROCESS MARKET REVENUE BY REGIONS, 2015-2020 ($MILLION)
TABLE 29 GLOBAL EMI PROCESS MARKET REVENUE BY REGIONS, 2015-2020 ($MILLION)
TABLE 30 GLOBAL MES MARKET REVENUE BY DISCRETE INDUSTRIES, 2015-2020 ($MILLION)
TABLE 31 GLOBAL EMI MARKET REVENUE BY DISCRETE INDUSTRIES, 2015-2020 ($MILLION)
TABLE 32 GLOBAL MES DISCRETE MARKET REVENUE BY REGIONS, 2015-2020 ($MILLION)
TABLE 33 GLOBAL EMI DISCRETE MARKET REVENUE BY REGIONS, 2015-2020 ($MILLION)
TABLE 34 GLOBAL MES REGION MARKET BY INDUSTRY TYPES, 2015-2020 ($MILLION)
TABLE 35 GLOBAL EMI REGION MARKET BY INDUSTRY TYPES, 2015-2020 ($MILLION)
TABLE 36 HONEYWELL: REVENUE, 2010-2014 ($MILLION)
TABLE 37 HONEYWELL: BY SEGMENTS, 2010–2014
TABLE 38 HONEYWELL: BY REGIONS, 2010-2014
TABLE 39 ABB: REVENUE, 2010-2014 ($MILLION)
TABLE 40 ABB: BY SEGMENTS, 2010-2014
TABLE 41 ABB: BY REGION, 2010–2014
TABLE 42 GE: REVENUE, 2010-2014 ($MILLION)
TABLE 43 GE: BY SEGMENTS, 2010-2014
TABLE 44 GE: BY REGIONS, 2010–2014
TABLE 45 ROCKWELL AUTOMATION: REVENUE, 2010-2014 ($MILLION)
TABLE 46 ROCKWELL AUTOMATION: BY SEGMENTS, 2010-2014
TABLE 47 ROCKWELL AUTOMATION: BY REGIONS, 2010-2014
TABLE 48 SIEMENS: REVENUE, 2010-2014 ($MILLION)
TABLE 49 SIEMENS: BY REGIONS, 2010-2014
TABLE 50 SCHNEIDER ELECTRIC: REVENUE, 2010-2014 ($MILLION)
TABLE 51 SCHNEIDER ELECTRIC: BY REGIONS, 2010-2014
TABLE 52 DASSAULT SYSTEMES: REVENUE, 2013–2014 ($MILLION)
TABLE 53 DASSAULT SYSTEMES: BY OPERATING SEGMENTS, 2013–2014 ($MILLION)
TABLE 54 DASSAULT SYSTEMES: BY REGION, 2013–2014 ($MILLION)
TABLE 55 ASPEN TECHNOLOGY: REVENUE, 2013–2014 ($MILLION)
TABLE 56 ASPEN TECHNOLOGY: BY OPERATING SEGMENTS, 2013–2014 ($MILLION)
TABLE 57 EMERSON ELECTRIC: REVENUE, 2013–2014 ($MILLION)
TABLE 58 EMERSON ELECTRIC: BY OPERATING SEGMENTS, 2013–2014 ($MILLION)
TABLE 59 EMERSON ELECTRIC: BY REGION, 2013–2014 ($MILLION)
TABLE 60 MERGERS & ACQUISITIONS (M&A), 2011-2014
TABLE 61 JOINT VENTURES & COLLABORATIONS, 2011-2014
List of Charts
CHART 1 FOUR STAGES OF THE INDUSTRIAL REVOLUTION
CHART 2 PEST ANALYSIS OF MES & EMI MARKET
CHART 3 PORTER FIVE FORCES ANALYSIS OF MES & MANUFACTURING ERP
CHART 4 RESEARCH METHODOLOGY
CHART 5 INFORMATION SYSTEMS IN MANFACTURING
CHART 6 EMI DASHBOAD
CHART 7 FUNCTIONAL MAPPING OF ERP, MES, & EMI
CHART 8 EVOLUTION OF MES & EMI
CHART 9 ARCHITECTURE OF MES & EMI
CHART 10 GLOBAL MES & EMI MARKET SEGMENTATION
CHART 11 MARKET DYNAMICS OF DRIVER, RESTRAINTS, & OPPORTUNITIES
CHART 12 DRO IMPACT ANALYSIS ON MES & EMI MARKET
CHART 13 TECHNOLOGY ROADMAP OF MAJOR INFORMATION SYSTEMS
CHART 14 SME MARKET REVENUE BY MES AND EMI, 2015-2020 (Y-O-Y) %
CHART 15 LARGE ENTERPRISE MARKET REVENUE BY MES AND EMI, 2015-2020 (Y-O-Y) %
CHART 16 GLOBAL MES & EMI MARKET BY PRODUCT TYPE
CHART 17 SOFTWARE REVENUE BY MES AND EMI, 2015-2020 (Y-O-Y) %
CHART 18 SERVICES REVENUE BY MES AND EMI, 2015-2020 (Y-O-Y) %
CHART 19 CONSULTING REVENUE BY MES AND EMI, 2015-2020 (Y-O-Y) %
CHART 20 INTEGRATION REVENUE BY MES AND EMI, 2015-2020 (Y-O-Y) %
CHART 21 TCS: SWOT ANALYSIS
CHART 22 INFOSYS: SWOT ANALYSIS
CHART 23 HCL: SWOT ANALYSIS
CHART 24 ACCENTURE: SWOT ANALYSIS
CHART 25 WIPRO: SWOT ANALYSIS
CHART 26 GLOBAL MES & EMI MARKET BY INDUSTRIES
CHART 27 HONEYWELL: MARKET SHARE BY SEGMENTS, 2013-2014
CHART 28 HONEYWELL: MARKET SHARE BY REGIONS, 2013-2014
CHART 29 HONEYWELL: SWOT ANALYSIS
CHART 30 ABB: BY SEGMENTS, 2013-2014 ($MILLION)
CHART 31 ABB: MARKET SHARE BY REGIONS 2013-2014
CHART 32 ABB: SWOT ANALYSIS
CHART 33 GE: BY SEGMENTS, 2013-2014 ($MILLION)
CHART 34 GE: MARKET SHARE BY REGIONS, 2013-2014
CHART 35 GE: SWOT ANALYSIS
CHART 36 ROCKWELL AUTOMATION: BY SEGMENTS, 2012-2013 ($MILLION)
CHART 37 ROCKWELL AUTOMATION: MARKET SHARE BY REGIONS, 2013-2014
CHART 38 ROCKWELL AUTOMATION: SWOT ANALYSIS
CHART 39 SIEMENS: BY SEGMENTS, 2013-2014 ($MILLION)
CHART 40 SIEMENS: MARKET SHARE BY REGIONS, 2013-2014
CHART 41 SIEMENS: SWOT ANALYSIS
CHART 42 SCHNEIDER ELECTRIC: MARKET SHARE BY REGIONS, 2012-2013
CHART 43 SCHNEIDER ELECTRIC: SWOT ANALYSIS
CHART 44 DASSAULT SYSTEMES: MARKET SHARE BY SEGMENTS, 2013-2014
CHART 45 DASSAULT SYSTEMES: MARKET SHARE BY REGIONS, 2013-2014
CHART 46 DASSAULT SYSTEMES: SWOT ANALYSIS
CHART 47 PAPER-LESS: SWOT ANALYSIS
CHART 48 ASPEN TECHNOLOGY: MARKET SHARE BY SEGMENTS, 2013–2014
CHART 49 ASPEN TECHNOLOGY: MARKET SHARE BY REGIONS, 2013–2014
CHART 50 ASPEN TECHNOLOGY: SWOT ANALYSIS
CHART 51 EMERSON ELECTRIC: MARKET SHARE BY REGIONS, 2013–2014
CHART 52 EMERSON ELECTRIC: SWOT ANALYSIS
Tata Consultancy Services Limited (TCS)
Infosys Limited
HCL
Accenture Plc
Wipro Limited
Honeywell INC
ABB Ltd
General Electric Company
Rockwell Automation
Siemens
Schneider Electric SE
Dassault Systemes
Paper-Less LLC
Aspen Technology Inc.
Emerson Electric Co.
Parsec Automation Corporation
EazyworksInc
Aptean Inc.
Accumence Inc.
iTAC Software AG