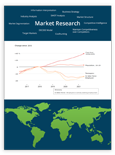 Low Power Wide Area Network (LPWAN) Market, Technologies [LoRa, SigFox, Weightless- N, Weightless- P, Weightless-W], Network Types [Private and Public], Industry Verticals, Regions, Competitive Landscape, End-User Analysis - Global Market Drivers, Opportunities, Trends, and Forecasts, 2016-2022
ID: 1043

December 28, 2015

123 pages

Infoholic Research
Low-power WAN (LPWAN) is wireless network technology that is used for interconnecting the devices with low-bandwidth focusing on long range. These technologies are specifically designed for M2M communications. They enable wider range for M2M and IoT applications which is constrained by budgets and power consumption. The data transfer rates of LPWAN are very low using low-bandwidth and less power consumption of the connected devices. The networks support the devices over a long coverage area than the traditional consumer mobile technologies. Technologies such as Bluetooth, ZigBee and Wi-Fi are better for consumer level but not for industrial and commercial applications. Hence, LPWAN is being used for smart cities and buildings, industrial applications, and transportation.
Smart cities address the future development of LPWAN technology. According to Infoholic's analyst, the LPWAN market is growing at a CAGR of 90.03% during the forecast period 2016-2022. New integrated approaches by the telecom players and software players are driving the market for new networking technologies. Also, the increase in gas and oil pipelines across the globe are fostering the growth of the market. The LPWAN market is divided into types, networks, end-user segmentation, technologies and geographical segmentation. Organizations mostly use private networks because fo the security issues and public networks are used by small organizations and start-ups.
The LPWAN market is analyzed by six regions-Americas, Western Europe, Asia-Pacific, Eastern Europe, and MEA. The growing number of smart cities projects in APAC and MEA region will drive the market in the near future.
One of the major trends in the market is to reach the customer expectations while making LPWAN technology as one of the important strategy. The majority of the projects are coming from the Western Europe and Asia-Pacific region as they are ready to consider it as the main strategy for transferring the data and improve the analysis of real-time information. Some of the vendors for LPWAN market are SIgFox, Semtech, Huawei, NWave, and Weightless.
This study covers and analyses "LPWAN market" globally, bringing out the valuable insights. The report aims to provide an opportunity for players to understand the latest trends, current market scenario, a government initiative, and technologies related to the market. In addition, helps the venture capitalist in understanding the companies better and take informed decisions based on it.
Table of Contents
1 Industry Overview
1.1 Industry Trends
1.2 Pest Analysis
2 Report Outline
2.1 Report Scope
2.2 Report Summary
2.3 Research Methodology
2.4 Report Assumptions
3 Market Snapshot
3.1 Total Addressable Market (TAM)
3.2 Segmented Addressable Market (SAM)
3.3 Related Markets
4 Market Outlook
4.1 Market Overview
4.2 Market Trends & Impact
4.3 Market Segmentation
4.4 Porter 5 (Five) Forces
5 Overview of M2M, IoT, and LPWAN
5.1 M2M
5.2 IoT
5.3 IoT Applications
5.4 M2M Architecture
5.5 IoT Architecture
5.6 M2M Communication Technologies
5.7 Cellular Devices Connectivity
6 Market Characteristics
6.1 Evolution of LPWAN
6.2 LPWAN Architecture
6.3 LPWAN Features & Characteristics
6.4 Network Topology
6.5 LPWAN Advantages & Disadvantages
6.6 Selection of LPWAN Strategy
6.6.1 Security Applications
6.6.2 Advanced Radio Technology
6.6.3 Power Consumption
6.6.4 Commercial Usage
6.6.5 Legal Issues
6.7 Applications Suitable and Adaptable for LPWAN
6.8 LPWAN Preference for Customers
6.9 Market Dynamics
6.9.1 Drivers
6.9.1.1 Low Power Consumption
6.9.1.2 Increase in the Development of Smart Cities and Smart Buildings
6.9.1.3 Cost Savings
6.9.2 Restraints
6.9.2.1 Data Traffic
6.9.2.2 Integration Complexities
6.9.2.3 Lack of Standards
6.9.3 Opportunities
6.9.3.1 MNOs and NonMNO Network Providers
6.9.3.2 System Integrators
6.9.3.3 OEMs
6.9.3.4 SME
6.9.4 DRO – Impact Analysis
7 Trends and Roadmap
7.1 Market Trends & Impact
7.2 Technology Roadmap
8 Types: Market Size and Forecast
8.1 Overview
8.2 LPWAN Devices Market
8.2.1 Module Shipments of LPWAN
8.2.2 ASP of the LPWAN Module
8.3 LPWAN Service Revenue
8.3.1 LPWAN Connections
9 Networks: Market Size & Analysis
9.1 Overview
9.2 Private Networks
9.3 Public Networks
10 End-user: Market Size and Forecast
10.1 Overview
10.2 Agriculture
10.3 Industrial
10.4 Consumer
10.5 Infrastructure
10.6 Logistics
10.7 Utilities
11 Technologies Analysis
11.1 Overview
11.2 SigFox (UNB)
11.3 LoRa Alliance
11.4 Weightless
11.5 Ingenu (On-ramp)
11.6 nWave
12 Regions: Market Size and Analysis
12.1 Overview
12.2 Western Europe
12.2.1 Interesting Factors About Western Europe
12.2.2 Drivers for Western Europe
12.3 Asia-Pacific
12.3.1 Interesting Factors About Asia-Pacific
12.3.2 Drivers for Asia-Pacific
12.4 Americas
12.4.1 Interesting Factors About Americas
12.4.2 Drivers for Americas
12.5 MEA
12.5.1 Interesting Factors About MEA
12.5.2 Drivers for MEA
12.6 Eastern Europe
12.6.1 Interesting Factors About Eastern Europe
12.6.2 Drivers for Eastern Europe
 
13 Vendor Profiles
13.1 SigFox
13.1.1 Overview
13.1.2 Business Units
13.1.3 Geographical Revenue
13.1.4 Recent Developments
13.1.5 Business Focus
13.1.6 SWOT Analysis
13.1.7 Business Strategy
13.2 Semtech Corp.
13.2.1 Overview
13.2.2 Business Units
13.2.3 Geographical Revenue
13.2.4 Recent Developments
13.2.5 Business Focus
13.2.6 SWOT Analysis
13.2.7 Business Strategy
13.3 Nwave Technologies
13.3.1 Overview
13.3.2 Business Unit
13.3.3 Geographic Revenue
13.3.4 Recent Developments
13.3.5 Business Focus
13.3.6 SWOT Analysis
13.3.7 Business Strategy
13.4 On-Ramp (Ingenu) Inc.
13.4.1 Overview
13.4.2 Business Units
13.4.3 Geographical Revenue
13.4.4 Recent Developments
13.4.5 Business Focus
13.4.6 SWOT Analysis
13.4.7 Business Strategy
13.5 Neul (Huawei) Ltd.
13.5.1 Overview
13.5.2 Business Units
13.5.3 Geographic Revenue
13.5.4 Recent Developments
13.5.5 Business Focus
13.5.6 SWOT Analysis
13.5.7 Business Strategy
14 Competitive Landscape
14.1 Competitor Comparison Analysis
14.2 Vendor analysis
14.2.1 On-Ramp
14.2.2 SigFox
14.2.3 NWave
14.3 Neul
14.4 Semtech
15 Global Generalist
15.1 AT&T Inc.
15.1.1 Overview
15.1.2 AT&T Products
15.1.3 AT&T in LPWAN market
15.2 Bouygues Telecom
15.2.1 Overview
15.2.2 Bouygues Telecom Products
15.2.3 Bouygues Telecom in LPWAN market
15.3 Qualcomm Inc.
15.3.1 Overview
15.3.2 Qualcomm Products
15.3.3 Qualcomm in LPWAN Market
15.4 Telefonica SA
15.4.1 Overview
15.4.2 Telefonica Products
15.4.3 Telefonica in LPWAN Market
15.5 Vodafone Group Plc
15.5.1 Overview
15.5.2 Vodafone Products
15.5.3 Vodafone in LPWAN Market
16 Companies to Watch for
16.1 Actility
16.1.1 Overview
16.1.2 Actility in LPWAN Market
16.2 Libelium Comunicaciones Distribuidas S.L
16.2.1 Overview
16.2.2 Libelium in LPWAN Market
16.3 Link Labs
16.3.1 Overview
16.3.2 Link Labs in LPWAN Market
Annexure 122
 Acronyms












































Tables

TABLE 1 APPLICATIONS OF M2M
TABLE 2 ZIGBEE AND LOW POWER COMPARISON
TABLE 3 M2M CONNECTIONS BY CONNECTIVITY TYPE, 2015
TABLE 4 FEATURES AND CHARACTERISTICS OF LPWAN
TABLE 5 LPWAN ADVANTAGES AND DISADVANATGES
TABLE 6 SECURITY APPLICATIONS
TABLE 7 ADVANCED RADIO TECHNOLOGY APPLICATIONS
TABLE 8 POWER CONSUMPTION APPLICATIONS
TABLE 9 APPLICATIONS SUITABLE
TABLE 10 APPLICATIONS ADAPTABLE
TABLE 11 CUSTOMERS PREFERENCE FOR LPWAN
TABLE 12 LPWAN MARKET REVENUE BY TYPES, 2016-2022 ($MILLION)
TABLE 13 PUBLIC AND PRIVATE NETWORK SHARE IN THE LPWAN MARKET, 2016-2022
TABLE 14 PUBLIC AND PRIVATE SERVICE REVENUE IN LPWAN MARKET, 2016-2022 ($MILLION)
TABLE 15 LPWAN CONNECTIONS BY END-USERS, 2016-2022 (MILLION)
TABLE 16 LPWAN SERVICE REVENUE BY END-USERS, 2016-2022 ($MILLION)
TABLE 17 WEIGHTLESS STANDARDS
TABLE 18 LPWAN CONNECTIONS BY REGIONS, 2016-2022 (MILLION)
TABLE 19 LPWAN SERVICE REVENUE BY REGIONS, 2016-2022 ($MILLION)
TABLE 20 SIGFOX: RECENT DEVELOPMENTS
TABLE 21 SEMTECH: RECENT DEVELOPMENTS
TABLE 22 NWAVE: RECENT DEVELOPMENTS
TABLE 23 INGENU: RECENT DEVELOPMENTS
TABLE 24 NEUL: RECENT DEVELOPMENTS
TABLE 25 VENDOR CAPABILITIES









































































































































































































Charts

CHART 1 PEST ANALYSIS OF LPWAN MARKET
CHART 2 RESEARCH METHODOLOGY OF LPWAN MARKET
CHART 3 TAM FOR LPWAN CONNECTIONS, 2015-2022 ($BILLIONS)
CHART 4 SAM FOR LPWAN MARKET REVENUE, 2016-2022 ($MILLIONS)
CHART 5 GLOBAL LPWAN MARKET BY SEGMENTATION
CHART 6 PORTERS 5 FORCES ANALYSIS OF GLOBAL LPWAN MARKET
CHART 7 IOT MARKET OUTLOOK
CHART 8 IOT APPLICATIONS
CHART 9 M2M ARCHITECTURE
CHART 10 IOT ARCHITECTURE
CHART 11 COMPARISON OF M2M TECHNOLOGIES
CHART 12 PROBLEMS WITH M2M CONNECTIVITY DEVICES
CHART 13 LPWAN ARCHITECTURE
CHART 14 STAR TOPOLOGY (DIRECT DEVICE CONNECTIVITY)
CHART 15 MARKET DYNAMICS – DRIVERS, RESTRAINTS & OPPORTUNITIES
CHART 16 DRO - IMPACT ANALYSIS OF GLOBAL LPWAN MARKET
CHART 17 PAST, PRESENT, AND FUTURE OF LPWAN
CHART 18 LPWAN MARKET SHARE BY TYPES, 2016-2022
CHART 19 LPWAN MARKET SHARE BY TYPES, 2016-2022 (%)
CHART 20 LPWAN DEVICES MARKET REVENUE, 2016-2022 ($MILLION)
CHART 21 MODULE SHIPMENTS OF LPWAN, 2016-2022 (MILLIONS)
CHART 22 ASP OF THE LPWAN, 2016-2022 ($/PER UNIT)
CHART 23 LPWAN SERVICE MARKET REVENUE, 2016-2022 ($MILLION)
CHART 24 LPWAN CONNECTIONS, 2016-2022
CHART 25 LPWAN MARKET SHARE BY NETWORKS, 2016-2022
CHART 26 LPWAN CONNECTIONS FOR PRIVATE NETWORKS, 2016-2022
CHART 27 LPWAN PRIVATE NETWORKS SERVICE REVENUE, 2016-2022 ($MILLION)
CHART 28 LPWAN CONNECTIONS FOR PUBLIC NETWORKS, 2016-2022
CHART 29 LPWAN PUBLIC NETWORK SERVICE REVENUE, 2015-2022 ($MILLION)
CHART 30 LPWAN MARKET SHARE BY END-USER, 2016
CHART 31 AGRICULTURE LPWAN CONNECTIONS, 2016-2022 (MILLION)
CHART 32 AGRICULTURE LPWAN SERVICE REVENUE, 2016-2022 ($MILLION)
CHART 33 INDUSTRIAL LPWAN CONNECTIONS, 2016-2022 (MILLION)
CHART 34 INDUSTRIAL LPWAN SERVICE REVENUE, 2016-2022 ($MILLION)
CHART 35 CONSUMER LPWAN CONNECTIONS 2016-2022 (MILLION)
CHART 36 CONSUMER LPWAN SERVICE REVENUE 2016-2022 ($MILLION)
CHART 37 INFRASTRUCTURE LPWAN CONNECTIONS, 2016-2022 (MILLION)
CHART 38 INFRASTRUCTURE LPWAN SERVICE REVENUE, 2016-2022 ($MILLION)
CHART 39 LOGISTICS LPWAN CONNECTIONS, 2016-2022 (MILLION)
CHART 40 LOGISTICS LPWAN SERVICE REVENUE, 2016-2022 ($MILLION)
CHART 41 UTILITIES LPWAN CONNECTIONS, 2016-2022 (MILLIONS)
CHART 42 UTILITIES LPWAN SERVICE REVENUE, 2016-2022 ($MILLION)
CHART 43 LPWAN MARKET SHARE BY REGIONS, 2016
CHART 44 WESTERN EUROPE LPWAN SERVICE REVENUE, 2016-2022 ($MILLION)
CHART 45 WESTERN EUROPE LPWAN CONNECTIONS, 2016-2022 (MILLION)
CHART 46 ASIA-PACIFIC LPWAN SERVICE REVENUE, 2016-2022 ($MILLION)
CHART 47 AISA PACIFIC LPWAN CONNECTIONS, 2016-2022 (MILLION)
CHART 48 AMERICAS LPWAN SERVICE REVENUE, 2016-2022 ($MILLION)
CHART 49 AMERICAS LPWAN CONNECTIONS, 2016-2022 (MILLION)
CHART 50 MEA LPWAN SERVICE REVENUE, 2016-2022 ($MILLION)
CHART 51 MEA LPWAN CONNECTIONS, 2016-2022 (MILLION)
CHART 52 EASTERN EUROPE LPWAN SERVCE REVENUE, 2016-2022 ($MILLION)
CHART 53 EASTERN EUROPE LPWAN CONNECTIONS, 2016-2022 (MILLION)
CHART 54 SIGFOX: OVERVIEW SNAPSHOT
CHART 55 SIGFOX: BUSINESS UNITS
CHART 56 SIGFOX: GEOGRAPHICAL REVENUE
CHART 57 SIGFOX: SWOT ANALYSIS
CHART 58 SEMTECH: OVERVIEW SNAPSHOT
CHART 59 SEMTECH: BUSINESS UNITS
CHART 60 SEMTECH: GEOGRAPHICAL REVENUE
CHART 61 SEMTECH: SWOT ANALYSIS
CHART 62 NWAVE: OVERVIEW SNAPSHOT
CHART 63 NWAVE: BUSINESS UNIT
CHART 64 NWAVE: GEOGRAPHIC REVENUE
CHART 65 NWAVE: SWOT ANALYSIS
CHART 66 INGENU: OVERVIEW SNAPSHOT
CHART 67 INGENU: BUSINESS UNITS
CHART 68 INGENU: GEOGRAPHICAL REVENUE
CHART 69 INGENU: SWOT ANALYSIS
CHART 70 NEUL: OVERVIEW SNAPSHOT
CHART 71 NEUL: BUSINESS UNITS
CHART 72 NEUL: BUSINESS UNITS
CHART 73 NEUL: SWOT ANALYSIS
CHART 74 VENDOR COMPARISON WRT TO TECHNOLOGY
CHART 75 AT&T: OVERVIEW SNAPSHOT
CHART 76 BOUYGUES TELECOM: OVERVIEW SNAPSHOT
CHART 77 QUALCOMM: OVERVIEW SNAPSHOT
CHART 78 TELEFONICA: OVERVIEW SNAPSHOT
CHART 79 VODAFONE GROUP: OVERVIEW SNAPSHOT
CHART 80 ACTILITY MARKET
CHART 81 LIBELIUM MARKET
CHART 82 LINK LABS MARKET
















































































































































SigFox
Semtech Corp.
Nwave Technologies
On-Ramp (Ingenu) Inc.
Neul (Huawei) Ltd.
AT&T Inc.
Bouygues Telecom
Qualcomm Inc.
Telefonica SA
Vodafone Group Plc
Actility
Libelium Comunicaciones Distribuidas S.L
Link Labs