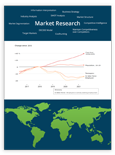 Worldwide 3D Printing Market in Aerospace and Consumer Electronics - Technologies (FDM, SLS, SLA, Others), Materials (Plastic, Ceramics, Rubber, Metal, Wax, Others), Regions - Drivers, Opportunities, Trends, and Forecasts, 2016-2022
ID: 1052

May 31, 2016

118 pages

Infoholic Research
The 3D printing market is a rapidly growing market. Since 2008, the 3D printing market has started penetrating in almost every industry vertical such as aerospace, manufacturing, healthcare, and consumer electronics. The less wastage compared to the traditional printing methods is one of the key reasons for the industries to adopt "3D printing" methods. The interdependence of software, technology and material are contributing towards the success of the worldwide 3D printing market.
According to Infoholic Research, the "Worldwide 3D Printing in Aerospace and Consumer Electronics" market will grow at an estimated CAGR of 28.2% during the forecast period 2016–2022. At present, the market is witnessing a twofold growth in the mature markets of North America and Europe. Although, for the past 2–3 years, the market has started experiencing growth in the Asia Pacific region specifically in the 3D printer market. Increase in the investment by the big players and growing Public Private Partnerships (PPPs) is helping in the 3D printing market growth in the aerospace industry. The demand for the sleek, light-weight and complex designed products are driving the 3D printing market in the consumer electronics industry.
Key players covered in the report are 3D Systems, Stratasys, Boeing, Aerojet Rocket Dyne, GE Aviation, Optomec, XYZ Printing, HP Development Company, Rolls-Royce, Safran Turbomeca and Airbus. The research report provides a comprehensive review of 3D printing technologies and 3D printing materials. The report also covers 3D printing market in aerospace and consumer electronics market in terms of trends, regions and vendor assessments on the basis of technology, R&D spendings, and product offerings.
The study covers and analyzes the "Worldwide 3D Printing in Aerospace and Consumer Electronics" market. Bringing out the complete key insights of the industry, the report aims to provide an opportunity for players to understand the latest trends, current market scenario, government initiative, and technologies related to the market. In addition, helps the venture capitalist in understanding the companies better and take informed decisions.
1 Industry Outlook
1.1 Industry Overview
1.2 Industry Trends
1.3 Pest Analysis
2 Report Outline
2.1 Report Scope
2.2 Report Summary
2.3 Research Methodology
2.4 Report Assumptions
3 Market Snapshot
3.1 Total Addressable Market (TAM)
3.2 Segmented Addressable Market (SAM)
3.3 Related Markets
3.3.1 Additive Manufacturing
3.3.2 3D Printing in Healthcare
4 Market Outlook
4.1 Overview
4.2 Market Segmentation
4.3 Market Trends and Impact
4.4 Technology Roadmap
4.5 Porter 5 (Five) Forces
5 Market Characteristics
5.1 Value Chain
5.2 Market Dynamics
5.2.1 Drivers
5.2.1.1 Less Raw Material Wastage and Improved Accuracy
5.2.1.2 Improved Product Development Time
5.2.1.3 Growing Demand for Mass Customization
5.2.2 Restraints
5.2.2.1 High Costs
5.2.2.2 Less Skilled Labor
5.2.3 Opportunities
5.2.3.1 3D Printer Manufacturers
5.2.3.2 3D Printing Software Developers
5.3 DRO – Impact Analysis
5.4 Key Stakeholders
6 Technologies: Market Size and Analysis
6.1 Overview
6.1.1 Market Size and Analysis
6.2 Fused Deposition Modeling (FDM)
6.2.1 Market Size and Analysis
6.3 Selective Laser Sintering (SLS)
6.3.1 Market Size and Analysis
6.4 Stereolithography (SLA)
6.4.1 Market Size and Analysis
6.5 Others
6.5.1 Market Size and Analysis
7 Materials: Market Size and Analysis
7.1 Overview
7.1.1 Market Size and Analysis
7.2 Plastic
7.2.1 Market Size and Analysis
7.3 Ceramics
7.3.1 Market Size and Analysis
7.4 Rubber
7.4.1 Market Size and Analysis
7.5 Metal
7.5.1 Market Size and Analysis
7.6 Wax
7.6.1 Market Size and Analysis
7.7 Others
7.7.1 Market Size and Analysis
8 Aerospace: Market Size and Analysis
8.1 Overview
8.1.1 Market Size and Analysis
8.2 Trends
8.3 Analysis by Regions
8.3.1 Overview
8.3.1.1 Market Size and Analysis
8.3.2 North America
8.3.2.1 Market Size and Analysis
8.3.3 Europe
8.3.3.1 Market Size and Analysis
8.3.4 Asia Pacific
8.3.4.1 Market Size and Analysis
8.3.5 Latin America, Africa and Middle East (LAAM)
8.3.5.1 Market Size and Analysis
8.4 Vendor Assessment
8.4.1 Aerojet Rocketdyne
8.4.1.1 Overview
8.4.1.2 R&D Spending
8.4.1.3 Aerospace 3D Printing Market
8.4.1.4 Infoholic Insights
8.4.2 Rolls-Royce PLC
8.4.2.1 Overview
8.4.2.2 R&D spending
8.4.2.3 Aerospace 3D Printing Market
8.4.2.4 Infoholic Insights
8.4.3 Safran Turbomeca
8.4.3.1 Overview
8.4.3.2 R&D Spending
8.4.3.3 Aerospace 3D printing market
8.4.3.4 Infoholic Insights
9 Consumer Electronics: Market Size and Analysis
9.1 Overview
9.1.1 Market Size and Analysis
9.2 Trends
9.3 Analysis by Regions
9.3.1 Overview
9.3.1.1 Market Size and Analysis
9.3.2 North America
9.3.2.1 Market Size and Analysis
9.3.3 Europe
9.3.3.1 Market Size and Analysis
9.3.4 Asia Pacific
9.3.4.1 Market Size and Analysis
9.3.5 LAAM
9.3.5.1 Market Size and Analysis
9.4 Vendor Assessment
9.4.1 Optomec
9.4.1.1 Overview
9.4.1.2 R&D spending
9.4.1.3 Optomec 3D printing market
9.4.1.4 Infoholic Insights
9.4.2 XYZ Printing
9.4.2.1 Overview
9.4.2.2 R&D spending
9.4.2.3 XYZ printing 3D printing market
9.4.2.4 Infoholic Research Insights
9.4.3 HP Development Company, L.P.
9.4.3.1 Overview
9.4.3.2 R&D spending
9.4.3.3 HP 3D printing market
9.4.3.4 Infoholic Insights
10 Vendor Profiles
10.1 3D Systems Corporation
10.1.1 Overview
10.1.2 Business Units
10.1.3 Geographic Revenue
10.1.4 Business Focus
10.1.5 SWOT Analysis
10.1.6 Business Strategy
10.2 Stratasys Ltd.
10.2.1 Overview
10.2.2 Business Units
10.2.3 Geographical Revenue
10.2.4 Business Focus
10.2.5 SWOT Analysis
10.2.6 Business Strategy
10.3 Boeing Co.
10.3.1 Overview
10.3.2 Business Units
10.3.3 Geographic Revenue
10.3.4 Business Focus
10.3.5 SWOT Analysis
10.3.6 Business Strategy
10.4 Airbus Group SE
10.4.1 Overview
10.4.2 Business Units
10.4.3 Geographical Revenue
10.4.4 Business Focus
10.4.5 SWOT Analysis
10.4.6 Business Strategy
10.5 General Electric Aviation
10.5.1 Overview
10.5.2 Business Units
10.5.3 Geographic Revenue
10.5.4 Business Focus
10.5.5 SWOT Analysis
10.5.6 Business Strategy
11 Competitor Landscape
11.1 Competitive Analysis by Technologies
11.2 Mergers and Acquisition
11.3 Joint Ventures
12 Global Generalists
12.1 International Business Machines Corp. (IBM)
12.1.1 Overview
12.1.2 IBM Offerings
12.1.3 IBM in 3D Printing Market
12.2 Microsoft Corporation
12.2.1 Overview
12.2.2 Microsoft Offerings
12.2.3 Microsoft in 3D Printing
12.3 Google
12.3.1 Overview
12.3.2 Google Offerings
12.3.3 Google in 3D Printing Market
12.4 Amazon
12.4.1 Overview
12.4.2 Amazon Offerings
12.4.3 Amazon in 3D Printing
13 Annexure
Acronym
TABLE 1 TRADITIONAL PRINTING V/S 3D PRINTING
TABLE 2 WORLDWIDE 3D PRINTING MARKET REVENUE, BY TYPES,2016-2022 ($BILLION)
TABLE 3 WORLDWIDE 3D PRINTING MARKET GROWTH, BY TYPES,2016-2022, Y-O-Y (%)
TABLE 4 3D PRINTING MARKET REVENUE, BY TECHNOLOGIES, 2016–2022 ($BILLION)
TABLE 5 3D PRINTING MARKET GROWTH, BY TECHNOLOGIES,2016-2022, Y-O-Y (%)
TABLE 6 FDM – KEY FACTORS
TABLE 7 SLS – KEY FACTORS
TABLE 8 SLA – KEY FACTORS
TABLE 9 OTHERS – KEY FACTORS
TABLE 10 OTHERS MARKET REVENUE, 2016–2022 ($BILLION)
TABLE 11 3D PRINTING MARKET REVENUE, BY MATERIALS, 2016–2022 ($BILLON)
TABLE 12 3D PRINTING MARKET GROWTH, BY MATERIALS, 2016-2022, Y-O-Y (%)
TABLE 13 CATEGORIES OF PLASTICS
TABLE 14 TERMS ASSOCIATED WITH THE CERAMICS 3D PRINTING PROCESS
TABLE 15 METAL TYPES
TABLE 16 3D PRINTING IN AEROSPACE APPLICATIONS
TABLE 17 AEROSPACE, 3D PRINTING MARKET REVENUE BY TYPES, 2016–2022 ($MILLION)
TABLE 18 AEROSPACE, 3D PRINTING MARKET GROWTH BY TYPES, 2016–2022, Y-O-Y (%)
TABLE 19 TECHNOLOGIES, MARKET REVENUE, 2016–2022 ($MILLION)
TABLE 20 MATERIALS, MARKET REVENUE, 2016–2022 ($MILLION)
TABLE 21 AEROSPACE MARKET REVENUE, BY REGIONS, 2016–2022 ($MILLION)
TABLE 22 AEROSPACE MARKET GROWTH ,BY REGIONS, 2016-2022, Y-O-Y (%)
TABLE 23 NORTH AMERICA MARKET REVENUE, BY TYPES, 2016–2022 ($MILLION)
TABLE 24 NORTH AMERICA MARKET GROWTH, BY TYPES, 2016–2022, Y-O-Y (%)
TABLE 25 EUROPE MARKET REVENUE, BY TYPES, 2016–2022 ($MILLION)
TABLE 26 EUROPE MARKET GROWTH, BY TYPES, 2016–2022, Y-O-Y (%)
TABLE 27 ASIA PACIFIC MARKET REVENUE, BY TYPES, 2016–2022 ($MILLION)
TABLE 28 ASIA PACIFIC MARKET GROWTH, BY TYPES, 2016–2022, Y-O-Y (%)
TABLE 29 LAAM MARKET REVENUE, BY TYPES, 2016–2022 ($MILLION)
TABLE 30 LAAM MARKET GROWTH, BY TYPES, 2016–2022, Y-O-Y (%)
TABLE 31 AEROJET ROCKETDYNE, R&D SPENDING, 2014-2016 ($MILLION)
TABLE 32 ROLLS-ROYCE PLC, R&D SPENDING'S, 2014-2016 ($MILLION)
TABLE 33 SAFRAN TURBOMECA, R&D SPENDING'S, 2014-2016 ($MILLION)
TABLE 34 3D PRINTING IN CONSUMER ELECTRONICS APPLICATIONS
TABLE 35 CONSUMER ELECTRONICS, 3D PRINTING MARKET REVENUE, BY TYPES, 2016–2022 ($MILLION)
TABLE 36 CONSUMER ELECTRONICS, 3D PRINTING MARKET GROWTH, BY TYPES, 2016–2022, Y-O-Y (%)
TABLE 37 TECHNOLOGY MARKET REVENUE, 2016–2022 ($MILLION)
TABLE 38 MATERIALS, MARKET REVENUE, 2016–2022 ($MILLION)
TABLE 39 CONSUMER ELECTRONICS MARKET REVENUE, BY REGIONS,2016-2022 ($MILLION)
TABLE 40 CONSUMER ELECTRONICS MARKET GROWTH, BY REGIONS, 2016-2022, Y-O-Y (%)
TABLE 41 NORTH AMERICA, MARKET REVENUE, BY TYPES, 2016–2022 ($MILLION)
TABLE 42 NORTH AMERICA, MARKET GROWTH, BY TYPES, 2016–2022, Y-OY (%)
TABLE 43 EUROPE, MARKET REVENUE, BY TYPES, 2016–2022 ($MILLION)
TABLE 44 EUROPE MARKET GROWTH, BY TYPES, 2016–2022, Y-O-Y (%)
TABLE 45 ASIA PACIFIC MARKET REVENUE, BY TYPES, 2016–2022 ($MILLION)
TABLE 46 ASIA PACIFIC MARKET GROWTH, BY TYPES,2016-2022, Y-O-Y (%)
TABLE 47 LAAM MARKET REVENUE, BY TYPES, 2016–2022 ($MILLION)
TABLE 48 LAAM MARKET GROWTH, BY TYPES, 2016–2022,Y-O-Y(%)
TABLE 49 HP R&D SPENDING'S, 2014–2016 ($MILLION)
TABLE 50 MERGERS AND ACQUISITIONS, 2015-2014
TABLE 51 JOINT VENTURES, 2015-2016
TABLE 52 IBM OFFERINGS
TABLE 53 GOOGLE OFFERINGS
CHART 1 PEST ANALYSIS OF 3D PRINTING MARKET
CHART 2 RESEARCH METHODOLOGY OF 3D PRINTING MARKET IN AEROSPACE & CONSUMER ELECTRONICS
CHART 3 3D PRINTING PROCESS
CHART 4 WORLDWIDE 3D PRINTING MARKET, 2016–2022 ($BILLION)
CHART 5 WORLDWIDE 3D PRINTING MARKET IN AEROSPACE & CONSUMER ELECTRONICS, 2016–2022 ($BILLION)
CHART 6 ADDITIVE MANUFACTURING PROCESSES
CHART 7 3D PRINTING MARKET SEGMENTATION
CHART 8 TECHNOLOGY ROADMAP OF 3D PRINTING MARKET
CHART 9 PORTERS 5 FORCES ON 3D PRINTING MARKET IN AEROSPACE & CONSUMER ELECTRONICS
CHART 10 3D PRINTING VALUE CHAIN
CHART 11 MARKET DYNAMICS – DRIVERS, RESTRAINTS & OPPORTUNITIES
CHART 12 DRO – IMPACT ANALYSIS OF 3D PRINTING IN AEROSPACE & CONSUMER ELECTRONICS MARKET
CHART 13 KEY STAKEHOLDERS
CHART 14 3D PRINTING MARKET REVENUE, BY TECHNOLOGIES, 2016–2022 ($BILLION)
CHART 15 3D PRINTING MARKET, BY TECHNOLOGIES, 2016–2022 ($BILLION)
CHART 16 FDM ARCHITECTURE
CHART 17 FDM PROCESS
CHART 18 FDM MARKET REVENUE, 2016–2022 ($BILLION)
CHART 19 SLS ARCHITECTURE
CHART 20 SLS PROCESS
CHART 21 SLS, MARKET REVEUE, 2016–2022 ($BILLION)
CHART 22 SLA ARCHITECTURE
CHART 23 SLA PROCESS
CHART 24 SLA. MARKET REVENUE, 2016–2022 ($BILLION)
CHART 25 3D PRINTING MARKET REVENUE, BY MATERIALS, 2016–2022 ($BILLON)
CHART 26 3D PRINTING MARKET, BY MATERIALS, 2016–2022 ($BILLON)
CHART 27 PLASTICS, MARKET REVENUE, 2016–2022 ($BILLION)
CHART 28 CERAMICS 3D PRINTING PROCESS
CHART 29 CERAMICS, MARKET REVENUE, 2016–2022, ($BILLION)
CHART 30 DIFFERENT TYPE OF RUBBER LIKE MATERIALS
CHART 31 RUBBER 3D PRINTING PROCESS
CHART 32 RUBBERS, MARKET REVENUE,2016-2022 ($BILLION)
CHART 33 METALS 3D PRINTING PROCESS
CHART 34 METALS, MARKET REVENUE, 2016–2022 ($BILLION)
CHART 35 WAX 3D PRINTING PROCESS
CHART 36 WAX, MARKET REVENUE, 2016–2022 ($BILLION)
CHART 37 OTHERS, MARKET REVENUE, 2016–2022 ($BILLION)
CHART 38 AEROSPACE, 3D PRINTING MARKET REVENUE, 2016–2022 ($MILLION)
CHART 39 AEROSPACE MARKET REVENUE, BY REGIONS, 2016–2022 ($MILLION)
CHART 40 NORTH AMERICA – 3D PRINTING MARKET IN AEROSPACE, DRIVERS
CHART 41 NORTH AMERICA MARKET REVENUE, 2016–2022 ($MILLION)
CHART 42 EUROPE – 3D PRINTING MARKET IN AEROSPACE, DRIVERS
CHART 43 EUROPE MARKET REVENUE, 2016–2022 ($MILLION)
CHART 44 ASIA PACIFIC - 3D PRINTING MARKET IN AEROSPACE, DRIVERS
CHART 45 ASIA PACIFIC MARKET REVENUE, 2016–2022 ($MILLION)
CHART 46 LAAM MARKET REVENUE, 2016–2022 ($MILLION)
CHART 47 CONSUMER ELECTRONICS, 3D PRINTING MARKET REVENUE, 2016–2022 ($MILLION)
CHART 48 NORTH AMERICA, 3D PRINTING IN CONSUMER ELECTRONICS, DRIVERS
CHART 49 NORTH AMERICA, MARKET REVENUE, 2016–2022 ($MILLION)
CHART 50 EUROPE - 3D PRINTING IN CONSUMER ELECTRONICS, DRIVERS
CHART 51 EUROPE, MARKET REVENUE, 2016–2022 ($MILLION)
CHART 52 ASIA PACIFIC-3D PRINTING IN CONSUMER ELECTRONICS, DRIVERS
CHART 53 ASIA PACIFIC, MARKET REVENUE, 2016–2022 ($MILLION)
CHART 54 LAAM – 3D PRINTING IN CONSUMER ELECTRONICS, DRIVERS
CHART 55 LAAM MARKET REVENUE, 2016–2022 ($MILLION)
CHART 56 3D SYSTEMS CORPORATION: OVERVIEW
CHART 57 3D SYSTEMS CORPORATIONS: BUSINESS UNITS
CHART 58 3D SYSTEMS CORPORATIONS: GEOGRAPHICAL REVENUE
CHART 59 3D SYSTEMS CORPORATION: SWOT ANALYSIS
CHART 60 STRATASYS: OVERVIEW
CHART 61 STRATASYS: BUSINESS UNITS
CHART 62 STRATASYS: GEOGRAPHICAL REVENUE
CHART 63 STRATASYS: SWOT ANALYSIS
CHART 64 BOEING CO.: OVERVIEW
CHART 65 BOEING: BUSINESS UNITS
CHART 66 BOEING: GEOGRAPHIC REVENUE
CHART 67 BOEING: SWOT ANALYSIS
CHART 68 AIRBUS GROUP: OVERVIEW
CHART 69 AIRBUS GROUP: BUSINESS UNITS
CHART 70 AIRBUS GROUP: GEOGRAPHIC REVENUE
CHART 71 AIRBUS GROUP: SWOT ANALYSIS
CHART 72 GE: OVERVIEW SNAPSHOT
CHART 73 GE: BUSINESS UNITS
CHART 74 GE: GEOGRAPHIC REVENUE*
CHART 75 GE: SWOT ANALYSIS
CHART 76 COMPETITIVE ANALYSIS BY TECHNOLOGIES
CHART 77 IBM: OVERVIEW
CHART 78 MICROSOFT: OVERVIEW
CHART 79 MICROSOFT OFFERINGS
CHART 80 GOOGLE: OVERVIEW
CHART 81 AMAZON: OVERVIEW
3D Systems Corporation
Stratasys Ltd.
Boeing Co.
Airbus Group SE
General Electric Aviation
International Business Machines Corp. (IBM)
Microsoft Corporation
Google
Amazon