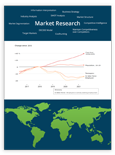 Worldwide Hybrid Cloud Computing Market - Solutions (Application Architecture, Network Integration, Management Systems), Service Model (Iaas, PaaS, SaaS), Verticals (Banking & Financial Services, Consumer Goods & Retail, Healthcare, Manufacturing, Media & Entertainment, Energy & Utilities, Government, Telecommunication & IT, Transportation & Logistics, Others), By Regions - Drivers, Opportunities, Trends, and Forecasts, 2016-2022
ID: 1057

June 28, 2016

170 pages

Infoholic Research
Globally, enterprises are opting for hybrid cloud technologies to leverage cost savings and technical expertise to focus on its core business. Organizations can easily shift their non-critical data and applications from private to the public cloud to reduce the web traffic. The next five years will see an explosion in the use of hybrid cloud as it helps organizations to save cost on infrastructure and application support. Nearly 82% of the enterprises have hybrid cloud strategy for 2018. Hybrid cloud provides a single solution to organizations involved in multiple verticals. It can be applied to any industries including power, media & entertainment, complex computing, healthcare, government, education, analytics and much more. More than 60% of the large enterprises are planning to implement hybrid clouds by 2020.
A rapid increase in the private cloud adoption is driving the hybrid cloud market with nearly 82% of the enterprises planning to have a hybrid cloud strategy by 2017. The pay per use model is useful and affordable to the enterprises across all the verticals and regions. Cloud governance has witnessed a rapid growth with nearly 30% of the enterprises having established approval policies and by 2018 more than 50% will have approved cloud policies. According to Infoholic research, the "Worldwide Hybrid Cloud Computing Market" is expected to grow at a CAGR of 34.3% during the forecast period 2016–2022.
The hybrid cloud computing market is analyzed based on four segments: solutions, service model, verticals and regions. The solutions segment includes application architecture, network integration and management systems. Application architecture segment is expected to have a major role in the hybrid cloud computing market.
Banking & financial services, consumer goods & retail, healthcare, manufacturing, media & entertainment, energy & utilities, government, telecommunication and IT, transportation & logistics and others. The manufacturing industry is set to be the leading vertical for hybrid cloud computing market and telecommunication and IT industry is set to be the emerging vertical for the market growth. The regions covered are North America, Latin America, Western Europe, Central Eastern Europe, Asia Pacific, Latin America, and the Middle East & Africa. North America is expected to outperform in the market growth along with Asia Pacific which is expected to provide huge opportunities in hybrid cloud computing market space.
The report provides a complete picture (vertical market opportunity, regional market opportunity, challenges, current market trends, future market trends, evolution, technology roadmap, etc.) of the hybrid cloud computing market.
The key players covered in this report are Equinix, Computer Science Corporation, AT&T, Oracle, IBM, Microsoft, VMware, Rackspace Hosting, EMC, etc.
The study covers and analyzes the "Worldwide Hybrid Cloud Computing" market. Bringing out the complete key insights of the industry, the report aims to provide an opportunity for players to understand the latest trends, current market scenario, and technologies related to the market. In addition, helps the venture capitalist in understanding the companies better and take informed decisions.
Table of Contents
1 Industry Outlook
1.1 Industry Overview
1.2 Industry Trends
1.3 Pest Analysis
2 Report Outline
2.1 Report Scope
2.2 Report Summary
2.3 Research Methodology
2.4 Report Assumptions
3 Market Snapshot
3.1 Total Addressable Market (TAM)
3.2 Segmented Addressable Market (SAM)
3.3 Related Markets
4 Market Outlook
4.1 Market Overview
4.2 Regulatory Bodies and Standards
4.3 Government Spending and Initiatives
4.4 Porter 5 (Five) Forces
4.4.1 Supplier's Bargaining Power
4.4.2 Buyer's Bargaining Power
4.4.3 Threat from New Entrants
4.4.4 Threat from Substitutes
4.4.5 Degree of Competition
5 Market Characteristics
5.1 Evolution
5.2 Ecosystem
5.3 Market Segmentation
5.4 Market Dynamics
5.4.1 Drivers
5.4.1.1 Return on Assets
5.4.1.2 Disaster Recovery at Real Time
5.4.1.3 Customised Technology Models
5.4.1.4 Access to Multiple Tools
5.4.2 Restraints
5.4.2.1 Compliance Requirements
5.4.2.2 Data Synchronization Complexities
5.4.2.3 Security and Networking
5.4.3 Opportunities
5.4.3.1 Flexibility and Control
5.4.3.2 Customized Infrastructure
5.4.3.3 Access to Real Time Information
5.4.4 DRO – Impact Analysis
6 Trends and Roadmap
6.1 Market Trends and Impact
6.2 Technology Roadmap
7 Solutions: Market Size and Analysis
7.1 Overview
7.1.1 Market Size and Analysis
7.2 Application Architecture
7.2.1 Market Size and Analysis
7.3 Network Integration
7.3.1 Market size and Analysis
7.4 Management Systems
7.4.1 Market size and Analysis
7.5 Vendor Profiles
7.5.1 Dell Inc.
7.5.1.1 Overview
7.5.1.2 Recent Developments
7.5.1.3 Business Focus
7.5.1.4 SWOT Analysis
7.5.1.5 Business Strategies
7.5.2 Amazon Web Services, Inc.
7.5.2.1 Overview
7.5.2.2 Geographic Revenue
7.5.2.3 Recent Developments
7.5.2.4 Business Focus
7.5.2.5 SWOT Analysis
7.5.2.6 Business Strategies
7.5.3 VMware, Inc.
7.5.3.1 Overview
7.5.3.2 Business Unit
7.5.3.3 Geographic Revenue
7.5.3.4 Recent Developments
7.5.3.5 Business Focus
7.5.3.6 SWOT Analysis
7.5.3.7 Business Strategies
7.5.4 Rackspace Hosting, Inc.
7.5.4.1 Overview
7.5.4.2 Business Unit
7.5.4.3 Geographic Revenue
7.5.4.4 Recent Developments
7.5.4.5 Business Focus
7.5.4.6 SWOT Analysis
7.5.4.7 Business Strategies
7.5.5 RightScale, Inc.
7.5.5.1 Overview
7.5.5.2 Recent Developments
7.5.5.3 Business Focus
7.5.5.4 SWOT Analysis
7.5.5.5 Business Strategies
7.5.6 Cisco Systems, Inc.
7.5.6.1 Overview
7.5.6.2 Business Unit
7.5.6.3 Geographic Revenue
7.5.6.4 Recent Developments
7.5.6.5 Business Focus
7.5.6.6 SWOT Analysis
7.5.6.7 Business Strategies

8 Service Model: Market Size and Analysis
8.1 Overview
8.1.1 Market size and analysis
8.2 Infrastructure as a Service (IaaS)
8.2.1 Market Size and Analysis
8.3 Platform as a Service (PaaS)
8.3.1 Market Size and Analysis
8.4 Software as a Service (SaaS)
8.4.1 Market Size and Analysis
8.5 Vendor Profiles
8.5.1 EMC Corporation
8.5.1.1 Overview
8.5.1.2 Business Unit
8.5.1.3 Geographic Revenue
8.5.1.4 Recent Developments
8.5.1.5 Business Focus
8.5.1.6 SWOT Analysis
8.5.1.7 Business Strategies
8.5.2 Computer Sciences Corporation
8.5.2.1 Overview
8.5.2.2 Business Unit
8.5.2.3 Geographic Revenue
8.5.2.4 Recent Developments
8.5.2.5 Business Focus
8.5.2.6 SWOT Analysis
8.5.2.7 Business Strategies
8.5.3 AT&T, Inc.
8.5.3.1 Overview
8.5.3.2 Business Unit
8.5.3.3 Geographic Revenue
8.5.3.4 Recent Developments
8.5.3.5 Business Focus
8.5.3.6 SWOT Analysis
8.5.3.7 Business Strategies
8.5.4 Equinix, Inc.
8.5.4.1 Overview
8.5.4.2 Business Unit
8.5.4.3 Geographic Revenue
8.5.4.4 Recent Developments
8.5.4.5 Business Focus
8.5.4.6 SWOT Analysis
8.5.4.7 Business Strategies
8.5.5 Citrix Systems Inc.
8.5.5.1 Overview
8.5.5.2 Business Unit
8.5.5.3 Geographic Revenue
8.5.5.4 Recent Developments
8.5.5.5 Business Focus
8.5.5.6 SWOT Analysis
8.5.5.7 Business Strategies
9 Verticals: Market Size and Analysis
9.1 Overview
9.1.1 Market Size and Analysis
9.2 Banking & Financial Services
9.2.1 Drivers
9.2.1.1 Compatible and Portable
9.2.1.2 Maximize Asset Utilization
9.2.1.3 Regulations and Compliance
9.2.2 Opportunities
9.2.2.1 Pay-As-You-Go Basis
9.2.2.2 Business Process Flexibility
9.2.2.3 Mobile Payment and Card Processing
9.2.3 Market Size and Analysis
9.3 Consumer Goods & Retail
9.3.1 Drivers
9.3.1.1 Collaboration
9.3.1.2 Mobility
9.3.1.3 Surge In Demand
9.3.2 Opportunities
9.3.2.1 Social Network Identity
9.3.2.2 Business Process Analytics
9.3.2.3 Real Time Applications
9.3.3 Market Size and Analysis
9.4 Healthcare
9.4.1 Drivers
9.4.1.1 Data Management
9.4.1.2 Mobile Computing and Data Centralization
9.4.1.3 Managed Services
9.4.2 Opportunities
9.4.2.1 Electronic Health Records
9.4.2.2 Clinical Data Reporting and Mining
9.4.3 Market Size and Analysis
9.5 Manufacturing
9.5.1 Drivers
9.5.1.1 Collaboration with Suppliers
9.5.1.2 Regulation and Compliance
9.5.1.3 Production Management
9.5.2 Opportunities
9.5.2.1 Collaborated Supply Chain
9.5.2.2 Centralized Intelligence Network
9.5.3 Market Size and Analysis
9.6 Media & Entertainment
9.6.1 Drivers
9.6.1.1 Cloud Compatible Media Asset Management
9.6.1.2 High Storage Capacity
9.6.2 Opportunity
9.6.2.1 Content Management and Allocation
9.6.2.2 Automatic Migration of Data
9.6.3 Market Size and Analysis
9.7 Energy & Utilities
9.7.1 Drivers
9.7.1.1 Transparency and Control
9.7.1.2 Predictive Analysis
9.7.1.3 Digital Oilfields
9.7.2 Opportunities
9.7.2.1 Business Continuity and Customer Intelligence
9.7.2.2 Hydrocracking Data management
9.7.2.3 Geographical Information System
9.7.3 Market Size and Analysis
9.8 Government
9.8.1 Drivers
9.8.1.1 Interactive Access to Services
9.8.1.2 Quick Responsiveness to Risk
9.8.2 Opportunities
9.8.2.1 Automated Optimisation of Resources
9.8.2.2 Public Sector Information Management
9.8.3 Market Size and Analysis
9.9 Telecommunication & IT
9.9.1 Drivers
9.9.1.1 Easy to Roll Out New Applications and Shift Networks
9.9.1.2 Migrating to Latest Networks
9.9.2 Opportunities
9.9.2.1 Real-time Billing and Centralised Loyalty Programs
9.9.2.2 On Demand ICT Services
9.9.3 Market Size and Analysis
9.10 Transportation & Logistics
9.10.1 Drivers
9.10.1.1 Adapt to Sudden Changes and Disruptions
9.10.1.2 Quick and Easily Access to Data
9.10.2 Opportunities
9.10.2.1 Provides Relevant Data from Anywhere Anytime
9.10.2.2 Real-time Inventory
9.10.2.3 Centralised Transit Tracking Model
9.10.3 Market Size and Analysis
9.11 Others
9.11.1 Drivers
9.11.1.1 Security and Compliance
9.11.1.2 Scalability
9.11.2 Opportunities
9.11.2.1 Data Backup and Disaster recovery
9.11.2.2 Peak Hour Management
9.11.3 Market Size and Analysis
10 Regions: Market Size and Analysis
10.1 Overview
10.1.1 Market Size and analysis
10.2 North America
10.2.1 US
10.2.2 Canada
10.2.3 Market Size and Analysis
10.3 Western Europe
10.3.1 UK
10.3.2 Germany
10.3.3 France
10.3.4 Italy
10.3.5 Spain
10.3.6 Rest of Western Europe
10.3.7 Market Size and Analysis
10.4 Asia Pacific
10.4.1 Japan
10.4.2 South Korea
10.4.3 China
10.4.4 India
10.4.5 Rest of Asia
10.4.6 Market Size and Analysis
10.5 Central Eastern Europe (CEE)
10.5.1 Poland
10.5.2 Russia
10.5.3 Turkey
10.5.4 Rest of Central Eastern Europe
10.6 Latin America
10.6.1 Brazil
10.6.2 Mexico
10.6.3 Argentina
10.6.4 Rest of Latin America
10.7 Middle East & Africa
10.7.1 Gulf Cooperation Council (GCC)
10.7.2 Africa
10.7.3 Rest of Middle East & Africa
11 Competitive Landscape
11.1 Competitor Comparison Analysis
11.1.1 Analysis By Hybrid Cloud Types
11.1.2 Analysis By Hybrid Cloud Service Model
11.2 Market Landscape
11.2.1 Mergers & Acquisitions (M&A)

12 Global Generalist
12.1 Oracle Corporation
12.1.1 Overview
12.1.2 Business Segments
12.1.3 Recent Developments
12.1.4 Oracle Corporation in Hybrid Cloud Computing
12.1.5 Oracle Products
12.2 Microsoft Corporation
12.2.1 Overview
12.2.2 Business Segments
12.2.3 Recent Developments
12.2.4 Microsoft Corporation in Hybrid Cloud Computing
12.2.5 Microsoft Products
12.3 International Business Machines Corporation
12.3.1 Overview
12.3.2 Business Segments
12.3.3 Recent Developments
12.3.4 IBM in Hybrid Cloud Computing
12.3.5 IBM Products
13 Companies to Watch for
13.1 Green House Data
13.1.1 Overview
13.1.2 Green House Data Market
13.1.3 Hybrid Cloud Computing Offering
13.2 Atlantic.Net
13.2.1 Overview
13.2.2 Atlantic.Net Market
13.2.3 Hybrid Cloud Computing Offering
13.3 Velostrata
13.3.1 Overview
13.3.2 Velostrata Market
13.3.3 Hybrid Cloud Computing Offering
14 End-User Views
14.1 End-user Views 1
14.2 End-user Views 2
14.3 End-user Views 3

15 What Our Peers Are Estimating
15.1 Publisher 1
15.2 Publisher 2
15.3 Publisher 3
Annexure
Abbreviations
List of Tables
TABLE 1 HYBRID CLOUD MARKET REVENUE BY SOLUTIONS, 2016–2022 ($BILLION)
TABLE 2 HYBRID CLOUD MARKET GROWTH BY SOLUTIONS, 2016–2022 (Y-O-Y) %
TABLE 3 APPLICATION ARCHITECTURE MARKET REVENUE BY VERTICALS, 2016-2022 ($BILLION)
TABLE 4 APPLICATION ARCHITECTURE MARKET REVENUE BY REGIONS, 2016–2022 ($BILLION)
TABLE 5 NETWORK INTEGRATION MARKET REVENUE BY VERTICALS, 2016–2022 ($BILLION)
TABLE 6 NETWORK INTEGRATION MARKET REVENUE BY REGIONS, 2016–2022 ($BILLION)
TABLE 7 MANAGEMENT SYSTEMS MARKET REVENUE BY VERTICALS, 2016–2022 ($BILLION)
TABLE 8 MANAGEMENT SYSTEMS MARKET REVENUE BY REGIONS, 2016–2022 ($BILLION)
TABLE 9 DELL: RECENT DEVELOPMENTS
TABLE 10 AMAZON: RECENT DEVELOPMENTS
TABLE 11 VMWARE: RECENT DEVELOPMENTS
TABLE 12 RACKSPACE: RECENT DEVELOPMENTS
TABLE 13 RIGHTSCALE: RECENT DEVELOPMENTS
TABLE 14 CISCO: RECENT DEVELOPMENTS
TABLE 15 HYBRID CLOUD MARKET REVENUE BY SERVICE MODEL, 2016–2022 ($BILLION)
TABLE 16 HYBRID CLOUD MARKET GROWTH BY SERVICE MODEL, 2016–2022 Y-O-Y (%)
TABLE 17 INFRASTRUCTURE AS A SERVICE (IAAS) MARKET REVENUE BY VERTICALS, 2016–2022 ($BILLION)
TABLE 18 INFRASTRUCTURE AS A SERVICE (IAAS) MARKET REVENUE BY REGIONS, 2016–2022 ($BILLION)
TABLE 19 PLATFORM AS A SERVICE (PAAS) MARKET REVENUE BY VERTICALS, 2016–2022 ($BILLION)
TABLE 20 PLATFORM AS A SERVICE (PAAS) MARKET REVENUE BY REGIONS, 2016–2022 ($BILLION)
TABLE 21 SOFTWARE AS A SERVICE (SAAS) MARKET REVENUE BY VERTICALS, 2016–2022 ($BILLION)
TABLE 22 SOFTWARE AS A SERVICE (SAAS) MARKET REVENUE BY REGIONS, 2016–2022 ($BILLION)
TABLE 23 EMC: RECENT DEVELOPMENTS
TABLE 24 CSC: RECENT DEVELOPMENTS
TABLE 25 AT&T: RECENT DEVELOPMENTS
TABLE 26 EQUINIX: RECENT DEVELOPMENTS
TABLE 27 HYBRID CLOUD MARKET REVENUE BY VERTICALS, 2016–2022 ($BILLION)
TABLE 28 HYBRID CLOUD MARKET GROWTH BY VERTICALS, 2016–2022 (Y-O-Y) %
TABLE 29 BANKING & FINANCIAL SERVICES MARKET REVENUE BY SERVICE MODEL, 2016–2022 ($BILLION)
TABLE 30 BANKING & FINANCIAL SERVICES MARKET REVENUE BY REGIONS, 2016–2022 ($BILLION)
TABLE 31 CONSUMER GOODS AND RETAIL MARKET REVENUE BY SERVICE MODEL, 2016–2022 ($BILLION)
TABLE 32 CONSUMER GOODS AND RETAIL MARKET REVENUE BY REGIONS, 2016–2022 ($BILLION)
TABLE 33 HEALTHCARE MARKET REVENUE BY SERVICE MODEL, 2016–2022 ($BILLION)
TABLE 34 HEALTHCARE MARKET REVENUE BY REGIONS, 2016–2022 ($BILLION)
TABLE 35 COST COMPARISON BETWEEN ON-PREMISES AND HYBRID CLOUD MODELS FOR MANUFACTURING INDUSTRIES
TABLE 36 MANUFACTURING MARKET REVENUE BY SERVICE MODEL, 2016–2022 ($BILLION)
TABLE 37 MANUFACTURING MARKET REVENUE BY REGIONS, 2016–2022 ($BILLION)
TABLE 38 MEDIA & ENTERTAINMENT MARKET REVENUE BY SERVICE MODEL, 2016–2022 ($BILLION)
TABLE 39 MEDIA & ENTERTAINMENT MARKET REVENUE BY REGIONS, 2016–2022 ($BILLION)
TABLE 40 ENERGY & UTILITIES MARKET REVENUE BY SERVICE MODEL, 2016–2022 ($BILLION)
TABLE 41 ENERGY & UTILITIES MARKET REVENUE BY REGIONS, 2016–2022 ($BILLION)
TABLE 42 GOVERNMENT MARKET REVENUE BY SERVICE MODEL, 2016–2022 ($BILLION)
TABLE 43 GOVERNMENT MARKET REVENUE BY REGIONS, 2016–2022 ($BILLION)
TABLE 44 TELECOMMUNICATION AND IT MARKET REVENUE BY SERVICE MODEL, 2016–2022 ($BILLION)
TABLE 45 TELECOMMUNICATION AND IT MARKET REVENUE BY REGIONS, 2016–2022 ($BILLION)
TABLE 46 TRANSPORTATION AND LOGISTICS MARKET REVENUE BY SERVICE MODEL, 2016–2022 ($BILLION)
TABLE 47 TRANSPORTATION AND LOGISTICS MARKET REVENUE BY REGIONS, 2016–2022 ($BILLION)
TABLE 48 OTHERS MARKET REVENUE BY SERVICE MODEL, 2016–2022 ($BILLION)
TABLE 49 OTHERS MARKET REVENUE BY REGIONS, 2016–2022 ($BILLION)
TABLE 50 HYBRID CLOUD MARKET REVENUE BY REGIONS, 2016–2022 ($BILLION)
TABLE 51 HYBRID CLOUD MARKET GROWTH BY REGIONS, 2016–2022 (Y-O-Y) %
TABLE 52 NORTH AMERICA MARKET REVENUE BY COUNTRIES, 2016–2022 ($BILLION)
TABLE 53 WESTERN EUROPE MARKET REVENUE BY COUNTRIES, 2016–2022 ($BILLION)
TABLE 54 ASIA PACIFIC MARKET REVENUE BY COUNTRIES, 2016–2022 ($BILLION)
TABLE 55 CENTRAL EASTERN EUROPE MARKET REVENUE BY COUNTRIES, 2016–2022 ($BILLION)
TABLE 56 LATIN AMERICA MARKET REVENUE BY COUNTRIES, 2016–2022 ($BILLION)
TABLE 57 MIDDLE EAST & AFRICA MARKET REVENUE BY COUNTRIES, 2016–2022 ($BILLION)
TABLE 58 ANALYSIS BY HYBRID CLOUD SERVICE MODEL
TABLE 59 MERGER & ACQUISITION, 2014–2015
List of Charts
CHART 1 PEST ANALYSIS OF WORLDWIDE HYBRID CLOUD COMPUTING MARKET
CHART 2 RESEARCH METHODOLOGY OF WORLDWIDE HYBRID CLOUD COMPUTING MARKET
CHART 3 WORLDWIDE CLOUD COMPUTING MARKET REVENUE, 2016–2022 ($BILLION)
CHART 4 WORLDWIDE HYBRID CLOUD COMPUTING MARKET REVENUE, 2016–2022 ($BILLION)
CHART 5 PORTERS 5 FORCES
CHART 6 EVOLUTION OF HYBRID CLOUD COMPUTING MARKET
CHART 7 ECOSYSTEM OF WORLD HYBRID CLOUD COMPUTING MARKET
CHART 8 WORLDWIDE HYBRID CLOUD COMPUTING MARKET SEGMENTATION
CHART 9 MARKET DYNAMICS – DRIVERS, RESTRAINTS AND OPPORTUNITIES
CHART 10 DRO – IMPACT ANALYSIS OF HYBRID CLOUD COMPUTING MARKET
CHART 11 TECHNOLOGY ROADMAP OF HYBRID CLOUD COMPUTING MARKET
CHART 12 FACTORS DRIVING ENTERPRISES TO MOVE WORKLOADS TO HYBRID CLOUD SOLUTIONS
CHART 13 HYBRID CLOUD APPLICATION ARCHITECTURE MODEL
CHART 14 APPLICATION ARCHITECTURE MARKET REVENUE, 2016–2022 ($BILLION)
CHART 15 NEXT GENERATION HYBRID CLOUD 'WAN' MODEL
CHART 16 NETWORK INTEGRATION MARKET REVENUE, 2016–2022 ($BILLION)
CHART 17 MANAGEMENT SYSTEMS MARKET REVENUE, 2016–2022 ($BILLION)
CHART 18 DELL: OVERVIEW SNAPSHOT
CHART 19 DELL: SWOT ANALYSIS
CHART 20 AMAZON: OVERVIEW SNAPSHOT
CHART 21 AMAZON: GEOGRAPHIC REVENUE
CHART 22 AMAZON: SWOT ANALYSIS
CHART 23 VMWARE: OVERVIEW SNAPSHOT
CHART 24 VMWARE: BUSINESS UNIT
CHART 25 VMWARE: GEOGRAPHIC REVENUE
CHART 26 VMWARE: SWOT ANALYSIS
CHART 27 RACKSPACE: OVERVIEW SNAPSHOT
CHART 28 RACKSPACE: BUSINESS UNIT
CHART 29 RACKSPACE: GEOGRAPHIC REVENUE
CHART 30 RACKSPACE: SWOT ANALYSIS
CHART 31 RIGHTSCALE: OVERVIEW SNAPSHOT
CHART 32 RIGHTSCALE: SWOT ANALYSIS
CHART 33 CISCO: OVERVIEW SNAPSHOT
CHART 34 CISCO: BUSINESS UNIT
CHART 35 CISCO: GEOGRAPHIC REVENUE
CHART 36 CISCO: SWOT ANALYSIS
CHART 37 SEPARATION OF RESPONSIBILITIES BY DIFFERENT SERVICE MODELS
CHART 38 EMC: OVERVIEW SNAPSHOT
CHART 39 EMC: BUSINESS UNIT
CHART 40 EMC: GEOGRAPHIC REVENUE
CHART 41 EMC: SWOT ANALYSIS
CHART 42 CSC: OVERVIEW SNAPSHOT
CHART 43 CSC: BUSINESS UNIT
CHART 44 CSC: GEOGRAPHIC REVENUE
CHART 45 CSC: SWOT ANALYSIS
CHART 46 AT&T: OVERVIEW SNAPSHOT
CHART 47 AT&T: BUSINESS UNIT
CHART 48 AT&T: GEOGRAPHIC REVENUE
CHART 49 AT&T: SWOT ANALYSIS
CHART 50 EQUINIX: OVERVIEW SNAPSHOT
CHART 51 EQUINIX: BUSINESS UNIT
CHART 52 EQUINIX: GEOGRAPHIC REVENUE
CHART 53 EQUINIX: SWOT ANALYSIS
CHART 54 CITRIX: OVERVIEW SNAPSHOT
CHART 55 CITRIX: BUSINESS UNIT
CHART 56 CITRIX: GEOGRAPHIC REVENUE
CHART 57 CITRIX: RECENT DEVELOPMENTS
CHART 58 STRATEGIC COMPARATIVE ANALYSIS OF DIFFERENT CLOUD DEPLOYMENT MODELS
CHART 59 ANALYSIS BY HYBRID CLOUD TYPES
CHART 60 ORACLE: OVERVIEW SNAPSHOT
CHART 61 ORACLE: BUSINESS SEGMENTS
CHART 62 MICROSOFT: OVERVIEW SNAPSHOT
CHART 63 MICROSOFT: BUSINESS SEGMENTS
CHART 64 IBM: OVERVIEW SNAPSHOT
CHART 65 IBM: BUSINESS SEGMENTS
Dell Inc.
Amazon Web Services, Inc.
VMware, Inc.
Rackspace Hosting, Inc.
RightScale, Inc.
Cisco Systems, Inc.
EMC Corporation
Computer Sciences Corporation
AT&T, Inc.
Equinix, Inc.
Citrix Systems Inc.
Oracle Corporation
Microsoft Corporation
International Business Machines Corporation
Green House Data
Atlantic.Net
Velostrata