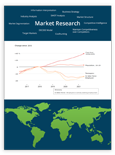 WORLDWIDE CLOUD AUTOMATION MARKET-By Services (Strategic Advisory & Consulting Service, Management & Maintenance Service, and Implementation Service), By Solutions (Automated Cloud Dev/Test, Automated Cloud Migration, and Automated Cloud Recovery), By Verticals (BFSI, Manufacturing, Retail, Telecom, Energy & Utilities, and Transportation), By Regions,Drivers, Opportunities, Trends, and Forecasts, 2016-2022
ID: 1063

September 7, 2016

130 pages

Infoholic Research
Worldwide Cloud Automation Market – Drivers, Opportunities, Trends, and Forecasts, 2016–2022
The increase in the adoption of advanced technologies in enterprises landscape has been increasing the workloads. Balancing the workload and reducing the operational cost have become the key elements for the enterprises to achieve the greater revenue and meet the customer needs. The adoption of cloud automation in industry verticals will help to improve the operational activities, reduce the operational costs, improve business agility, and improve the productivity.
The increase in the adoption of cloud automation is increasing the demand for various cloud automation solutions such as automated cloud recovery, automated cloud migration and automated cloud dev/test. The "Worldwide Cloud Automation" market is expected to grow at a CAGR of 25.9% during the forecast period 2016–2022.
The segments include deployment models, services, solutions, verticals, and regions. The deployment models include private, public, and hybrid. In the cloud automation market, public cloud continues to witness a healthy growth. Private cloud is also expected to hold the second position followed by hybrid cloud in the cloud automation market.
Region segments cover North America, Latin America, Western Europe, Central Eastern Europe, Asia Pacific and the Middle East & Africa (MEA). Further, each region is analyzed by leading countries – North America: the US, Canada; Latin America: Brazil, Mexico and Others; Western Europe: the UK, Germany, Others; Central Eastern Europe: Poland, Turkey, Russia and Others; Asia Pacific: Singapore, India, China, and Others. Finally, MEA: GCC and Africa. The Americas region is expected to outperform for the cloud automation market.
The report helps in getting the complete picture (vertical market opportunity, regional market opportunity, challenges, current market trends, future market trends, evolution, technology roadmap, etc.) of the cloud automation market.
The key players covered in the report are Cisco System, Inc., Dell, IBM, EMC Corporation, HP, CA Technologies Inc., etc.
The study covers and analyzes the "Worldwide Cloud Automation" market. Bringing out the complete key insights of the industry, the report aims to provide an opportunity for players to understand the latest trends, current market scenario, and technologies related to the market. In addition, helps the venture capitalist in understanding the companies better and take informed decisions.

Table of Content
1 Industry Outlook 13
1.1 Industry Overview 13
1.2 Industry Trends 13
1.3 Pest Analysis 14
2 Report Outline 15
2.1 Report Scope 15
2.2 Report Summary 15
2.3 Research Methodology 16
2.4 Report Assumptions 16
3 Market Snapshot 17
3.1 Total Addressable Market (TAM) 17
3.2 Segmented Addressable Market (SAM) 17
3.3 Related Market 18
3.3.1 Industrial Automation Market 18
4 Market Outlook 18
4.1 Overview 18
4.2 Infoholic Market Definition 19
4.3 Market Trends 19
4.4 Market Segmentation 19
4.5 Porter 5 (Five) Forces 20
5 Market Characteristics 20
5.1 Evolution 20
5.2 Ecosystem 21
5.3 Market Dynamics 21
5.3.1 Drivers 23
5.3.1.1 Rising adoption of IoT technology 23
5.3.1.2 Rising adoption of cloud technology 23
5.3.1.3 Effective load balancing 23
5.3.2 Restraints 23
5.3.2.1 Vendors locking 23
5.3.2.2 Privacy and security challenges 23
5.3.3 Opportunities 24
5.3.3.1 Hybrid cloud in demand 24
5.3.3.2 Strategic partnerships in cloud environments 24
5.3.4 DRO – Impact Analysis 24
5.4 Key Stakeholders 25
6 Deployment Model: Market Size and Analysis 25
6.1 Overview 25
6.2 Public cloud 26
6.3 Private Cloud 27
6.4 Hybrid Cloud 29
7 Services: Market Size and Analysis 30
7.1 Overview 30
7.2 Strategic Advisory & Consulting Service 31
7.3 Management & Maintenance Service 32
7.4 Implementation Service 33
8 Solutions: Market Size and Analysis 34
8.1 Overview 34
8.2 Automated Cloud Dev/Test 35
8.3 Automated Cloud Migration 36
8.4 Automated Cloud Recovery 37
9 Verticals: Market Size and Analysis 38
9.1 Overview 38
9.2 BFSI 39
9.3 Manufacturing 40
9.4 Retail 42
9.5 Telecom 44
9.6 Energy & Utilities 45
9.7 Transportation 47
10 Regions: Market Size and Analysis 48
10.1 Overview 48
10.2 North America 49
10.2.1 US 51
10.2.2 Canada 52
10.3 Western Europe 52
10.3.1 UK 54
10.3.2 Germany 55
10.4 Asia Pacific 56
10.4.1 Singapore 58
10.4.2 India 59
10.4.3 China 60
10.5 Central Eastern Europe 60
10.5.1 Poland 62
10.5.2 Russia 63
10.5.3 Turkey 64
10.6 Latin America 65
10.6.1 Brazil 67
10.6.2 Mexico 68
10.7 The Middle East & Africa (MEA) 68
10.7.1 Africa 70
10.7.2 Gulf Cooperation Council (GCC) 71
11 Vendor Profiles 72
11.1 VMware Inc. 72
11.1.1 Overview 72
11.1.2 Business units 73
11.1.3 Geographic Revenue 75
11.1.4 Business Focus 75
11.1.5 SWOT analysis 76
11.1.6 Business strategies 77
11.2 Computer Sciences Corp. (CSC) 77
11.2.1 Overview 77
11.2.2 Business units 78
11.2.3 Geographic Revenue 79
11.2.4 Business Focus 80
11.2.5 SWOT analysis 80
11.2.6 Business strategies 81
11.3 Amazon.com, Inc. 82
11.3.1 Overview 82
11.3.2 Business Units 82
11.3.3 Geographic Revenue 83
11.3.4 Business Focus 84
11.3.5 SWOT Analysis 84
11.3.6 Business Strategies 85
11.4 Google Inc. 86
11.4.1 Overview 86
11.4.2 Business Units 86
11.4.3 Geographic Revenue 87
11.4.4 Business Focus 88
11.4.5 SWOT Analysis 88
11.4.6 Business Strategies 89
11.5 HP Inc. 89
11.5.1 Overview 89
11.5.2 Business Units 90
11.5.3 Geographic Revenue 91
11.5.4 Business Focus 92
11.5.5 SWOT Analysis 93
11.5.6 Business Strategies 94
11.6 Microsoft Corporation 95
11.6.1 Overview 95
11.6.2 Business Units 95
11.6.3 Geographic Revenues 96
11.6.4 Business focus 97
11.6.5 SWOT Analysis 97
11.6.6 Business Strategies 98
11.7 Oracle Corporation 98
11.7.1 Overview 98
11.7.2 Business Units 99
11.7.3 Geographic Revenue 100
11.7.4 Business Focus 100
11.7.5 SWOT Analysis 101
11.7.6 Business Strategies 101
11.8 Citrix Systems, Inc. 102
11.8.1 Overview 102
11.8.2 Business Units 103
11.8.3 Geographic Revenue 104
11.8.4 Business Focus 104
11.8.5 SWOT Analysis 104
11.8.6 Business Strategies 105
11.9 Cisco System Inc. 105
11.9.1 Overview 105
11.9.2 Business Units 106
11.9.3 Geographic Revenue 107
11.9.4 Business Focus 108
11.9.5 SWOT Analysis 108
11.9.6 Business Strategies 109
12 Companies to Watch for 110
12.1 LogicWorks 110
12.1.1 Overview 110
12.1.2 LogicWorks Market 111
12.1.3 Cloud Offerings 111
12.2 Cloud Velox 112
12.2.1 Overview 112
12.2.2 Cloud Velox Market 112
12.2.3 Cloud Offerings 113
12.3 Cloud Automation Solutions, Inc. 113
12.3.1 Overview 113
12.3.2 Cloud Automation Solutions Market 114
12.3.3 Cloud Offerings 114
12.4 Opex Software, Inc. 114
12.4.1 Overview 114
12.4.2 Opex Software Market 115
12.4.3 Opex Focus 115
13 Competitive Landscape 115
13.1 Competitor Comparison Analysis 116
13.2 Market Landscape 116
13.2.1 Mergers & Acquisitions (M&A) 116
13.2.2 Joint Ventures & Collaborations 122
13.2.3 Product Launches 124
Annexure 128
 Abbreviations 128

Tables
TABLE 1 CLOUD AUTOMATION MARKET REVENUE BY TYPES, 2016–2022 ($MILLION) 17
TABLE 2 CLOUD AUTOMATION MARKET GROWTH BY TYPES, 2016–2022, Y-O-Y (%) 17
TABLE 3 CLOUD AUTOMATION MARKET REVENUE BY DEPLOYMENT MODEL, 2016-2022 ($BILLION) 25
TABLE 4 CLOUD AUTOMATION MARKET GROWTH BY DEPLOYMENT MODEL, 2016–2022, Y-O-Y (%) 25
TABLE 5 CLOUD AUTOMATION MARKET REVENUE BY SERVICES, 2016-2022 ($MILLION) 30
TABLE 6 CLOUD AUTOMATION MARKET GROWTH BY SERVICES, 2016–2022, Y-O-Y (%) 30
TABLE 7 CLOUD AUTOMATION MARKET REVENUE BY SOLUTIONS, 2016-2022 ($MILLION) 34
TABLE 8 CLOUD AUTOMATION MARKET GROWTH BY SOLUTION, 2016–2022, Y-O-Y (%) 34
TABLE 9 CLOUD AUTOMATION MARKET REVENUE BY VERTICALS, 2016–2022 ($BILLION) 38
TABLE 10 CLOUD AUTOMATION MARKET GROWTH BY VERTICALS, 2016–2022, Y-O-Y (%) 38
TABLE 11 BFSI MARKET REVENUE BY DEPLOYMENT MODELS, 2016–2022 ($BILLION) 39
TABLE 12 BFSI MARKET GROWTH BY DEPLOYMENT MODELS, 2016–2022, Y-O-Y (%) 40
TABLE 13 BFSI MARKET REVENUE BY TYPES, 2016–2022 ($BILLION) 40
TABLE 14 BFSI MARKET GROWTH BY TYPES, 2016–2022, Y-O-Y (%) 40
TABLE 15 MANUFACTURING MARKET REVENUE BY DEPLOYMENT MODELS, 2016–2022 ($BILLION) 42
TABLE 16 MANUFACTURING MARKET GROWTH BY DEPLOYMENT MODELS, 2016–2022, Y-O-Y (%) 42
TABLE 17 MANUFACTURING MARKET REVENUE BY TYPES, 2016–2022 ($BILLION) 42
TABLE 18 MANUFACTURING MARKET GROWTH BY TYPES, 2016–2022, Y-O-Y (%) 42
TABLE 19 RETAIL MARKET REVENUE BY DEPLOYMENT MODELS, 2016–2022 ($BILLION) 43
TABLE 20 RETAIL MARKET GROWTH BY DEPLOYMENT MODELS, 2016–2022, Y-O-Y (%) 44
TABLE 21 RETAIL MARKET REVENUE BY TYPES, 2016–2022 ($BILLION) 44
TABLE 22 RETAIL MARKET GROWTH BY TYPES, 2016–2022, Y-O-Y (%) 44
TABLE 23 TELECOM MARKET REVENUE BY DEPLOYMENT MODELS, 2016–2022 ($BILLION) 45
TABLE 24 TELECOM MARKET GROWTH BY DEPLOYMENT MODELS, 2016–2022, Y-O-Y (%) 45
TABLE 25 TELECOM MARKET REVENUE BY TYPES, 2016–2022 ($BILLION) 45
TABLE 26 TELECOM MARKET GROWTH BY TYPES, 2016–2022, Y-O-Y (%) 45
TABLE 27 ENERGY & UTILITIES MARKET REVENUE BY DEPLOYMENT MODELS, 2016–2022 ($MILLION) 46
TABLE 28 ENERGY & UTILITIES MARKET GROWTH BY DEPLOYMENT MODELS, 2016–2022, Y-O-Y (%) 46
TABLE 29 ENERGY & UTILITIES MARKET REVENUE BY TYPES, 2016–2022 ($BILLION) 47
TABLE 30 ENERGY & UTILITIES MARKET GROWTH BY TYPES, 2016–2022, Y-O-Y (%) 47
TABLE 31 TRANSPORTATION MARKET REVENUE BY DEPLOYMENT MODELS, 2016–2022 ($MILLION) 47
TABLE 32 TRANSPORTATION MARKET GROWTH BY DEPLOYMENT MODELS, 2016–2022, Y-O-Y (%) 48
TABLE 33 TRANSPORTATION MARKET REVENUE BY TYPES, 2016–2022 ($BILLION) 48
TABLE 34 TRANSPORTATION MARKET GROWTH BY TYPES, 2016–2022, Y-O-Y (%) 48
TABLE 35 CLOUD AUTOMATION MARKET REVENUE BY REGIONS, 2016–2022 ($BILLION) 49
TABLE 36 CLOUD AUTOMATION MARKET GROWTH BY REGIONS, 2016–2022, Y-O-Y (%) 49
TABLE 37 NORTH AMERICA MARKET REVENUE BY COUNTRIES, 2016–2022 ($BILLION) 50
TABLE 38 NORTH AMERICA MARKET GROWTH BY COUNTRIES, 2016–2022, Y-O-Y (%) 50
TABLE 39 NORTH AMERICA MARKET REVENUE BY TYPES, 2016–2022 ($MILLION) 51
TABLE 40 NORTH AMERICA MARKET GROWTH BY TYPES, 2016–2022, Y-O-Y (%) 51
TABLE 41 NORTH AMERICA MARKET REVENUE BY VERTICALS, 2016–2022 ($MILLION) 51
TABLE 42 NORTH AMERICA MARKET GROWTH BY VERTICALS, 2016–2022, Y-O-Y (%) 52
TABLE 43 WESTERN EUROPE MARKET REVENUE BY COUNTRIES, 2016–2022 ($MILLION) 54
TABLE 44 WESTERN EUROPE MARKET GROWTH BY COUNTRIES, 2016–2022, Y-O-Y (%) 54
TABLE 45 WESTERN EUROPE MARKET REVENUE BY TYPES, 2016–2022 ($MILLION) 54
TABLE 46 WESTERN EUROPE MARKET GROWTH BY TYPES, 2016–2022, Y-O-Y (%) 55
TABLE 47 WESTERN EUROPE MARKET REVENUE BY VERTICALS, 2016–2022 ($MILLION) 55
TABLE 48 WESTERN EUROPE MARKET GROWTH BY VERTICALS, 2016–2022, Y-O-Y (%) 55
TABLE 49 ASIA PACIFIC MARKET REVENUE BY COUNTRIES, 2016–2022 ($MILLION) 58
TABLE 50 ASIA PACIFIC CLOUD AUTOMATION MARKET GROWTH BY COUNTRIES, 2016–2022, Y-O-Y (%) 58
TABLE 51 ASIA PACIFIC MARKET REVENUE BY TYPES, 2016–2022 ($MILLION) 58
TABLE 52 ASIA PACIFIC MARKET GROWTH BY TYPES, 2016–2022, Y-O-Y (%) 58
TABLE 53 ASIA PACIFIC MARKET REVENUE BY VERTICALS, 2016–2022 ($MILLION) 59
TABLE 54 ASIA PACIFIC MARKET GROWTH BY VERTICALS, 2016–2022, Y-O-Y (%) 59
TABLE 55 CENTRAL EASTERN EUROPE MARKET REVENUE BY COUNTRIES, 2016–2022 ($MILLION) 62
TABLE 56 CENTRAL EASTERN EUROPE CLOUD AUTOMATION MARKET GROWTH BY COUNTRIES,
2016–2022, Y-O-Y (%) 62
TABLE 57 CENTRAL EASTERN EUROPE MARKET REVENUE BY TYPES, 2016–2022 ($MILLION) 62
TABLE 58 CENTRAL EASTERN EUROPE MARKET GROWTH BY TYPES, 2016–2022, Y-O-Y (%) 62
TABLE 59 CENTRAL EASTERN EUROPE MARKET REVENUE BY VERTICALS, 2016–2022 ($MILLION) 63
TABLE 60 CENTRAL EASTERN EUROPE MARKET GROWTH BY VERTICALS, 2016–2022, Y-O-Y (%) 63
TABLE 61 LATIN AMERICA MARKET REVENUE BY COUNTRIES, 2016–2022 ($MILLION) 66
TABLE 62 LATIN AMERICA CLOUD AUTOMATION MARKET GROWTH BY COUNTRIES, 2016–2022, Y-O-Y (%) 66
TABLE 63 LATIN AMERICA MARKET REVENUE BY TYPES, 2016–2022 ($MILLION) 66
TABLE 64 LATIN AMERICA MARKET GROWTH BY TYPES, 2016–2022, Y-O-Y (%) 67
TABLE 65 LATIN AMERICA MARKET REVENUE BY VERTICALS, 2016–2022 ($MILLION) 67
TABLE 66 LATIN AMERICA MARKET GROWTH BY VERTICALS, 2016–2022, Y-O-Y (%) 67
TABLE 67 MEA MARKET REVENUE BY COUNTRIES, 2016–2022 ($MILLION) 69
TABLE 68 MEA CLOUD AUTOMATION MARKET GROWTH BY COUNTRIES, 2016–2022, Y-O-Y (%) 70
TABLE 69 MEA MARKET REVENUE BY TYPES, 2016–2022 ($MILLION) 70
TABLE 70 MEA MARKET GROWTH BY TYPES, 2016–2022, Y-O-Y (%) 70
TABLE 71 MEA MARKET REVENUE BY VERTICALS, 2016–2022 ($MILLION) 70
TABLE 72 MEA MARKET GROWTH BY VERTICALS, 2016–2022, Y-O-Y (%) 71
TABLE 73 MERGER & ACQUISITION, 2014–2016 122
TABLE 74 JOINT VENTURES & COLLABORATIONS, 2014-2016 125
TABLE 75 NEW LAUNCHES, 2014-2016 127
List of Charts
CHART 1 PEST ANALYSIS OF CLOUD AUTOMATION MARKET 13
CHART 2 RESEARCH METHODOLOGY OF CLOUD AUTOMATION MARKET 15
CHART 3 WORLDWIDE CLOUD AUTOMATION MARKET REVENUE, 2016-2022 ($BILLION) 16
CHART 4 SEGMENTATION OF CLOUD AUTOMATION MARKET 20
CHART 5 PORTERS 5 FORCES ON CLOUD AUTOMATION MARKET 20
CHART 6 EVOLUTION OF CLOUD AUTOMATION 21
CHART 7 ECOSYSTEM OF CLOUD AUTOMATION 21
CHART 8 MARKET DYNAMICS – DRIVERS, RESTRAINTS & OPPORTUNITIES 22
CHART 9 DRO - IMPACT ANALYSIS OF CLOUD AUTOMATION MARKET 24
CHART 10 PUBLIC CLOUD MARKET GROWTH, 2016–2022, Y-O-Y (%) 26
CHART 11 PRIVATE CLOUD AUTOMATION SERVICES – CHARACTERISTICS 27
CHART 12 PRIVATE CLOUD AUTOMATION SERVICES: BENEFITS 27
CHART 13 PRIVATE CLOUD MARKET GROWTH, 2016–2022, Y-O-Y (%) 28
CHART 14 HYBRID CLOUD AUTOMATION SERVICES – CHARACTERISTICS 29
CHART 15 HYBRID CLOUD AUTOMATION SERVICES: BENEFITS 29
CHART 16 HYBRID CLOUD MARKET GROWTH, 2016–2022, Y-O-Y (%) 29
CHART 17 STRATEGIC ADVISORY & CONSULTING SERVICES MARKET GROWTH, 2016–2022, Y-O-Y (%) 31
CHART 18 STRATEGIC ADVISORY & CONSULTING SERVICES 31
CHART 19 BENEFITS OF CLOUD MANAGEMENT 32
CHART 20 MANAGEMENT & MAINTENANCE SERVICE MARKET GROWTH, 2016–2022, Y-O-Y (%) 32
CHART 21 IMPLEMENTATION SERVICE MARKET GROWTH, 2016–2022, Y-O-Y (%) 33
CHART 22 BENEFITS OF CLOUD MANAGEMENT 33
CHART 23 AUTOMATED CLOUD DEV/TEST MARKET GROWTH, 2016–2022, Y-O-Y (%) 35
CHART 24 CLOUD DEV/TEST BLOCK DIAGRAM 35
CHART 25 NEED OF CLOUD MIGRATION 36
CHART 26 AUTOMATED CLOUD MIGRATION MARKET GROWTH, 2016–2022, Y-O-Y (%) 36
CHART 27 AUTOMATED CLOUD RECOVERY MARKET GROWTH, 2016–2022, Y-O-Y (%) 37
CHART 28 US MARKET GROWTH, 2016-2022, Y-O-Y (%) 53
CHART 29 CANADA MARKET GROWTH, 2016-2022, Y-O-Y (%) 53
CHART 30 UK MARKET GROWTH, 2016-2022, Y-O-Y (%) 56
CHART 31 GERMANY MARKET GROWTH, 2016-2022, Y-O-Y (%) 57
CHART 32 SINGAPORE MARKET GROWTH, 2016-2022, Y-O-Y (%) 60
CHART 33 INDIA MARKET GROWTH, 2016-2022, Y-O-Y (%) 60
CHART 34 CHINA MARKET GROWTH, 2016-2022, Y-O-Y (%) 61
CHART 35 POLAND MARKET GROWTH, 2016-2022, Y-O-Y (%) 64
CHART 36 RUSSIA MARKET GROWTH, 2016-2022, Y-O-Y (%) 65
CHART 37 TURKEY MARKET GROWTH, 2016-2022, Y-O-Y (%) 65
CHART 38 BRAZIL MARKET GROWTH, 2016-2022, Y-O-Y (%) 68
CHART 39 MEXICO MARKET GROWTH, 2016-2022, Y-O-Y (%) 69
CHART 40 AFRICA MARKET GROWTH, 2016-2022, Y-O-Y (%) 72
CHART 41 GCC MARKET GROWTH, 2016-2022, Y-O-Y (%) 72
CHART 42 VMWARE: OVERVIEW SNAPSHOT 73
CHART 43 VMWARE: BUSINESS UNITS 74
CHART 44 VMWARE: GEOGRAPHIC REVENUE 74
CHART 45 VMWARE: SWOT ANALYSIS 76
CHART 46 CSC: OVERVIEW SNAPSHOT 78
CHART 47 CSC: BUSINESS UNITS 79
CHART 48 CSC: GEOGRAPHIC REVENUE 80
CHART 49 CSC: SWOT ANALYSIS 81
CHART 50 AMAZON: OVERVIEW SNAPSHOT 83
CHART 51 AMAZON: BUSINESS UNITS 84
CHART 52 AMAZON: SWOT ANALYSIS 86
CHART 53 GOOGLE: OVERVIEW SNAPSHOT 88
CHART 54 GOOGLE: BUSINESS UNITS 89
CHART 55 GOOGLE: GEOGRAPHIC REVENUE 90
CHART 56 GOOGLE: SWOT ANALYSIS 91
CHART 57 HP: OVERVIEW SNAPSHOT 93
CHART 58 HP: BUSINESS UNITS 94
CHART 59 HP: GEOGRAPHIC REVENUE 95
CHART 60 HP: SWOT ANALYSIS 96
CHART 61 MICROSOFT: OVERVIEW SNAPSHOT 98
CHART 62 MICROSOFT: BUSINESS UNITS 99
CHART 63 MICROSOFT: GEOGRAPHIC REVENUE 100
CHART 64 MICROSOFT: SWOT ANALYSIS 101
CHART 65 ORACLE: OVERVIEW SNAPSHOT 103
CHART 66 ORACLE: BUSINESS UNITS 104
CHART 67 ORACLE: GEOGRAPHIC REVENUE 105
CHART 68 ORACLE: SWOT ANALYSIS 106
CHART 69 CITRIX: OVERVIEW SNAPSHOT 108
CHART 70 CITRIX: BUSINESS UNITS 109
CHART 71 CITRIX: GEOGRAPHIC REVENUE 110
CHART 72 CITRIX: SWOT ANALYSIS 111
CHART 73 CISCO: OVERVIEW SNAPSHOT 112
CHART 74 CISCO: BUSINESS UNITS 113
CHART 75 CISCO: GEOGRAPHIC REVENUE 114
CHART 76 CISCO: SWOT ANALYSIS 115
CHART 77 DEPLOYMENT MODEL IMPACT ANALYSIS 122
VMware, Computer Sciences Corp(CSC),Amazon.com,Google Inc,HP Inc,Microsoft Corporation, Oracle Corporation, Citrix Systems Inc,Cisco Systems Inc, LogicWorks, Cloud Velox, Clous Automation Solutions,Opex Software