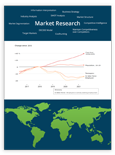 WORLDWIDE CLOUD ROBOTICS MARKET-By Types (Industrial, Military, Commercial and Personal), Connectivity Technology (Bluetooth, Wi-Fi, 3G,4G and 5G), Deployment (Public, Private and Hybrid), End-Users (Manufacturing, Aerospace and defence, Education, Logistic, Agriculture, Home and Construction), By Region-Drivers, Opportunities, Trends, and Forecasts, 2016-2022
ID: 1065

September 11, 2016

117 pages

Infoholic Research
Worldwide Cloud Robotics Market – Drivers, Opportunities, Trends, and Forecasts, 2016–2022
The cloud robotics is an emerging field of robotics that provides a range of potential benefits for robots by combining cloud computing, cloud storage, and internet technologies. The cloud robotics allows robots to share resources and data with each other. It also collaborates with other machines, smart objects and humans. This opens a new paradigm in robotics that may lead to exciting developments in the coming years. There is an increased interest from academics, governments, and industries worldwide. Also, many end-users have started focusing on this technology and has been slowly gaining global attention towards the same.
The report is segmented by types, connectivity technologies, service models, deployment models and regions. The connectivity technology, 5G, will be the leading technology for its high capacity and low latency. The 5G technology enables the cloud robotics and facilitates the uptake of robots into new applications. According to the deployment model, Robotics as a Service (RaaS) is one of the emerging trends in the market, offering a huge opportunity for the retail industry. As per region analysis, it is expected that Europe will be the leading region followed by North America.
The cloud-connected robots will have a huge growth in IoT technology in the upcoming years. According to Infoholic Research, the "Worldwide Cloud Robotics" market will witness a CAGR of 32.4% during the forecast period 2016–2022. The cloud computing technology, smartphones/tablets, and the commercial robotics are driving the market growth. In the next 4–5 years, personal use of robots will be more in reality. The key players covered in this report are Google, Softbank, iRobot, Fanuc and KUKA.
The study covers and analyzes the "Worldwide Cloud Robotics" market. Bringing out the complete key insights of the industry, the report aims to provide an opportunity for players to understand the latest trends, current market scenario, government initiatives, and technologies related to the market. In addition, helps the venture capitalist in understanding the companies better and take informed decisions.

Table of Contents
1 Industry Outlook 13
1.1 Industry Overview 13
1.2 Industry Trends 13
1.3 Pest Analysis 14
2 Report Outline 15
2.1 Report Scope 15
2.2 Report Summary 15
2.2 Research Methodology 16
2.3 Report Assumptions 16
3 Market Snapshot 17
3.1 Total Addressable Market (TAM) 17
3.2 Segmented Addressable Market (SAM) 17
3.3 Related Markets 19
3.3.1 Industrial Automation 19
3.3.2 Industrial Robotics 19
4 Market Outlook 20
4.1 Overview 20
4.2 Market trend and impact 21
4.3 Market Segmentation 21
4.4 Evolution 22
4.5 Architecture 22
5 Market Characteristics 23
5.1 Traditional Robots v/s Cloud Robots 23
5.2 Market Dynamics 25
5.2.1 Drivers 26
5.2.1.1 Wireless technology advancements 26
5.2.1.2 Reducing cost for maintenance and updates 26
5.2.1.3 Increasing adoption of IoT 27
5.2.1.4 Cheaper, smaller and lightweight 27
5.2.2 Restraints 28
5.2.2.1 Privacy and security concern 28
5.2.2.2 High initial cost and difficult in system architecture 28
5.2.2.3 Proper internet connectivity 28
5.2.3 Opportunities 28
5.2.3.1 Aging population with care needs 28
5.2.3.2 Increasing demand from emerging countries 28
5.2.3.3 New business opportunity 29
5.3 Porter 5 (Five) Forces 29
6 Connectivity Technology: Market Size and Analysis 29
6.1 Overview 29
6.2 Bluetooth Low Energy (BLE) 31
6.2.1 Overview 31
6.2.2 Market Size and Analysis 32
6.3 Wi-Fi/WiMAX 33
6.3.1 Overview 33
6.3.2 Market Size and Analysis 34
6.4 3G 35
6.4.1 Overview 35
6.4.2 Market Size and Analysis 36
6.5 4G 36
6.5.1 Overview 36
6.5.2 Market Size and Analysis 37
6.6 5G 38
6.6.1 Overview 38
6.6.2 Market Size and Analysis 39
7 Types: Market Size and Analysis 40
7.1 Overview 40
7.2 Military Robots 41
7.2.1 Overview 41
7.3 Industrial Robots 42
7.3.1 Overview 42
7.4 Commercial Robots 43
7.5 Personal Robots 44
8 Deployment Model: Market Size and Analysis 45
8.1 Overview 45
8.2 Public Cloud 48
8.2.1 Public Cloud Segmentation by Service Model 48
8.3 Private Cloud 49
8.3.1 Private Cloud Segmentation by Service Model 49
8.4 Hybrid Cloud 50
8.5 Robotics as a Service (RaaS) 51
9 End-Users: Market Size and Analysis 52
9.1 Overview 52
9.2 Manufacturing 53
9.3 Healthcare/Medicine 54
9.4 Aerospace and Defense 55
9.5 Education 56
9.6 Agriculture 57
9.7 Logistics/Transportation 58
9.8 Construction 59
9.9 Others 60
10 Regions: Market Size and Analysis 61
10.1 Overview 61
10.1.1 Americas 62
10.1.1.1 US 63
10.1.1.2 Canada 63
10.1.1.3 Mexico 64
10.1.1.4 Brazil 64
10.1.2 Europe 66
10.1.2.1 Slovenia 67
10.1.2.2 Germany 68
10.1.2.3 UK 68
10.1.2.4 France 68
10.1.3 Asia Pacific 70
10.1.3.1 China 71
10.1.3.2 Japan 72
10.1.3.3 South Korea 72
10.1.3.4 India 73
10.1.3.5 Singapore 73
10.1.3.6 Malaysia 74
10.1.3.7 Australia and New Zealand (ANZ) 74
10.1.4 Middle East & Africa (MEA) 76
10.1.4.1 United Arab Emirates (UAE) 77
10.1.4.2 Saudi Arabia 78
10.1.4.3 South Africa 78
11 Market Attractiveness 80
11.1 Market Attractiveness by Types 80
11.2 Market Attractiveness by Deployment Model 81
11.3 Market Attractiveness by End-user 82
11.4 Market Attractiveness by Region 83
12 Competitive Landscape 84
12.1 Overview 84
12.1.1 SoftBank 84
12.1.2 Google Inc. 85
12.1.3 iRobot 85
12.1.4 KuKa Ag 86
12.2 Other Vendors 87
12.3 Mergers & Acquisition (M&A) 88
12.4 Collaborations 88
13 Vendors 89
13.1 Google Inc. 90
13.1.1 Overview 90
13.1.2 Business Unit 90
13.1.3 Geographic Revenue 91
13.1.4 Business Focus 92
13.1.5 SWOT Analysis 92
13.1.6 Business Strategy 93
13.2 iRobot Corp. 94
13.2.1 Overview 94
13.2.2 Business Unit 95
13.2.3 Geographic Revenue 95
13.2.4 Business Focus 96
13.2.5 SWOT Analysis 96
13.2.6 Business Strategy 97
13.3 Fanuc Corp. 97
13.3.1 Overview 97
13.3.2 Business Unit 98
13.3.3 Geographic Revenue 99
13.3.4 Business Focus 100
13.3.5 SWOT Analysis 100
13.3.6 Business Strategy 101
13.4 SoftBank Robotics Holding Corp. 101
13.4.1 Overview 101
13.4.2 Business Unit 102
13.4.3 Geographic Revenue 103
13.4.4 Business Focus 104
13.4.5 SWOT Analysis 104
13.4.6 Business Strategy 105
13.5 KuKa AG (KuKa Group) 106
13.5.1 Overview 106
13.5.2 Business Unit 107
13.5.3 Geographic Revenue 107
13.5.4 Business Focus 108
13.5.5 SWOT Analysis 108
13.5.6 Business Strategy 109
14 Global Generalist 110
14.1 IBM Corp. 110
14.1.1 Overview 110
14.1.2 IBM Market 110
14.1.3 IBM in Cloud Robotics Market 111
14.2 Microsoft Corp. 111
14.2.1 Overview 111
14.2.2 Microsoft Market 111
14.2.3 Microsoft in Cloud Robotics Market 112
14.3 ABB Robotics 112
14.3.1 Overview 112
14.3.2 ABB Market 113
14.3.3 ABB in Cloud Robotics Market 113
15 Company to Watch For 114
15.1 Ecovacs Robotics 114
15.1.1 Overview 114
15.1.2 Ecovacs Market 114
15.1.3 Ecovacs in Cloud Robotics Market 115
15.2 CloudMinds 115
15.2.1 Overview 115
15.2.2 CloudMinds Market 116
15.2.3 CloudMinds in Cloud Robotics Market 116
15.3 OZOBOT & EVOLLVE INC. 117
15.3.1 Overview 117
15.3.2 OZOBOT & EVOLLVE Market 117
15.3.3 OZOBOT & EVOLLVE in Cloud Robotics Market 118
15.4 Ninebot 118
15.4.1 Overview 118
15.4.2 Ninebot Market 118
15.4.3 Ninebot in Cloud Robotics market 119
15.5 Erle Robotics 119
15.5.1 Overview 119
15.5.2 Erle Robotics Market 120
15.5.3 Erle Robotics in Cloud Robotics Market 120
Annexure 121
 Abbreviations 121

ables
TABLE 1 HISTORY OF INDUSTRIAL ROBOTS 17
TABLE 2 COMPARISON BETWEEN TRADITIONAL AND CLOUD ROBOTICS 21
TABLE 3 COMPARISON OF WIRELESS CONNECTIVITY TECHNOLOGY IN TERMS OF BIT RATE AND RANGE 27
TABLE 4 CLOUD ROBOTICS MARKET REVENUE BY CONNECTIVITY TECHNOLOGIES, 2016-2022 ($MILLION) 28
TABLE 5 BLUETOOTH: ADVANTAGES AND OPPORTUNITIES 29
TABLE 6 WI-FI: ADVANTAGES AND OPPORTUNITIES 31
TABLE 7 3G: ADVANTAGES AND OPPORTUNITIES 33
TABLE 8 4G: ADVANTAGES AND OPPORTUNITIES 34
TABLE 9 5G: ADVANTAGES AND OPPORTUNITIES 35
TABLE 10 CLOUD ROBOTICS MARKET REVENUE BY TYPES, 2016-2022 ($MILLION) 37
TABLE 11 CLOUD ROBOTICS MARKET REVENUE BY DEPLOYMENT MODELS, 2016-2022 ($MILLION) 42
TABLE 12 PUBLIC CLOUD: ADVANTAGES AND DISADVANTAGES 43
TABLE 13 PRIVATE CLOUD: ADVANTAGES AND DISADVANTAGES 43
TABLE 14 HYBRID CLOUD: ADVANTAGES AND DISADVANTAGES 43
TABLE 15 PUBLIC CLOUD MARKET REVENUE BY SERVICE MODEL, 2016-2022 ($MILLION) 45
TABLE 16 HYBRID CLOUD MARKET REVENUE BY SERVICE MODELS, 2016-2022 ($MILLION) 47
TABLE 17 RAAS: ADVANTAGES AND DISADVANTAGES 47
TABLE 18 CLOUD ROBOTICS MARKET REVENUE BY END-USERS, 2016-2022 ($MILLION) 49
TABLE 19 CLOUD ROBOTICS MARKET REVENUE BY REGIONS, 2016-2022 ($MILLION) 58
TABLE 20 AMERICAS: DRO 59
TABLE 21 AMERICAS MARKET REVENUE BY TYPES, 2016-2022 ($MILLION) 61
TABLE 22 AMERICAS MARKET REVENUE BY CONNECTIVITY, 2016-2022 ($MILLION) 61
TABLE 23 AMERICAS MARKET REVENUE BY DEPLOYMENT MODEL, 2016-2022 ($MILLION) 62
TABLE 24 AMERICAS MARKET REVENUE BY END-USERS, 2016-2022 ($MILLION) 62
TABLE 25 EUROPE: DRO 63
TABLE 26 EUROPE MARKET REVENUE BY TYPES, 2016-2022 ($MILLION) 65
TABLE 27 EUROPE MARKET REVENUE BY CONNECTIVITY, 2016-2022 ($MILLION) 65
TABLE 28 EUROPE MARKET REVENUE BY DEPLOYMENT MODEL, 2016-2022 ($MILLION) 66
TABLE 29 EUROPE MARKET REVENUE BY END-USERS, 2016-2022 ($MILLION) 66
TABLE 30 ASIA-PACIFIC: DRO 67
TABLE 31 ASIA PACIFIC MARKET REVENUE BY TYPES, 2016-2022 ($MILLION) 71
TABLE 32 ASIA PACIFIC MARKET REVENUE BY CONNECTIVITY, 2016-2022 ($MILLION) 71
TABLE 33 ASIA PACIFIC MARKET REVENUE BY DEPLOYMENT MODEL, 2016-2022 ($MILLION) 71
TABLE 34 ASIA PACIFIC MARKET REVENUE BY END-USERS, 2016-2022 ($MILLION) 72
TABLE 35 MEA: DRO 72
TABLE 36 MEA MARKET REVENUE BY TYPES, 2016-2022 ($MILLION) 74
TABLE 37 MEA MARKET REVENUE BY CONNECTIVITY, 2016-2022 ($MILLION) 75
TABLE 38 MEA MARKET REVENUE BY DEPLOYMENT MODEL, 2016-2022 ($MILLION) 75
TABLE 39 MEA MARKET REVENUE BY END-USERS, 2016-2022 ($MILLION) 76
TABLE 40 MERGERS & ACQUISITION, 2013-2016 84
TABLE 41 COLLABORATIONS, 2014-2016 85
Charts
CHART 1 PEST ANALYSIS OF CLOUD ROBOTICS MARKET 12
CHART 2 RESEARCH METHODOLOGY OF WORLDWIDE CLOUD ROBOTICS MARKET 14
CHART 3 ROBOTICS MARKET REVENUE, 2016-2022 ($BILLION) 15
CHART 4 CLOUD ROBOTICS MARKET REVENUE, 2016-2022 ($MILLION) 16
CHART 5 CLOUD ROBOTICS MARKET SEGMENTATION 19
CHART 6 ROBOTICS EVOLUTION 19
CHART 7 CLOUD ROBOTICS ARCHITECTURE 20
CHART 8 MARKET DYNAMICS – DRIVERS, RESTRAINTS & OPPORTUNITIES 22
CHART 9 DRO – IMPACT ANALYSIS OF CLOUD ROBOTICS MARKET 25
CHART 10 PORTERS 5 FORCES ON CLOUD ROBOTICS MARKET 26
CHART 11 CLOUD ROBOTICS MARKET SHARE BY CONNECTIVITY TECHNOLOGIES, 2016 AND 2022 28
CHART 12 BLUETOOTH ENABLED AUTONOMOUS MOBILE ROBOT 29
CHART 13 BLE MARKET REVENUE, 2016-2022 ($MILLION) 30
CHART 14 WI-FI CONNECTIVITY 31
CHART 15 WI-FI MARKET REVENUE, 2016-2022 ($MILLION) 32
CHART 16 3G MARKET REVENUE, 2016-2022 ($MILLION) 33
CHART 17 4G MARKET REVENUE, 2016-2022 ($MILLION) 34
CHART 18 5G COMMUNICATION 35
CHART 19 5G MARKET REVENUE, 2016-2022 ($MILLION) 36
CHART 20 CLOUD ROBOTICS MARKET SHARE BY TYPES, 2016 AND 2022 37
CHART 21 INDUSTRIAL ROBOTS MARKET REVENUE, 2016-2022 ($MILLION) 38
CHART 22 MILITARY ROBOTS MARKET REVENUE, 2016-2022 ($MILLION) 39
CHART 23 COMMERCIAL ROBOTS MARKET REVENUE, 2016-2022 ($MILLION) 40
CHART 24 PERSONAL ROBOTS MARKET REVENUE, 2016-2022 ($MILLION) 41
CHART 25 CLOUD ROBOTICS MARKET SHARE BY DEPLOYMENT MODELS, 2016 AND 2022 42
CHART 26 PUBLIC CLOUD MARKET REVENUE, 2016-2022 ($MILLION) 44
CHART 27 PRIVATE CLOUD MARKET REVENUE, 2016-2022 ($MILLION) 45
CHART 28 PRIVATE CLOUD MARKET REVENUE BY SERVICE MODELS, 2016-2022 ($MILLION) 46
CHART 29 HYBRID CLOUD MARKET REVENUE, 2016-2022 ($MILLION) 46
CHART 30 RAAS MARKET REVENUE, 2016-2022 ($MILLION) 48
CHART 31 CLOUD ROBOTICS MARKET SHARE BY END-USERS, 2016 AND 2022 49
CHART 32 MANUFACTURING MARKET REVENUE, 2016-2022 ($MILLION) 50
CHART 33 HEALTHCARE MARKET REVENUE, 2016-2022 ($MILLION) 51
CHART 34 AEROSPACE AND DEFENSE MARKET REVENUE, 2016-2022 ($MILLION) 52
CHART 35 EDUCATION MARKET REVENUE, 2016-2022 ($MILLION) 53
CHART 36 AGRICULTURE MARKET REVENUE, 2016-2022 ($MILLION) 54
CHART 37 LOGISTICS MARKET REVENUE, 2016-2022 ($MILLION) 55
CHART 38 CONSTRUCTION MARKET REVENUE, 2016-2022 ($MILLION) 56
CHART 39 OTHERS MARKET REVENUE, 2016-2022 ($MILLION) 56
CHART 40 CLOUD ROBOTICS MARKET SHARE BY REGIONS, 2016 AND 2022 58
CHART 41 AMERICAS MARKET REVENUE, 2016-2022 ($MILLION) 59
CHART 42 EUROPE MARKET REVENUE, 2016-2022 ($MILLION) 63
CHART 43 ASIA PACIFIC MARKET REVENUE, 2016-2022 ($MILLION) 67
CHART 44 MEA MARKET REVENUE, 2016-2022 ($MILLION) 73
CHART 45 MARKET ATTRACTIVENESS BY TYPES 77
CHART 46 MARKET ATTRACTIVENESS BY DEPLOYMENT MODEL 78
CHART 47 MARKET ATTRACTIVENESS BY DEPLOYMENT MODEL 79
CHART 48 MARKET ATTRACTIVENESS BY REGION 80
CHART 49 GOOGLE COMPANY PROFILE: MARKET OUTLOOK 86
CHART 50 GOOGLE: BUSINESS UNITS 87
CHART 51 GOOGLE: GEOGRAPHICAL REVENUE 87
CHART 52 GOOGLE: SWOT ANALYSIS 88
CHART 53 IROBOT COMPANY PROFILE: MARKET OUTLOOK 90
CHART 54 IROBOT: BUSINESS UNITS 91
CHART 55 IROBOT: GEOGRAPHICAL REVENUE 91
CHART 56 IROBOT: SWOT ANALYSIS 92
CHART 57 FANUC COMPANY PROFILE: MARKET OUTLOOK 94
CHART 58 FANUC: BUSINESS UNITS 95
CHART 59 FANUC: GEOGRAPHICAL REVENUE 95
CHART 60 FANUC: SWOT ANALYSIS 96
CHART 61 SOFTBANK COMPANY PROFILE: MARKET OUTLOOK 98
CHART 62 SOFTBANK: BUSINESS UNIT 99
CHART 63 SOFTBANK: GEOGRAPHICAL REVENUE 99
CHART 64 SOFTBANK: SWOT ANALYSIS 100
CHART 65 KUKA COMPANY PROFILE: MARKET OUTLOOK 102
CHART 66 KUKA: BUSINESS UNITS 103
CHART 67 KUKA: GEOGRAPHICAL REVENUE 103
CHART 68 KUKA: SWOT ANALYSIS 104
CHART 69 IBM COMPANY PROFILE: MARKET OUTLOOK 106
CHART 70 MICROSOFT: OVERVIEW SNAPSHOT 107
CHART 71 ABB: OVERVIEW SNAPSHOT 108
CHART 72 ECOVACS MARKET 110
CHART 73 CLOUDMINDS MARKET 111
CHART 74 OZOBOT & EVOLLVE MARKET 112
CHART 75 NINEBOT MARKET 113
CHART 76 ERLE ROBOTICS MARKET 114
SoftBank Robotis Holding,google, iRobot,KuKa Ag,Fanuc Corp,IBM,Microsoft, ABB Robotics,Ecovacs Robotics,CloudMinds,Ozobot & Evollve,Ninebot,Erle Robotics