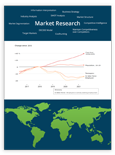 Asia Pacific Cloud Gaming Market Report 2016-2022
ID: 1075

October 26, 2016

117 pages

Infoholic Research
Asia Pacific Cloud Gaming Market – Drivers, Opportunities, Trends, and Forecasts: 2016–2022
Cloud gaming or gaming on demand is an online gaming that offers frictionless and direct playability. Basically, there are two types of cloud gaming – file streaming and video streaming. At present, Asia Pacific is set to be the most attractive destination for business expansion/investment for key stakeholders across the globe. The increasing internet dependent population, government initiatives, rising FDI, and economic growth are few factors that are making Asia Pacific an emerging market for all kind of players. Over the past few years, the cloud gaming has seen a positive growth mainly driven by the increase in the online gamers in the region and improved gaming technology by the companies. The market is witnessing an increased adoption of next generation technologies and the ever-increasing popularity of PCs and electronic devices are also supporting the cloud gaming market in the region.
Currently, although the cloud gaming market is at an emerging stage, it is growing rapidly due to the increasing internet penetration, increase in the number of gamers, and rapidly growing smartphone shipments in the region. The cloud gaming market has brought great business growth opportunities for various stakeholders such as mobile operators, content providers, content publishers, mobile app developers, OEMs & network vendors, service providers, brands, advertisers, and investors. The Asia Pacific cloud gaming market is segmented into gaming audience, devices, technologies, and countries. The social media games and mobile games are contributing the major share to the overall market as these two channels consist of a huge customer base. The countries covered in the report are ANZ, China, India, Indonesia, Japan, Malaysia, Singapore, South Korea, Taiwan, Thailand, and Others.
According to Infoholic Research, the "Asia Pacific Cloud Gaming" market is estimated to witness a CAGR of 46.8% during the forecast period 2016–2022. The increasing mobile and internet subscriber base, increase in the gaming audience, government initiatives related to infrastructure activities, increase in the development of new technologies, and decrease in piracy are the major drivers for the market growth. Further, the increasing growth rate of 3G and 4G technologies is expected to support the cloud gaming market growth in the region. The players included in the report are Sony, Nintendo, Microsoft, NVIDIA, Samsung, LG, etc.
The study covers and analyzes the "Asia Pacific Cloud Gaming" market. Bringing out the complete key insights of the industry, the report aims to provide an opportunity for players to understand the latest trends, current market scenario, government initiatives, and technologies related to the market. In addition, helps the venture capitalist in understanding the companies better and take informed decisions.

Table of Contents
1 Industry Outlook
1.1 Industry Overview
1.2 Industry Trends
1.3 Pest Analysis
2 Report Outline
2.1 Report Scope
2.2 Report Summary
2.3 Research Methodology
2.4 Report Assumptions
3 Market Snapshot
3.1 Total Addressable Market (TAM)
3.2 Segmented Addressable Market (SAM)
3.3 Related Markets
3.3.1 Smartphones and Tablets Gaming
3.3.2 PCs/Console Games/Smart TVs
4 Market Outlook
4.1 Overview
4.2 Market Definition – Infoholic Research
4.3 Market Trends and Impact
4.4 Market Segmentation
4.5 Technology Roadmap
4.6 Porter 5 (Five) Forces
5 Market Characteristics
5.1 Evolution
5.2 Ecosystem
5.3 Market Dynamics
5.3.1 Drivers
5.3.1.1 Smartphones and electronic devices penetration
5.3.1.2 Increasing gaming audience
5.3.1.3 Low cost
5.3.2 Restraints
5.3.2.1 Lack of digital infrastructure
5.3.2.2 Supports only high-end smart devices
5.3.3 Opportunities
5.3.3.1 Increase in the usage of cloud gamification
5.3.3.2 Cloud virtual gaming
5.3.3.3 Business opportunities in South-East Asian countries
5.3.4 DRO – Impact Analysis
5.3.5 Key Stakeholders
6 Gaming Audience: Market Size and Analysis
6.1 Overview
6.1.1 Market Size and Analysis
6.2 Social Gamers
6.2.1 Overview
6.2.2 Market Size and Analysis
6.3 Serious Gamers
6.3.1 Overview
6.3.2 Market Size and Analysis
6.4 Core Gamers
6.4.1 Overview
6.4.2 Market Size and Analysis
7 Devices: Market Size and Analysis
7.1 Overview
7.1.1 Market Size and Analysis
7.2 Smartphones
7.2.1 Overview
7.2.2 Market Size and Analysis
7.3 Smart TVs
7.3.1 Overview
7.3.2 Market Size and Analysis
7.4 Console Units
7.4.1 Overview
7.4.2 Market Size and Analysis
7.5 Tablets
7.5.1 Overview
7.5.2 Market Size and Analysis
7.6 PCs
7.6.1 Overview
7.6.2 Market Size and Analysis
8 Technology: Market Size and Analysis
8.1 Overview
8.1.1 Market Size and Analysis
8.2 Data Streaming Technology
8.2.1 Overview
8.2.2 Market Size and Analysis
8.3 Server Technology
8.3.1 Overview
8.3.2 Market Size and Analysis
8.4 Gaming as a Service
8.4.1 Overview
8.4.2 Market Size and Analysis
9 Countries: Market Size and Analysis
9.1 Overview
9.1.1 Market Size and Analysis
9.2 ANZ
9.2.1 Overview
9.2.1.1 Key facts
9.2.1.2 Market trends
9.2.2 Market Size and Analysis
9.3 China
9.3.1 Overview
9.3.1.1 Key facts
9.3.1.2 Market trends
9.3.2 Market Size and Analysis
9.4 India
9.4.1 Overview
9.4.1.1 Key facts
9.4.1.2 Market trends
9.4.2 Market Size and Analysis
9.5 Indonesia
9.5.1 Overview
9.5.1.1 Key facts
9.5.1.2 Market trends
9.5.2 Market Size and Analysis
9.6 Japan
9.6.1 Overview
9.6.1.1 Key facts
9.6.1.2 Market trends
9.6.2 Market Size and Analysis
9.7 Malaysia
9.7.1 Overview
9.7.1.1 Key facts
9.7.1.2 Market trends
9.7.2 Market Size and Analysis
9.8 Singapore
9.8.1 Overview
9.8.1.1 Key facts
9.8.1.2 Market trends
9.8.2 Market Size and Analysis
9.9 South Korea
9.9.1 Overview
9.9.1.1 Key facts
9.9.1.2 Market trends
9.9.2 Market Size and Analysis
9.10 Taiwan
9.10.1 Overview
9.10.1.1 Key facts
9.10.1.2 Market trends
9.10.2 Market Size and Analysis
9.11 Thailand
9.11.1 Overview
9.11.1.1 Key facts
9.11.1.2 Market trends
9.11.2 Market Size and Analysis
9.12 Others
9.12.1 Overview
9.12.2 Market Size and Analysis
10 Vendor Profiles
10.1 Sony Corporation
10.1.1 Overview
10.1.2 Business Units
10.1.3 Geographic Revenue
10.1.4 Business Focus
10.1.5 SWOT Analysis
10.1.6 Business Strategy
10.2 Nintendo Co., Ltd.
10.2.1 Overview
10.2.2 Business Units
10.2.3 Geographic Revenue
10.2.4 Business Focus
10.2.5 SWOT Analysis
10.2.6 Business Strategy
10.3 Microsoft
10.3.1 Overview
10.3.2 Business Units
10.3.3 Geographic Revenue
10.3.4 Business Focus
10.3.5 SWOT Analysis
10.3.6 Business Strategy
10.4 NVIDIA
10.4.1 Overview
10.4.2 Business Units
10.4.3 Geographic Revenue
10.4.4 Business Focus
10.4.5 SWOT Analysis
10.4.6 Business Strategy
10.5 Samsung Electronics
10.5.1 Overview
10.5.2 Business Units
10.5.3 Geographic Revenue
10.5.4 Business Focus
10.5.5 SWOT Analysis
10.5.6 Business Strategy
10.6 LG
10.6.1 Overview
10.6.2 Business Units
10.6.3 Geographic Revenue
10.6.4 Business Focus
10.6.5 SWOT Analysis
10.6.6 Business Strategy
 Other Prominent vendors
11 Competitive Landscape
11.1 Competitor Comparison Analysis
11.1.1 Analysis by Gaming Audience
11.1.2 Analysis by Gaming Devices
11.1.3 Analysis by Technology
11.1.4 Analysis by Countries
11.2 Mergers & Acquisitions (M&A)
11.3 Joint Ventures (JV)
11.4 Venture Capital (VC) Funding
12 Global Generalists
12.1 Amazon Web Services, Inc.
12.1.1 Overview
12.1.2 Key Offerings
12.1.3 Amazon Web Services in Cloud Gaming
12.2 Google
12.2.1 Overview
12.2.2 Key Offerings
12.2.3 Google in Cloud Gaming
12.3 IBM
12.3.1 Overview
12.3.2 Key Offerings
12.3.3 IBM in Cloud Gaming
13 Companies to Watch for
13.1 Razer Inc.
13.1.1 Overview
13.1.2 Razer Inc. Market Offerings
13.1.3 Razer Inc. in Cloud Gaming Market
13.2 Ubitus Inc.,
13.2.1 Overview
13.2.2 Ubitus Market Offerings
13.2.3 Ubitus in Cloud Gaming Market
13.3 Zynga Inc.,
13.3.1 Overview
13.3.2 Zynga Market Offerings
13.3.3 Zynga in Cloud Gaming Market
Annexure
 Abbreviations
TABLE 1 ASIA PACIFIC CLOUD GAMING MARKET REVENUE, 2016–2022 ($MILLION) 18
TABLE 2 ASIA PACIFIC CLOUD GAMING MARKET GROWTH, 2016–2022, Y-O-Y (%) 19
TABLE 3 KEY STAKEHOLDERS OF ASIA PACIFIC CLOUD GAMING MARKET 30
TABLE 4 ASIA PACIFIC CLOUD GAMING MARKET REVENUE, BY GAMING AUDIENCE, 2016–2022 ($MILLION) 31
TABLE 5 ASIA PACIFIC CLOUD GAMING MARKET GROWTH, BY GAMING AUDIENCE, 2016–2022, Y-O-Y (%) 31
TABLE 6 ASIA PACIFIC CLOUD GAMING MARKET REVENUE, BY DEVICES, 2016–2022 ($MILLION) 36
TABLE 7 ASIA PACIFIC CLOUD GAMING MARKET GROWTH, BY DEVICES, 2016–2022, Y-O-Y (%) 36
TABLE 8 ASIA PACIFIC CLOUD GAMING MARKET REVENUE, BY TECHNOLOGY, 2016–2022 ($MILLION) 43
TABLE 9 ASIA PACIFIC CLOUD GAMING MARKET GROWTH, BY TECHNOLOGY, 2016–2022, Y-O-Y (%) 43
TABLE 10 ASIA PACIFIC CLOUD GAMING MARKET REVENUE, BY COUNTRIES, 2016–2022 ($MILLION) 48
TABLE 11 ASIA PACIFIC CLOUD GAMING MARKET GROWTH, BY COUNTRIES, 2016–2022, Y-O-Y (%) 48
TABLE 12 ANZ MARKET REVENUE, BY TYPES, 2016–2022 ($MILLION) 51
TABLE 13 ANZ MARKET GROWTH, BY TYPES, 2016–2022, Y-O-Y (%) 51
TABLE 14 CHINA MARKET REVENUE, BY TYPES, 2016–2022 ($MILLION) 53
TABLE 15 CHINA MARKET GROWTH, BY TYPES, 2016–2022, Y-O-Y (%) 53
TABLE 16 INDIA MARKET REVENUE, BY TYPES, 2016–2022 ($MILLION) 55
TABLE 17 INDIA MARKET GROWTH, BY TYPES, 2016–2022, Y-O-Y (%) 55
TABLE 18 INDONESIA MARKET REVENUE, BY TYPES, 2016–2022 ($MILLION) 57
TABLE 19 INDONESIA MARKET GROWTH, BY TYPES, 2016–2022, Y-O-Y (%) 57
TABLE 20 JAPAN MARKET REVENUE, BY TYPES, 2016–2022 ($MILLION) 59
TABLE 21 JAPAN MARKET GROWTH, BY TYPES, 2016–2022, Y-O-Y (%) 59
TABLE 22 MALAYSIA MARKET REVENUE, BY TYPES, 2016–2022 ($MILLION) 61
TABLE 23 MALAYSIA MARKET GROWTH, BY TYPES, 2016–2022, Y-O-Y (%) 61
TABLE 24 SINGAPORE MARKET REVENUE, BY TYPES, 2016–2022 ($MILLION) 63
TABLE 25 SINGAPORE MARKET GROWTH, BY TYPES, 2016–2022, Y-O-Y (%) 63
TABLE 26 SOUTH KOREA MARKET REVENUE, BY TYPES, 2016–2022 ($MILLION) 65
TABLE 27 SOUTH KOREA MARKET GROWTH, BY TYPES, 2016–2022, Y-O-Y (%) 66
TABLE 28 TAIWAN MARKET REVENUE, BY TYPES, 2016–2022 ($MILLION) 67
TABLE 29 TAIWAN MARKET GROWTH, BY TYPES, 2016–2022, Y-O-Y (%) 67
TABLE 30 THAILAND MARKET REVENUE, BY TYPES, 2016–2022 ($MILLION) 69
TABLE 31 THAILAND MARKET GROWTH, BY TYPES, 2016–2022, Y-O-Y (%) 69
TABLE 32 MERGER & ACQUISITIONS, 2014-2016 98
TABLE 33 JOINT VENTURES,2014-2016 99
TABLE 34 VENTURE CAPITAL FUNDING, 2013-2016 100
TABLE 35 AMAZON: KEY OFFERINGS 102
TABLE 36 GOOGLE: KEY OFFERINGS 104
TABLE 37 IBM: KEY OFFERINGS 106

CHART 1 PEST ANALYSIS OF ASIA PACIFIC CLOUD GAMING MARKET 14
CHART 2 RESEARCH METHODOLOGY OF ASIA PACIFIC CLOUD GAMING MARKET 16
CHART 3 WORLDWIDE CLOUD GAMING MARKET REVENUE, 2016–2022 ($MILLION) 18
CHART 4 ASIA PACIFIC CLOUD GAMING MARKET REVENUE, 2016–2022 ($MILLION) 19
CHART 5 ASIA PACIFIC CLOUD GAMING MARKET SEGMENTATION 22
CHART 6 TECHNOLOGY ROADMAP OF CLOUD GAMING MARKET 23
CHART 7 PORTERS 5 FORCES OF ASIA PACIFIC CLOUD GAMING MARKET 24
CHART 8 EVOLUTION OF CLOUD GAMING MARKET 26
CHART 9 ECOSYSTEM OF CLOUD GAMING MARKET 27
CHART 10 MARKET DYNAMICS – DRIVERS, RESTRAINTS AND OPPORTUNITIES 27
CHART 11 DRO – IMPACT ANALYSIS OF ASIA PACIFIC CLOUD GAMING MARKET 29
CHART 12 ASIA PACIFIC CLOUD GAMING MARKET REVENUE, BY GAMING AUDIENCE, 2016–2022 ($MILLION) 31
CHART 13 SOCIAL GAMERS MARKET REVENUE, 2016–2022 ($MILLION) 32
CHART 14 SERIOUS GAMERS MARKET REVENUE, 2016–2022 ($MILLION) 34
CHART 15 CORE GAMERS MARKET REVENUE, 2016–2022 ($MILLION) 35
CHART 16 ASIA PACIFIC CLOUD GAMING MARKET REVENUE, BY DEVICES, 2016–2022 ($MILLION) 36
CHART 17 SMARTPHONES MARKET REVENUE, 2016–2022 ($MILLION) 37
CHART 18 SMART TVS MARKET REVENUE, 2016–2022 ($MILLION) 38
CHART 19 CONSOLE UNITS MARKET REVENUE, 2016–2022 ($MILLION) 39
CHART 20 TABLETS MARKET REVENUE, 2016–2022 ($MILLION) 40
CHART 21 PCS MARKET REVENUE, 2016–2022 ($MILLION) 41
CHART 22 ASIA PACIFIC CLOUD GAMING MARKET REVENUE, BY TECHNOLOGY, 2016–2022 ($MILLION) 43
CHART 23 DATA STREAMING TECHNOLOGY MARKET REVENUE, 2016–2022 ($MILLION) 44
CHART 24 SERVER TECHNOLOGY MARKET REVENUE, 2016–2022 ($MILLION) 45
CHART 25 GAMING AS A SERVICE MARKET REVENUE, 2016–2022 ($MILLION) 47
CHART 26 ASIA PACIFIC CLOUD GAMING MARKET REVENUE, BY COUNTRIES, 2016–2022 ($MILLION) 49
CHART 27 ANZ MARKET REVENUE, 2016–2022 ($MILLION) 51
CHART 28 CHINA MARKET REVENUE, 2016–2022 ($MILLION) 53
CHART 29 INDIA MARKET REVENUE, 2016–2022 ($MILLION) 55
CHART 30 INDONESIA MARKET REVENUE, 2016–2022 ($MILLION) 57
CHART 31 JAPAN MARKET REVENUE, 2016–2022 ($MILLION) 59
CHART 32 MALAYSIA MARKET REVENUE, 2016–2022 ($MILLION) 61
CHART 33 SINGAPORE MARKET REVENUE, 2016–2022 ($MILLION) 64
CHART 34 SOUTH KOREA MARKET REVENUE, 2016–2022 ($MILLION) 66
CHART 35 TAIWAN MARKET REVENUE, 2016–2022 ($MILLION) 68
CHART 36 THAILAND MARKET REVENUE, 2016–2022 ($MILLION) 69
CHART 37 OTHERS MARKET REVENUE, 2016–2022 ($MILLION) 70
CHART 38 SONY CORPORATION: OVERVIEW SNAPSHOT 71
CHART 39 SONY CORPORATION: BUSINESS UNITS 72
CHART 40 SONY CORPORATION: GEOGRAPHIC REVENUE 73
CHART 41 SONY CORPORATION: SWOT ANALYSIS 74
CHART 42 NINTENDO CO LTD.: OVERVIEW SNAPSHOT 76
CHART 43 NINTENDO CO LTD.: BUSINESS UNITS 77
CHART 44 NINTENDO CO LTD.: GEOGRAPHIC REVENUE 77
CHART 45 NINTENDO CO LTD.: SWOT ANALYSIS 78
CHART 46 MICROSOFT: OVERVIEW SNAPSHOT 80
CHART 47 MICROSOFT: BUSINESS UNITS 80
CHART 48 MICROSOFT: GEOGRAPHIC REVENUE 81
CHART 49 MICROSOFT: SWOT ANALYSIS 82
CHART 50 NVIDIA CORPORATION: OVERVIEW SNAPSHOT 84
CHART 51 NVIDIA CORPORATION: BUSINESS UNITS 85
CHART 52 NVIDIA CORPORATION: GEOGRAPHIC REVENUE 85
CHART 53 NVIDIA CORPORATION: SWOT ANALYSIS 87
CHART 54 SAMSUNG ELECTRONICS: OVERVIEW SNAPSHOT 88
CHART 55 SAMSUNG ELECTRONICS: BUSINESS UNITS 89
CHART 56 SAMSUNG ELECTRONICS: GEOGRAPHIC REVENUE 89
CHART 57 SAMSUNG ELECTRONICS: SWOT ANALYSIS 90
CHART 58 LG: OVERVIEW SNAPSHOT 92
CHART 59 LG: BUSINESS UNITS 93
CHART 60 LG: GEOGRAPHIC REVENUE 93
CHART 61 LG: SWOT ANALYSIS 94
CHART 62 GAMING AUDIENCE MARKET SHARE, 2016 AND 2022 (%) 96
CHART 63 GAMING DEVICES MARKET SHARE, 2016 AND 2022 (%) 96
CHART 64 GAMING TECHNOLOGY MARKET SHARE, 2016 AND 2022 (%) 97
CHART 65 COUNTRIES POSITION BY CLOUD GAMING MARKET SHARE, 2016 AND 2022 (%) 97
CHART 66 COUNTRIES POSITION BY GAMING MARKET SHARE, 2016 AND 2022 (%) 98
CHART 67 AMAZON WEB SERVICES, INC.: OVERVIEW SNAPSHOT 101
CHART 68 GOOGLE: OVERVIEW SNAPSHOT 103
CHART 69 IBM: OVERVIEW SNAPSHOT 105
CHART 70 RAZER INC.: MARKET OFFERINGS 107
CHART 71 UBITUS: MARKET OFFERINGS 109
CHART 72 ZYNGA: MARKET OFFERINGS 110
Sony Corporation,Nintendo Co Ltd, Microsoft,NVIDIA,Samsung Electronics,LG, Other Prominent Vendors, Amazon Web Services, Google, IBM, Razer Inc, Ubitus Inc, Zynga Inc