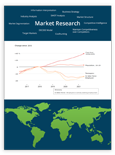 Software Defined Wide Area Network Market 2016-2022
ID: 1078

October 28, 2016

124 pages

Infoholic Research
Worldwide Software Defined WAN Market – Drivers, Opportunities, Trends, and Forecasts: 2016–2022
The Software Defined Wide Area Network (SD-WAN) is an emerging solution for networking, which is aimed at simplifying and enhancing branch and remote office connectivity. This provides an improved and secure internet connectivity that allows administrators to manage the WAN, identify, and address service issues. It also helps businesses to manage their connections between the internet, external cloud services, data center and sites. The integration of hardware and software reduces the need for hardware and increases the enterprises business. The SD-WAN has been gaining attention due to the operational benefits and huge cost savings over traditional WAN infrastructure.
The Software Defined Network (SDN) adoption in the data center is gaining strong interest with SD-WAN. It is expected that over the next 5 years, many organizations will deploy SD-WAN solution for the development of branch networking solutions. The report is segmented into network components, deployment, services, products, verticals, and regions. North America is expected to have the largest market share followed by Europe and Asia Pacific. The emerging regions such as Latin America and MEA are also expected to increase their spending on SD-WAN over the next 2 years. There will be an increased demand from the enterprises for more flexible, open, and cloud-based WAN technologies.
According to Infoholic Research, it is estimated that the "Worldwide Software Defined Wide Area Network (SD-WAN)" market will witness a CAGR of around 90.2% during the forecast period 2016–2022. The reducing operational cost is one of the major drivers for SD-WAN adoption. There is an increased interest among the organizations and many new startups are going after the potential in the SD-WAN market. The key players covered in this report are VeloCloud Networks, Inc., Viptela, Inc., CloudGenix, Citrix System, Nuage Networks, Cisco Systems, Versa networks, etc.
The study covers and analyzes the "Worldwide Software Defined Wide Area Network (SD-WAN)" market. Bringing out the complete key insights of the industry, the report aims to provide an opportunity for players to understand the latest trends, current market scenario, government initiatives, and technologies related to the market. In addition, helps the venture capitalist in understanding the companies better and take informed decisions.

Table of Contents
1 Industry Outlook
1.1 Industry Overview
1.2 Industry Trends
1.3 Pest Analysis
2 Report Outline
2.1 Report Scope
2.2 Report Summary
2.3 Research Methodology
2.4 Report Assumptions
3 Market Snapshot
3.1 Total Addressable Market (TAM)
3.1.1 WAN
3.1.2 SDN
3.2 Segmented Addressable Market (SAM)
3.3 Related Markets
3.3.1 SaaS
4 Market Outlook
4.1 Overview
4.2 Market Definition
4.3 Impact
4.4 Architecture
4.5 Evolution
4.6 SD-WAN Value Chain
4.7 Market Segmentation
4.8 Porter 5 (Five) Forces
5 Market Characteristics
5.1 Difference Between SND and SD-WAN
5.2 Difference Between Traditional WAN and SD-WAN
5.3 Advantage, Disadvantages and Need for SD WAN
5.4 Need of SD-WAN
5.5 SD-WAN features
5.6 Things need to be consider before the adoption of SD-WAN
5.7 Market Dynamics
5.7.1 Drivers
5.7.1.1 Increasing MPLS cost
5.7.1.2 Reduce the complex infrastructure
5.7.1.3 Increase in the bandwidth
5.7.1.4 Increased flexibility
5.7.1.5 Need for improving traffic management
5.7.2 Restraints
5.7.2.1 Huge implementation cost
5.7.2.2 Interoperability issues
5.7.2.3 Lack of SD-WAN standards
5.7.3 Opportunities
5.7.3.1 New revenue generation for service providers
5.7.3.2 Improved customer value
5.7.3.3 High operational efficiency
5.7.4 DRO – Impact Analysis
6 Network Components
6.1 Overview
6.1.1 MPLS
6.1.2 Internet Broadband
6.1.3 4G/LTE
7 Services
7.1 Overview
7.2 CSP (Communication Service Provider)
7.3 MSP (Managed Service Provider)
7.4 Cloud Managed Service
8 Products
8.1 Overview
8.1.1 Hardware
8.1.2 Software
8.1.3 Deployment Mode Decision Matrix
9 Verticals
9.1 Overview
9.1.1 Retail
9.1.2 Healthcare
9.1.3 BFSI
9.1.4 Manufacturing
9.1.5 Oil and Gas
9.1.6 Educations
9.1.7 Government
9.1.8 Others
10 Deployment
10.1 Overview
10.1.1 On-premise
10.1.2 Cloud Computing
11 Region
11.1 Overview
11.1.1 North America
11.1.1.1 US
11.1.1.2 Canada
11.1.2 Europe
11.1.2.1 UK
11.1.2.2 Germany
11.1.2.3 France
11.1.3 Asia Pacific
11.1.3.1 Japan
11.1.3.2 China
11.1.3.3 Australia and New Zealand (ANZ)
11.1.3.4 India
11.1.4 Latin America
11.1.4.1 Brazil
11.1.5 Middle East & Africa (MEA)
12 Competitive Landscape
12.1 Overview
12.1.1 List of vendor's assessment
12.1.1.1 Cisco Systems
12.1.1.2 VeloCloud Inc.
12.1.1.3 Versa Networks
12.1.1.4 Silver Peak
12.1.1.5 CloudGenix
12.1.1.6 Nuage Networks (Nokia)
12.1.1.7 Talari
12.1.1.8 Viptela
12.1.1.9 Riverbed
12.1.1.10Pertino Networks
12.2 Mergers and Acquisitions
12.3 Joint Ventures
12.4 Venture Capital Funding
12.5 Others Players
13 Vendors
13.1.1 VeloCloud Networks, Inc.
13.1.1.1 Overview
13.1.1.2 Business Segments
13.1.1.3 Geographic Presences
13.1.1.4 Business Focus
13.1.1.5 SWOT Analysis
13.1.1.6 Business Strategy
13.1.2 Riverbed Technology, Inc.
13.1.2.1 Overview
13.1.2.2 Business Unit
13.1.2.3 Geographic Presences
13.1.2.4 Business Focus
13.1.2.5 SWOT Analysis
13.1.2.6 Business Strategy
13.1.3 Nuage Networks (Nokia)
13.1.3.1 Overview
13.1.3.2 Business unit
13.1.3.3 Geographic Revenue
13.1.3.4 Business Focus
13.1.3.5 SWOT Analysis
13.1.3.6 Business Strategy
13.1.4 Silver Peak, Inc.
13.1.4.1 Overview
13.1.4.2 Business Unit
13.1.4.3 Geographic Presences
13.1.4.4 Business Focus
13.1.4.5 SWOT Analysis
13.1.4.6 Business Strategy
13.1.5 Aryaka Networks, Inc.
13.1.5.1 Overview
13.1.5.2 Business Unit
13.1.5.3 Geographic Presences
13.1.5.4 Business Focus
13.1.5.5 SWOT Analysis
13.1.5.6 Business Strategy
13.1.6 Cisco Systems, Inc.
13.1.6.1 Overview
13.1.6.2 Business Unit
13.1.6.3 Geographic Revenue
13.1.6.4 Business Focus
13.1.6.5 SWOT Analysis
13.1.6.6 Business Strategy
13.1.7 Viptela
13.1.7.1 Overview
13.1.7.2 Business Unit
13.1.7.3 Geographic Presences
13.1.7.4 Business Focus
13.1.7.5 SWOT Analysis
13.1.7.6 Business Strategy
13.1.8 Versa Networks
13.1.8.1 Overview
13.1.8.2 Business Unit
13.1.8.3 Geographic Presences
13.1.8.4 Business Focus
13.1.8.5 SWOT Analysis
13.1.8.6 Business Strategy
13.1.9 CloudGenix Inc.
13.1.9.1 Overview
13.1.9.2 Business Unit
13.1.9.3 Geographic Presence
13.1.9.4 Business Focus
13.1.9.5 SWOT Analysis
13.1.9.6 Business Strategy
13.1.10 Pertino
13.1.10.1 Overview
13.1.10.2 Business Unit
13.1.10.3 Geographic Presences
13.1.10.4 Business Focus
13.1.10.5 SWOT Analysis
13.1.10.6 Business Strategy
Annexure
 Abbreviations
TABLE 1 ADVANTAGES AND DISADVANTAGES 17
TABLE 2 ADVANTAGES AND DISADVANTAGES 19
TABLE 3 DIFFERENCE BETWEEN TRADITIONAL WAN AND SD-WAN 24
TABLE 4 ADVANTAGES, DISADVANTAGES AND NEED 25
TABLE 5 NETWORK COMPONENT MARKET REVENUE, 2016-2022 ($BILLION) 33
TABLE 6 SERVICES MARKET REVENUE, 2016-2022 ($MILLION) 37
TABLE 7 PRODUCTS MARKET REVENUE, 2016-2022 ($MILLION) 40
TABLE 8 DECISION MATRIX 43
TABLE 9 VERTICALS MARKET REVENUE, 2016-2022 ($BILLION) 44
TABLE 10 DEPLOYMENT MARKET REVENUE, 2016-2022 ($BILLION) 52
TABLE 11 ON-PREMISE ADVANTAGES AND DISADVANTAGES 53
TABLE 12 CLOUD ADVANTAGES AND DISADVANTAGES 54
TABLE 13 DEPLOYMENT MARKET REVENUE, 2016-2022 ($BILLION) 55
TABLE 14 NORTH AMERICA MARKET REVENUE BY NETWORK COMPONENTS, 2016-2022 ($MILLION) 57
TABLE 15 NORTH AMERICA MARKET REVENUE BY PRODUCTS, 2016-2022 ($MILLION) 57
TABLE 16 NORTH AMERICA MARKET REVENUE BY SERVICES, 2016-2022 ($MILLION) 57
TABLE 17 NORTH AMERICA MARKET REVENUE BY DEPLOYMENT, 2016-2022 ($MILLION) 58
TABLE 18 NORTH AMERICA MARKET REVENUE BY VERTICALS, 2016-2022 ($MILLION) 58
TABLE 19 EUROPE MARKET REVENUE BY NETWORK COMPONENTS, 2016-2022 ($MILLION) 60
TABLE 20 EUROPE MARKET REVENUE BY PRODUCTS, 2016–2022 ($MILLION) 61
TABLE 21 EUROPE MARKET REVENUE BY SERVICES, 2016-2022 ($MILLION) 61
TABLE 22 EUROPE MARKET REVENUE BY DEPLOYMENT, 2016-2022 ($MILLION) 61
TABLE 23 EUROPE MARKET REVENUE BY VERTICALS, 2016-2022 ($MILLION) 62
TABLE 24 ASIA PACIFIC MARKET REVENUE BY NETWORK COMPONENTS, 2016-2022 ($MILLION) 64
TABLE 25 ASIA PACIFIC MARKET REVENUE BY PRODUCTS, 2016-2022 ($MILLION) 64
TABLE 26 ASIA PACIFIC MARKET REVENUE BY SERVICES, 2016–2022 ($MILLION) 64
TABLE 27 ASIA PACIFIC MARKET REVENUE BY DEPLOYMENT, 2016-2022 ($MILLION) 65
TABLE 28 ASIA-PACIFIC MARKET REVENUE BY VERTICALS, 2016-2022 ($MILLION) 65
TABLE 29 LATIN AMERICA MARKET REVENUE BY NETWORK COMPONENTS, 2016-2022 ($MILLION) 67
TABLE 30 LATIN AMERICA MARKET REVENUE BY PRODUCTS, 2016-2022 ($MILLION) 68
TABLE 31 LATIN AMERICA MARKET REVENUE BY SERVICES, 2016-2022 ($MILLION) 68
TABLE 32 LATIN AMERICA MARKET REVENUE BY DEPLOYMENT, 2016-2022 ($MILLION) 68
TABLE 33 LATIN AMERICA MARKET REVENUE BY REGION, 2016-2022 ($MILLION) 68
TABLE 34 MEA MARKET REVENUE BY NETWORK COMPONENTS, 2016-2022 ($MILLION) 70
TABLE 35 MEA MARKET REVENUE BY PRODUCTS, 2016-2022 ($MILLION) 70
TABLE 36 MEA MARKET REVENUE BY SERVICES, 2016-2022 ($MILLION) 71
TABLE 37 MEA MARKET REVENUE BY DEPLOYMENT, 2016-2022 ($MILLION) 71
TABLE 38 MEA MARKET REVENUE BY VERTICALS, 2016-2022 ($MILLION) 71
TABLE 39 CISCO PRODUCTS STRENGTH AND WEAKNESS 72
TABLE 40 VELOCLOUD PRODUCTS STRENGTH AND WEAKNESS 73
TABLE 41 VERSA NETWORKS PRODUCTS STRENGTH AND WEAKNESS 73
TABLE 42 SILVER PEAK ADVANTAGES AND DISADVANTAGES 74
TABLE 43 CLOUDGENIX ADVANTAGES AND DISADVANTAGES 75
TABLE 44 NUAGE ADVANTAGES AND DISADVANTAGES 75
TABLE 45 TALARI ADVANTAGES AND DISADVANTAGES 75
TABLE 46 VIPTELA ADVANTAGES AND DISADVANTAGES 76
TABLE 47 RIVERBED ADVANTAGES AND DISADVANTAGES 77
TABLE 48 PERTINO: ADVANTAGES AND DISADVANTAGES 77
TABLE 49 LIST OF OTHER PLAYERS 80

CHART 1 PEST ANALYSIS OF SD-WAN MARKET 13
CHART 2 RESEARCH METHODOLOGY OF GLOBAL SD-WAN MARKET 15
CHART 4 ARCHITECTURE OF SD-WAN MARKET 21
CHART 5 EVOLUTION OF SD-WAN MARKET 21
CHART 6 VALUE CHAIN: SD-WAN MARKET 22
CHART 7 MARKET SEGMENTATION OF SD-WAN MARKET 22
CHART 8 PORTERS 5 FORCES ON SD-WAN MARKET 23
CHART 9 THE NEED FOR SD-WAN MARKET 26
CHART 10 MARKET DYNAMICS – DRIVERS, RESTRAINTS & OPPORTUNITIES 28
CHART 11 DRO – IMPACT ANALYSIS OF SD-WAN MARKET 32
CHART 12 NETWORK COMPONENT BY MARKET SHARE, 2016 AND 2022 33
CHART 13 MPLS MARKET REVENUE, 2016-2022 ($BILLION) 34
CHART 14 BROADBAND MARKET REVENUE, 2016-2022 ($BILLION) 34
CHART 15 4G/LTE MARKET REVENUE, 2016-2022 ($BILLION) 35
CHART 16 SERVICE BY MARKET SHARE, 2016 AND 2022 36
CHART 17 CSP MARKET REVENUE, 2016-2022 ($MILLION) 37
CHART 18 MPS MARKET REVENUE, 2016-2022 ($MILLION) 38
CHART 19 CLOUD MANAGED MARKET REVENUE, 2016-2022 ($MILLION) 39
CHART 20 SERVICE BY MARKET SHARE, 2016 AND 2022 40
CHART 21 HARDWARE MARKET REVENUE, 2016-2022 ($MILLION) 41
CHART 22 SOFTWARE MARKET REVENUE, 2016-2022 ($MILLION) 42
CHART 23 VERTICALS BY MARKET SHARE, 2016 AND 2022 44
CHART 24 RETAIL MARKET REVENUE, 2016-2022 ($BILLION) 45
CHART 25 HEALTHCARE MARKET REVENUE, 2016-2022 ($BILLION) 46
CHART 26 BFSI MARKET REVENUE, 2016-2022 ($BILLION) 47
CHART 27 MANUFACTURING MARKET REVENUE, 2016-2022 ($BILLION) 47
CHART 28 OIL AND GAS MARKET REVENUE, 2016-2022 ($BILLION) 48
CHART 29 EDUCATION MARKET REVENUE, 2016-2022 ($BILLION) 49
CHART 30 GOVERNMENT MARKET REVENUE, 2016-2022 ($BILLION) 50
CHART 31 OTHERS MARKET REVENUE, 2016-2022 ($BILLION) 51
CHART 32 DEPLOYMENT MARKET SHARE, 2016 AND 2022 52
CHART 33 ON-PREMISE MARKET REVENUE, 2016-2022 ($BILLION) 53
CHART 34 CLOUD MARKET REVENUE, 2016-2022 ($BILLION) 54
CHART 35 REGION MARKET SHARE, 2016 AND 2022 55
CHART 36 NORTH AMERICA MARKET REVENUE, 2016–2022 ($BILLION) 56
CHART 37 EUROPE MARKET REVENUE, 2016–2022 ($BILLION) 59
CHART 38 ASIA PACIFIC MARKET REVENUE, 2016-2022 ($BILLION) 63
CHART 39 LATIN AMERICA, 2016-2022 ($MILLION) 67
CHART 40 MEA MARKET REVENUE, 2016-2022 ($BILLION) 69
CHART 41 VELOCLOUD SNAPSHOT 81
CHART 42 VELOCLOUD BUSINESS UNIT 82
CHART 43 VELOCLOUD GEOGRAPHIC PRESENCES 83
CHART 44 VELOCLOUD GEOGRAPHIC PRESENCES 84
CHART 45 RIVERBED SNAPSHOT 86
CHART 46 RIVERBED BUSINESS UNIT 86
CHART 47 RIVERBED GEOGRAPHIC PRESENCES 87
CHART 48 RIVERBED SWOT ANALYSIS 88
CHART 49 NUAGE NETWORK: SNAPSHOT 90
CHART 50 NUAGE BUSINESS UNIT 90
CHART 51 NUAGE NETWORK REVENUE 91
CHART 52 NUAGE NETWORK SWOT ANALYSIS 92
CHART 53 SILVER PEAK SNAPSHOT 94
CHART 54 SILVER PEAK BUSINESS UNIT 94
CHART 55 GEOGRAPHIC PRESENCES 95
CHART 56 SILVER PEAK SWOT ANALYSIS 96
CHART 57 ARYAKA NETWORKS SNAPSHOT 98
CHART 58 ARYAKA NETWORKS BUSINESS UNIT 98
CHART 59 ARYAKA NETWORKS GEOGRAPHIC PRESENCES 99
CHART 60 ARYAKA NETWORKS SWOT ANALYSIS 100
CHART 61 CISCO SYSTEMS SNAP SHORT 102
CHART 62 CISCO SYSTEMS BUSINESS UNIT 103
CHART 63 CISCO SYSTEM GEOGRAPHIC REVENUE 103
CHART 64 CISCO SYSTEMS SWOT ANALYSIS 104
CHART 65 VIPTELA SNAPSHOT 106
CHART 66 VIPTELA BUSINESS SEGMENTS 107
CHART 67 VIPTELA GEOGRAPHIC PRESENCES 107
CHART 68 VIPTELA SWOT ANALYSIS 108
CHART 69 VERSA NETWORKS SNAP SHORT 109
CHART 70 VIPTELA SNAPSHOT 110
CHART 71 VERSA NETWORK GEOGRAPHIC PRESENCES 111
CHART 72 VERSA NETWORKS SWOT ANALYSIS 112
CHART 73 CLOUDGENIX MARKET SNAP SHORT 114
CHART 74 CLOUDGENIX BUSINESS SEGMENTS 114
CHART 75 CLOUDGENIX GEOGRAPHIC PRESENCES 115
CHART 76 CLOUDGENIX SWOT ANALYSIS 116
CHART 77 PERTINO MARKET SNAP SHORT 118
CHART 78 PERTINO BUSINESS SEGMENTS 118
CHART 79 PERTINO GEOGRAPHIC PRESENCES 119
CHART 80 PERTINO SWOT ANALYSIS 120
Cisco Systems
VeloCloud Inc.
Versa Networks
Silver Peak
CloudGenix
Nuage Networks (Nokia)
Talari
Viptela
Riverbed
Pertino Networks