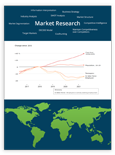 Global Chlor Alkali Market- Global Drivers, Restraints, Opportunities, Trends, and Forecasts up to 2022
ID: 1176

November 9, 2017

130 pages

Infoholic Research
Global Chlor Alkali Market- Global Drivers, Restraints, Opportunities, Trends, and Forecasts up to 2022
Chlor Alkali chemicals are the ones produced by electrolysis of sodium chloride (Brine solution). The market is broadly categorized into three segments namely Caustic Soda (NaOH), Chlorine & Soda Ash (Sodium Bicarbonate) which are collectively known as chlor alkali chemicals. These chemicals are usually basic in nature and fall under the category of bulk chemicals. The main application areas of chlor Alkali chemicals are in soap & detergent industry, paper and pulp, textiles, water treatment, plastic industry, industrial solvents, alumina, pharmaceuticals etc.
Globally the demand for alkali chemicals is rising due to increase in the volume consumption for caustic soda for alumina industry. Since the refining process of alumina significantly requires caustic soda, hence the market of caustic soda is expected to witness a growth in the upcoming 6 years. Similarly, the demand for other alkali chemicals like chlorine and soda ash are being driven by their significant consumption in water treatment and detergent industry respectively.
The regional demand for chlor alkali is consistently growing, especially in the Asia Pacific area. This growth is supported by lucrative, fast-growing technological industries and the growing manufacturing market in these regions. Currently, Asia Pacific is the global leader in the chlor alkali market from the demand side. China and Japan have built an advantage of having most of the manufacturing and consumption market, thus providing the maximum contribution in the global chlor alkali market. And from the supplier side North America followed by Europe are the market leaders in the chlor alkali market.
The study of the global chlor alkali market by Infoholic Research provides the market size information and market trends along with the factors and parameters impacting it in both short and long term. The study ensures a 360° view, bringing out the complete key insights of the industry. These insights help the business decision makers to make better business plans and informed decisions for the future business. In addition, the study helps the venture capitalist in understanding the companies better and take informed decisions. Some of the key players in the chlor alkali market are Olin Corporation, Solvay S.A, Tata Chemicals, Akzo Nobel, Dow Chemicals, etc.
According to Infoholic Research, the global chlor alkali market is expected to grow at a CAGR of 6.8% during the forecast period to reach $124.6 billion by 2022. Glass Industry is expected to maintain global dominance in the chlor alkali consumption by value, driven by China and India. Asia Pacific is expected to contribute highest growth in global chlor alkali market. Some of the key players in chlor alkali are SABIC, DOW Chemicals, BASF etc.
Report Scope:
Applications
Caustic Soda
• Alumina
• Inorganic Chemicals
• Organic Chemicals
• Pulp & Paper
• Water Treatment
• Others (Textiles, Food Processing, etc.,)
Chlorine
• Organic Chemicals
• Vinyls
• Soaps & Detergents
• Pulp & Paper
• Water Treatment
• Others
Soda Ash
• Glass
• Soaps & Detergents
• Water Treatment
• Paper & Pulp
• Textile
• Others (Textiles, Food Processing, etc.,)
Regions
• Asia Pacific
• North America
• Europe
• Rest of the World
• Industry outlook: Market trends, drivers, restraints, and opportunities
Table of Contents
1 Report Outline
1.1 Introduction
1.2 Report Scope
1.3 Market Definition
1.4 Research Methodology
1.4.1 Data Collation & In-house Estimation
1.4.2 Market Triangulation
1.4.3 Forecasting
1.5 Study Declaration
1.6 Report Assumptions
1.7 Stakeholders
2 Executive Summary
2.1 China Moving Toward Market Consolidation
2.2 Developing economies acquiring major market share in the chlor alkali market
3 Market Positioning
3.1 Total Addressable Market: Chlor Alkali
3.1.1 Market Overview
3.2 Segmented Addressable Market
3.2.1 Related Markets
4 Market Outlook
4.1 Overview
4.2 Value Chain Analysis
4.3 Chlor Alkali Cost Analysis
4.4 PESTLE
4.5 Porter 5 (Five) Forces
4.6 Patent Analysis
4.7 Market Characteristics
4.8 Market Segmentation
4.9 Market Dynamics
4.9.1 Drivers
4.9.1.1 Increasing investment in end-user industries
4.9.1.2 Growing regional consumption of Asia Pacific
4.9.2 Restraints
4.9.2.1 Complex regulatory environment
4.9.2.2 Imbalance in demand supply chain
4.9.3 Opportunities
4.9.3.1 Multiple companies going for mergers & acquisitions
4.9.3.2 Large untapped market in developing and underdeveloped countries
4.9.4 DRO – Impact Analysis
5 Chemicals: Market Size & Analysis
5.1 Overview
5.1.1 Market Size and Analysis
5.2 Caustic Soda
5.3 Chlorine
5.4 Soda Ash
5.5 Vendor Profiles
5.5.1 Shin-Etsu Chemical Co., Ltd.
5.5.2 Aditya Birla Chemicals
5.5.3 Saudi Basic Industries Corporation (SABIC)
5.5.4 DOW Chemical Company
5.5.5 BASF SE
(Overview, business units, gegraphic revenue, product profile, recent developments, business focus, SWOT analysis and business strategies have been covered for all vendors)
6 End-Users: Market Size & Analysis
6.1 Overview
6.2 Paper & Pulp Industry
6.3 Soaps & Detergents
6.4 Chemicals (Organic & Inorganic)
6.5 Water Treatment
6.6 Alumina Industry
6.7 Glass Industry
6.8 Vinyl Industry
6.9 Customer Profile
6.9.1 Henkel AG & Co.,
6.9.2 General Electric (GE)
6.9.4 3M
6.9.5 Siemens AG
(Overview, business units, gegraphic revenue, product profile, recent developments, business focus, SWOT analysis and business strategies have been covered for all customers)
7 Regions: Market Size and Analysis
7.1 Overview
7.2 Asia Pacific
7.2.1 Asia Pacific Market by Countries
7.2.2 Asia Pacific Market by Chemical
7.2.3 Asia Pacific Market by End-users
7.3 Europe
7.3.1 Europe Market by Country
7.3.2 Europe Market by Chemicals
7.3.3 Europe Market by End-users
7.4 North America
7.4.1 North America Market by Countries
7.4.2 North America Market by Chemicals
7.4.3 North America Market by End-users
7.5 Rest of the World
7.5.1 Rest OF the World Market by Chemicals
7.5.2 Rest of the World Market by End-users
8 Companies to Watch for
8.1 Solvay, Expansion of Epichlorohydrin plant in Thailand
8.1.1 Overview
8.2 SABIC investments in the Middle East Africa and Asia polymer & PVC market
8.2.1 Overview
9 Competitive Landscape
9.1 Competitor Comparison Analysis
9.2 Market Landscape
9.2.1 Mergers, Acquisitions, & Joint Ventures
9.2.2 Expansion
9.2.3 Exhibition & Product Launch
9.2.4 Divestment & Divestiture
10 Expert's Views
Annexure
Abbreviations

Tables
TABLE 1 GLOBAL CHLOR ALKALI MARKET VALUE BY CHEMICALLS, 2015−2022 ($MILLION)
TABLE 2 GLOBAL CHLOR ALKALI MARKET VOLUME BY MATERIAL, 2015−2022 (KILOTONS)
TABLE 3 GLOBAL CAUSTIC SODA MARKET VALUE, BY GEOGRAPHY, 2015−2022 ($MILLION)
TABLE 4 GLOBAL CAUSTIC SODA MARKET VOLUME , BY GEOGRAPHY 2015−2022 (KILOTONS)
TABLE 5 GLOBAL CHLORINE MARKET VALUE, , BY GEOGRAPHY, 2015−2022 ($MILLION)
TABLE 6 GLOBAL CHLORINE MARKET BY VOLUME, 2015−2022 (KILOTONS)
TABLE 7 GLOBAL SODA ASH MARKET VALUE, BY GEOGRAPHY, 2015−2022 ($MILLION)
TABLE 8 GLOBAL SODA ASH MARKET VOLUME , 2015−2022 (KILOTONS)
TABLE 9 SHIN-ETSU CHEMICAL CO., LTD.: PRODUCT PROFILE
TABLE 10 SHIN-ETSU CHEMICAL CO., LTD.: RECENT DEVELOPMENTS
TABLE 11 ADITYA BIRLA CHEMICALS: PRODUCT PROFILE
TABLE 12 ADITYA BIRLA CHEMICALS: RECENT DEVELOPMENTS
TABLE 13 SABIC: RECENT DEVELOPMENTS
TABLE 14 DOW CHEMICALS: PRODUCT PROFILE
TABLE 15 DOW CHEMICALS: RECENT DEVELOPMENTS
TABLE 16 BASF SE: PRODUCT PROFILE
TABLE 17 BASF SE: RECENT DEVELOPMENTS
TABLE 18 GLOBAL CHLOR ALKALI MARKET VALUE BY END-USERS, 2015−2022 ($MILLION)
TABLE 19 GLOBAL CHLOR ALKALI MARKET VOLUME, BY END-USER, 2015−2022 (KILOTONS)
TABLE 20 GLOBAL CHLOR ALKALI MARKET VALUE IN PAPER AND PULP, BY GEOGRAPHY, 2015−2022 ($MILLION)
TABLE 21 GLOBAL CHLOR ALKALI MARKET VOLUME IN PAPER AND PULP, BY GEOGRAPHY, 2015−2022 (KILOTONS)
TABLE 22 GLOBAL CHLOR ALKALI CHEMICALS MARKET VALUE IN SOAPS & DETERGENTS BY GEOGRAPHY, 2015−2022 ($MILLION)
TABLE 23 GLOBAL CHLOR ALKALI CHEMICALS MARKET VOLUME IN SOAPS & DETERGENTS BY GEOGRAPHY, 2015−2022 (KILOTONS)
TABLE 24 GLOBAL CHLOR ALKALI CHEMICALS MARKET VALUE IN CHEMICALS (ORGANIC & INORGANIC) BY GEOGRAPHY, 2015−2022 ($MILLION)
TABLE 25 GLOBAL CHLOR ALKALI CHEMICALS MARKET VALUE IN CHEMICALS (ORGANIC & INORGANIC) BY GEOGRAPHY, 2015−2022 (KILOTONS)
TABLE 26 GLOBAL CHLOR ALKALI CHEMICALS MARKET VALUE IN WATER TREATMENT BY GEOGRAPHY, 2015−2022 ($MILLION)
TABLE 27 GLOBAL CHLOR ALKALI CHEMICALS MARKET VOLUME IN WATER TREATMENT BY GEOGRAPHY, 2015−2022 (KILOTONS)
TABLE 28 GLOBAL CHLOR ALKALI CHEMICALS MARKET VALUE IN ALUMINA BY GEOGRAPHY, 2015−2022 ($MILLION)
TABLE 29 GLOBAL CHLOR ALKALI MARKET VOLUME IN ALUMINA BY GEOGRAPHY, 2015−2022 (KILOTONS)
TABLE 30 GLOBAL CHLOR ALKALI CHEMICALS MARKET VALUE IN GLASS INDUSTRY BY GEOGRAPHY, 2015−2022 ($MILLION)
TABLE 31 GLOBAL CHLOR ALKALI CHEMICALS MARKET VOLUME IN GLASS INDUSTRY BY GEOGRAPHY, 2015−2022 (KILOTONS)
TABLE 32 GLOBAL CHLOR ALKALI CHEMICALS MARKET VALUE IN VINYL BY GEOGRAPHY, 2015−2022 ($MILLION)
TABLE 33 GLOBAL CHLOR ALKALI CHEMICALS MARKET VOLUME IN VINYL BY GEOGRAPHY, 2015−2022 (KILOTONS)
TABLE 34 HENKEL AG & COMPANY: PRODUCT PROFILE
TABLE 35 HENKEL AG & COMPANY: RECENT DEVELOPMENTS
TABLE 36 GENERAL ELECTRIC: BUSINESS ACTIVITIES
TABLE 37 GENERAL ELECTRIC (GE): RECENT DEVELOPMENTS
TABLE 38 SIEMENS AG: BUSINESS UNITS (2012 AND 2013)
TABLE 39 SIEMENS AG: BUSINESS UNITS (2014–2016)
TABLE 40 SIEMENS AG: GEOGRAPHIC REVENUE
TABLE 41 SIEMENS AG: RECENT DEVELOPMENTS
TABLE 42 GLOBAL CHLOR ALKALI CHEMICALS MARKET VALUE BY GEOGRAPHY, 2015−2022 ($MILLION)
TABLE 43 GLOBAL CHLOR ALKALI CHEMICALS MARKET VOLUME BY GEOGRAPHY, 2015−2022 (KILOTONS)
TABLE 44 ASIA PACIFIC CHLOR ALKALI CHEMICALS MARKET VALUE BY COUNTRY, 2015−2022 ($MILLION)
TABLE 45 ASIA PACIFIC CHLOR ALKALI CHEMICALS MARKET VOLUME BY COUNTRY, 2015−2022 (KILOTONS)
TABLE 46 ASIA PACIFIC CHLOR ALKALI CHEMICALS MARKET VALUE BY CHEMICAL, 2015−2022 ($MILLION)
TABLE 47 ASIA PACIFIC CHLOR ALKALI CHEMICALS MARKET VOLUME BY CHEMICALS, 2015−2022 (KILOTONS)
TABLE 48 ASIA PACIFIC CHLOR ALKALI CHEMICALS MARKET VALUE BY END-USER, 2015−2022 ($MILLION)
TABLE 49 ASIA PACIFIC CHLOR ALKALI CHEMICALS MARKET VOLUME BY END-USERS, 2015−2022 (KILOTONS)
TABLE 50 EUROPE CHLOR ALKALI CHEMICALS MARKET VALUE BY COUNTRY, 2015−2022 ($MILLION)
TABLE 51 EUROPE CHKOR ALKALI CHEMICALS VOLUME BY COUNTRY, 2015−2022 (KILOTONS)
TABLE 52 EUROPE CHLOR ALKALI CHEMICALS MARKET VALUE BY CHEMICALS, 2015−2022 ($MILLION)
TABLE 53 EUROPE CHLOR ALKALI CHEMICALS MARKET VOLUME USING CHEMICALS, 2015−2022 (KILOTONS)
TABLE 54 EUROPE CHLOR ALKALI CHEMICALS MARKET VALUE BY END-USERS, 2015−2022 ($MILLION)
TABLE 55 EUROPE CHLOR ALKALI CHEMICALS MARKET VOLUME BY END-USERS, 2015−2022 (KILOTONS)
TABLE 56 NORTH AMERICA CHLOR ALKALI CHEMICALS MARKET VALUE BY COUNTRY, 2015−2022 ($MILLION)
TABLE 57 NORTH AMERICA CHLOR ALKALI CHEMICALS MARKET VOLUME BY COUNTRY, 2015−2022 (KILOTONS)
TABLE 58 NORTH AMERICA CHLOR ALKALI CHEMICALS MARKET VALUE BY CHEMICALS, 2015−2022 ($MILLION)
TABLE 59 NORTH AMERICA CHLOR ALKALI CHEMICALS MARKET VOLUME USING CHEMICALS, 2015−2022 (KILOTONS)
TABLE 60 NORTH AMERICA CHLOR ALKALI CHEMICALS MARKET VALUE BY END-USERS, 2015−2022 ($MILLION)
TABLE 61 NORTH AMERICA CHLOR ALKALI CHEMICALS MARKET VOLUME BY END-USER, 2015−2022 (KILOTONS)
TABLE 62 REST OF THE WORLD CHLOR ALKALI CHEMICALS MARKET VALUE BY GEOGRAPHY, 2015−2022 ($MILLION)
TABLE 63 REST OF THE WORLD CHLOR ALKALI CHEMICALS MARKET VOLUME BY GEOGRAPHY, 2015−2022 (KILOTONS)
TABLE 64 REST OF THE WORLD CHLOR ALKALI CHEMICALS MARKET VALUE BY CHEMICALS, 2015−2022 ($MILLION)
TABLE 65 ROW CHLOR ALKALI CHEMICALS MARKET VOLUME USING CHEMICALS, 2015−2022 (KILOTONS)
TABLE 66 REST OF THE WORLD CHLOR ALKALI CHEMICALS MARKET VALUE BY END-USERS, 2015−2022 ($MILLION)
TABLE 67 REST OF THE WORLD CHLOR ALKALI CHEMICALS MARKET VOLUME END-USERS, 2015−2022 (KILOTONS)
TABLE 68 MERGERS, ACQUISITIONS, & JOINT VENTURES, 2013–2017
TABLE 69 EXPANSION, 2013–2016
TABLE 70 EXHIBITION & PRODUCT LAUNCH
TABLE 71 DIVESTMENT & DIVESTITURE, 2016
Charts
CHART 1 RESEARCH METHODOLOGY OF GLOBAL CHLOR ALKALI MARKET: DATA COLLATION
CHART 2 RESEARCH METHODOLOGY OF GLOBAL CHLOR ALKALI CHEMICALS MARKET: MARKET TRIANGULATION
CHART 3 RESEARCH METHODOLOGY OF GLOBAL CHLOR ALKALI CHEMICALS MARKET: FORECASTING METHODOLOGY
CHART 4 GLOBAL CHLOR ALKALI MARKET: REGION WISE ANALYSIS (APAC VS MARKET DIFFERENCE)
CHART 5 TOTAL ADDRESSABLE MARKET: CHLOR ALKALI
CHART 6 VALUE CHAIN: CHLOR ALKALI CHEMICALS MARKET
CHART 7 REGIONAL COST ANALYSIS OF MEMBRANE CELL TECHNOLOGY: CHLOR ALKALI CHEMICALS MARKET
CHART 8 PESTLE ANALYSIS: CHLOR ALKLAI MARKET
CHART 9 PORTERS ANALYSIS: CHLOR ALKALI CHEMICALS MARKET
CHART 10 CHLOR ALKALI CHEMICALS MARKET: PATENT ANALYSIS (2012–2017*)
CHART 11 CHLOR ALKALI MARKET: PATENT ANALYSIS (2012–2017*)
CHART 12 MARKET SEGMENTATION: CHLOR ALKALI CHEMICALS
CHART 13 MARKET DYNAMICS: DRIVERS, RESTRAINTS, AND OPPORTUNITIES
CHART 14 DRO - IMPACT ANALYSIS OF CHLOR ALKALI CHEMICALS MARKET
CHART 15 GLOBAL CHLOR ALKALI MARKET VALUE BY CHEMICALS, 2015–2022 ($MILLION)
CHART 16 GLOBAL CAUSTIC SODA MARKET VALUE BY GEOGRAPHY, 2015−2022 ($MILLION)
CHART 17 GLOBAL CHLORINE MARKET VALUE, BY GEOGRAPHY, 2015−2022 ($MILLION)
CHART 18 GLOBAL SODA ASH MARKET VALUE, BY GEOGRAPHY, 2015−2022 ($MILLION)
CHART 19 SHIN-ETSU CHEMICAL CO., LTD.: OVERVIEW SNAPSHOT
CHART 20 SHIN-ETSU CHEMICAL CO., LTD.: BUSINESS UNITS
CHART 21 SHIN-ETSU CHEMICAL CO., LTD.: GEOGRAPHIC REVENUE
CHART 22 SHIN-ETSU CHEMICAL CO., LTD.: SWOT ANALYSIS
CHART 23 ADITYA BIRLA CHEMICALS: OVERVIEW SNAPSHOT
CHART 24 ADITYA BIRLA CHEMICALS: SWOT ANALYSIS
CHART 25 SABIC: OVERVIEW SNAPSHOT
CHART 26 SABIC: BUSINESS UNITS
CHART 27 SABIC: SWOT ANALYSIS
CHART 28 DOW CHEMICALS: OVERVIEW SNAPSHOT
CHART 29 DOW CHEMICALS: BUSINESS UNITS
CHART 30 DOW CHEMICALS: GEOGRAPHIC REVENUE
CHART 31 DOW CHEMICALS: SWOT ANALYSIS
CHART 32 BASF SE: OVERVIEW SNAPSHOT
CHART 33 BASF SE: BUSINESS UNITS
CHART 34 BASF SE: GEOGRAPHIC REVENUE
CHART 35 BASF SE: SWOT ANALYSIS
CHART 36 GLOBAL CHLOR ALKALI CHEMICALS MARKET VALUE, BY END-USERS, 2015−2022 ($MILLION)
CHART 37 GLOBAL CHLOR ALKALI MARKET VALUE IN PAPER AND PULP, BY GEOGRAPHY, 2015−2022 ($MILLION)
CHART 38 GLOBAL CHLOR ALKALI CHEMICALS MARKET VALUE IN SOAPS & DETERGENTS BY GEOGRAPHY, 2015−2022 ($MILLION)
CHART 39 GLOBAL CHLOR ALKALI CHEMICALS MARKET VALUE IN CHEMICALS (ORGANIC & INORGANIC) BY GEOGRAPHY, 2015−2022 ($MILLION)
CHART 40 GLOBAL CHLOR ALKALI CHEMICALS MARKET VALUE IN WATER TREATMENT BY GEOGRAPHY, 2015−2022 ($MILLION)
CHART 41 GLOBAL CHLOR ALKALI CHEMICALS MARKET VALUE IN ALUMINA BY GEOGRAPHY, 2015−2022 ($MILLION)
CHART 42 GLOBAL CHLOR ALKALI CHEMICALS MARKET IN GLASS INDUSTRY BY GEOGRAPHY, 2015−2022 ($MILLION)
CHART 43 GLOBAL CHLOR ALKALI CHEMICALS MARKET VALUE IN VINYL BY GEOGRAPHY, 2015−2022 ($MILLION)
CHART 44 HENKEL AG & COMPANY: OVERVIEW SNAPSHOT
CHART 45 HENKEL AG & COMPANY: BUSINESS UNITS
CHART 46 HENKEL AG & COMPANY.: GEOGRAPHIC REVENUE
CHART 47 HENKEL AG & COMPANY.: SWOT ANALYSIS
CHART 48 GENERAL ELECTRIC (GE): OVERVIEW SNAPSHOT
CHART 49 GENERAL ELECTRIC (GE): BUSINESS UNITS
CHART 50 GENERAL ELECTRIC (GE): GEOGRAPHIC REVENUE
CHART 51 GENERAL ELECTRIC (GE): SWOT ANALYSIS
CHART 52 M: OVERVIEW SNAPSHOT
CHART 53 M: BUSINESS UNITS
CHART 54 M: GEOGRAPHIC REVENUE
CHART 55 M: SWOT ANALYSIS
CHART 56 SIEMENS AG: OVERVIEW SNAPSHOT
CHART 57 SIEMENS AG: SWOT ANALYSIS
CHART 58 GLOBAL CHLOR ALKALI CHEMICALS MARKET VALUE BY GEOGRAPHY, 2015−2022 ($MILLION)
CHART 59 ASIA PACIFIC CHLOR ALKALI CHEMICALS MARKET VALUE BY COUNTRY, 2015−2022 ($MILLION)
CHART 60 ASIA PACIFIC CHLOR ALKALI CHEMICALS MARKET VALUE BY CHEMICAL, 2015−2022 ($MILLION)
CHART 61 ASIA PACIFIC CHLOR ALKALI CHEMICALS MARKET VALUE BY END-USERS, 2015−2022 ($MILLION)
CHART 62 EUROPE CHLOR ALKALI CHEMICALS MARKET VALUE BY COUNTRY, 2015−2022 ($MILLION)
CHART 63 EUROPE CHLOR ALKALI CHEMICALS MARKET VALUE BY MATERIALS, 2015−2022 ($MILLION)
CHART 64 EUROPE CHLOR ALKALI CHEMICALS MARKET VALUE BY END-USERS, 2015−2022 ($MILLION)
CHART 65 NORTH AMERICA CHLOR ALKALI CHEMICALS MARKET VALUE BY COUNTRY, 2015−2022 ($MILLION)
CHART 66 NORTH AMERICA CHLOR ALKALI CHEMICALS MARKET VALUE BY CHEMICALS, 2015−2022 ($MILLION)
CHART 67 NORTH AMERICA CHLOR ALKALI CHEMICALS MARKET VALUE BY END-USERS, 2015−2022 ($MILLION)
CHART 68 REST OF THE WORLD CHLOR ALKALI CHEMICALS MARKET VALUE BY GEOGRAPHY, 2015−2022 ($MILLION)
CHART 69 REST OF THE WORLD CHLOR ALKALI CHEMICALS MARKET VALUE BY CHEMICALS, 2015−2022 ($MILLION)
CHART 70 REST OF THE WORLD CHLOR ALKALI CHEMICALS MARKET VALUE BY END-USER, 2015−2022 ($MILLION)
CHART 71 COMPETITIVE LANDSCAPE: GEOGRAPHIC EXPOSURE
CHART 72 MARKET LANDSCAPE: MARKET ACTIVITIES
SABIC, DOW Chemicals, BASF, Aditya Birla Chemicals, Shin-Etsu Chemical Co., Ltd