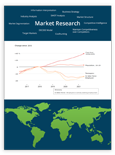 Magnetic Tape Market – Global Drivers, Restraints, Opportunities, Trends, & Forecast up to 2022
ID: 1185

January 18, 2018

118 pages

Infoholic Research
Magnetic Tape Market – Global Drivers, Restraints, Opportunities, Trends, and Forecasts up to 2022
Magnetic tape is a material that is mainly used for storing of data. This technology created a revolution in data storage, broadcasting, and recording markets. The primary and the most common need for this material is data storage along with various other uses such as in packaging solutions and consumer appliances.
Magnetic tape is a medium for magnetic recording, which is made of a thin, magnetizable coating on a long, narrow strip of plastic film, developed in Germany in 1928, based on magnetic wire recording. It was a key technology in early computer development, allowing unparalleled amounts of data to be mechanically created, stored for extended periods, and easily accessible.
The increasing concern toward data theft and loss in the enterprises is a promising growth potential for the magnetic tape market, and it has the maximum demand. The market has an advantage of bigger share coming from the US and European countries for the advanced technology. This gives North America a lead in the global magnetic tape market. Apart from this, European countries are also developing high demand, following North America, owing to the higher consumer acceptance and high demand from the financial and packaging units. The presence of high-end electronics market and high consumer spending in North America and Europe are increasing the market of magnetic tape as well. Asia Pacific followed Europe and accounts for the third largest market for magnetic tape with heavy industrialization and the presence of big Chinese market.
Within various end-user areas, data storage is highly dominating the market in overall magnetic tape across regions owing to the high adoption rate and ease of application. Other than data storage, the packaging & labeling solutions is also increasing its market during the forecast period due to increasing investments and R&D innovations along with government interventions.
The study of the global magnetic tape market provides market size information and market trends along with the factors and parameters impacting the market in both short- and long-term. The study ensures a 360° view, bringing out the complete key insights of the industry. These insights help the business decision-makers to make better business plans and informed decisions for the future business. In addition, the study helps venture capitalists in understanding the companies better and take informed decisions.
According to Infoholic Research, the global magnetic tape market is expected to grow at a CAGR of 7.6% during the forecast period 2016–2022 to reach $6.5 billion by 2022. The synthetic rubber and PVC-based magnetic tapes are expected to remain as materials covering almost the complete market with significant drive coming from developing economies as well. Some of the key players in the magnetic tape market are 3M, Toshiba Corporation, TDK Corporation, Hitachi Metals Ltd., etc.
Report Scope:
• Base Materials
o Synthetic Rubber
o PVC
o Others
• End-users
o Data Storage
o Packaging & Labeling
o Consumer Appliances
o Others
• Regions
o North America
o Europe
o Asia Pacific
o Rest of the World
• Industry outlook: Market trends, drivers, restraints, and opportunities

Table of Contents
1 Report Outline 12
1.1 Introduction 12
1.2 Report Scope 12
1.3 Market Definition 13
1.4 Research Methodology 13
1.4.1 Data Collation & In-house Estimation 13
1.4.2 Market Triangulation 14
1.4.3 Forecasting 15
1.5 Study Declaration 16
1.6 Report Assumptions 16
1.7 Stakeholders 16
2 Executive Summary 17
2.1 Innovations and Enterprise Data Storage Demand to Strengthen US Market Share 17
2.2 Growing Advance Packaging Solutions and Improving Production Capabilities Boosting Magnetic Tape Consumption 17
3 Market Positioning 19
3.1 Total Addressable Market (TAM): Flexible Magnet 19
3.1.1 Market Overview 19
3.1.2 Major Trends 19
3.2 Segmented Addressable Market 20
3.3 Related Markets 20
4 Market Outlook 21
4.1 Overview 21
4.2 Value Chain Analysis 22
4.3 PESTLE Analysis 22
4.4 Porter 5 (Five) Forces 24
4.5 Patent Analysis 24
5 Market Characteristics 26
5.1 Market Segmentation 26
5.2 Market Dynamics 27
5.2.1 Drivers 28
5.2.1.1 Increasing requirement and low investment allowing the vendors to easily enter into the market 28
5.2.1.2 Innovations and adaptation in the data storage and bio-compatible products expanding the potential opportunities 28
5.2.2 Restraints 28
5.2.2.1 Variations in the prices of raw material along with political uncertainties in various regions 28
5.2.2.2 Increasing and broad market of alternative products 28
5.2.3 sOpportunities 29
5.2.3.1 Increasing demand in the end-user industries 29
5.2.3.2 Large untapped market in developing and underdeveloped countries 29
5.3 DRO – Impact Analysis 29
6 Base Material: Market Size and Analysis 30
6.1 Overview 30
6.2 Synthetic Rubber 31
6.3 PVC 33
6.4 Vendors Profiles 35
6.4.1 3M 35
6.4.1.1 Overview 35
6.4.1.2 Business units 36
6.4.1.3 Geographic revenue 37
6.4.1.4 Product profile 37
6.4.1.5 Recent Development 38
6.4.1.6 SWOT analysis 39
6.4.1.7 Business strategies 39
6.4.2 Toshiba Corporation 40
6.4.2.1 Overview 40
6.4.2.2 Business units 41
6.4.2.3 Geographic revenue 42
6.4.2.4 Product profile 42
6.4.2.5 Recent developments 43
6.4.2.6 Business focus 43
6.4.2.7 SWOT analysis 43
6.4.2.8 Business strategies 45
6.4.3 TDK Corporation 46
6.4.3.1 Overview 46
6.4.3.2 Business units 47
6.4.3.3 Geographic revenue 47
6.4.3.4 Product profile 48
6.4.3.5 Recent developments 48
6.4.3.6 Business focus 49
6.4.3.7 SWOT analysis 49
6.4.3.8 Business strategies 50
6.4.4 Hitachi Metals Ltd., 51
6.4.4.1 Overview 51
6.4.4.2 Business units 52
6.4.4.3 Geographic revenue 52
6.4.4.4 Product profile 53
6.4.4.5 Recent developments 54
6.4.4.6 Business focus 54
6.4.4.7 SWOT analysis 54
6.4.4.8 Business strategies 55
6.4.5 Ampex Electronics 56
6.4.5.1 Overview 56
6.4.5.2 Business units 56
6.4.5.3 Geographic revenue 56
6.4.5.4 Product profile 57
6.4.5.5 Recent developments 57
6.4.5.6 Business focus 57
6.4.5.7 SWOT analysis 58
6.4.5.8 Business strategies 59
6.4.6 Sanbros Engineering Works 60
6.4.6.1 Overview 60
6.4.6.2 Business units 60
6.4.6.3 Geographic revenue 60
6.4.6.4 Business Segments 61
6.4.6.5 Recent developments 61
6.4.6.6 Business focus 61
6.4.6.7 SWOT analysis 61
6.4.6.8 Business strategies 63
7 End-users: Market Size and Analysis 64
7.1 Overview 64
7.2 Data Storage 65
7.3 Packaging & Labelling 67
7.4 Consumer Appliances 68
7.5 Customers Profiles 70
7.5.1 Toyota Motor Corporation 70
7.5.1.1 Overview 70
7.5.1.2 Business units 71
7.5.1.3 Geographic revenue 71
7.5.1.4 Business segments 72
7.5.1.5 SWOT analysis 72
7.5.1.6 Business strategies 73
7.5.2 General Electric (GE) 74
7.5.2.1 Overview 74
7.5.2.2 Business units 75
7.5.2.3 Geographic revenue 76
7.5.2.4 Business segments 77
7.5.2.5 SWOT analysis 77
7.5.2.6 Business strategies 78
7.5.3 ECI Telecom Ltd. 79
7.5.3.1 Overview 79
7.5.3.2 Business units 80
7.5.3.3 Geographic revenue 80
7.5.3.4 Business segments 80
7.5.3.5 SWOT analysis 80
7.5.3.6 Business strategies 80
7.5.4 Koninklijke Philips N.V. 81
7.5.4.1 Overview 81
7.5.4.2 Business units 82
7.5.4.3 Geographic revenue 82
7.5.4.4 Business segments 83
7.5.4.5 SWOT analysis 83
7.5.4.6 Business strategies 84
7.5.5 International Business Machines (IBM) 85
7.5.5.1 Overview 85
7.5.5.2 Business units 86
7.5.5.3 Geographic revenue 87
7.5.5.4 Business segments 87
7.5.5.5 SWOT analysis 88
7.5.5.6 Business strategies 88
8 Regions: Market Size and Analysis 89
8.1 Overview 89
8.2 North America 90
8.2.1 North America Market, By Countries 90
8.2.2 North America Market, By Base Materials 92
8.2.3 North America Market, By End-users 93
8.3 Europe 95
8.3.1 Europe Market, By Countries 95
8.3.2 Europe Market, By Base Materials 96
8.3.3 Europe Market, By End-users 98
8.4 Asia Pacific 99
8.4.1 Asia Pacific Market, By Countries 99
8.4.2 Asia Pacific Market, By Base Materials 101
8.4.3 Asia Pacific Market, By End-users 102
8.5 Rest of the World 104
8.5.1 Rest of the World, By Regions 104
8.5.2 Rest of the World Market, By Base materials 105
8.5.3 Rest of the World Market, By End-users 107
9 Companies to Watch for 109
9.1 Hitachi Maxell develops magnetic tape cartridge with 50TB capacity 109
9.2 IBM makes tape competitive for cloud storage 109
10 Competitive Landscape 110
10.1 Competitor Comparison Analysis 110
10.2 Market Landscape 111
10.2.1 Mergers, Acquisitions & Joint Ventures 111
10.2.2 Expansion 112
10.2.3 Exhibition & Product Launch 112
10.2.4 Divestment & Divestiture 113
10.2.5 Awards & Recognition 113
11 Expert's Views 114
Annexure 115
Abbreviations

Tables
TABLE 1 GLOBAL MAGNETIC TAPE MARKET VALUE BY BASE MATERIALS, 2015−2022 ($MILLION) 30
TABLE 2 GLOBAL MAGNETIC TAPE MARKET VOLUME BY BASE MATERIALS, 2015−2022 (KILOTONS) 31
TABLE 3 GLOBAL SYNTHETIC RUBBER BASED MAGNETIC TAPE MARKET VALUE BY GEOGRAPHY, 2015−2022 ($MILLION) 32
TABLE 4 GLOBAL SYNTHETIC RUBBER BASED MAGNETIC TAPE MARKET VOLUME BY GEOGRAPHY 2015−2022 (KILOTONS) 32
TABLE 5 GLOBAL PVC BASED MAGNETIC TAPE MARKET VALUE BY GEOGRAPHY, 2015−2022 ($MILLION) 33
TABLE 6 GLOBAL PVC BASED MAGNETIC TAPE MARKET VOLUME BY GEOGRAPHY, 2015−2022 (KILOTONS) 34
TABLE 7 3M: RECENT DEVELOPMENTS 38
TABLE 8 TOSHIBA CORPORATION: PRODUCT PROFILE 42
TABLE 9 TOSHIBA CORPORATION: RECENT DEVELOPMENTS 43
TABLE 10 TDK CORPORATION: RECENT DEVELOPMENTS 48
TABLE 11 HITACHI METALS: PRODUCT PROFILE 53
TABLE 12 HITACHI METALS LTD.: RECENT DEVELOPMENTS 54
TABLE 13 AMPEX: PRODUCT PROFILE 57
TABLE 14 AMPEX: RECENT DEVELOPMENTS 57
TABLE 15 SANBROS ENGINEERING WORKS: PRODUCT PROFILE 61
TABLE 16 SANBROS ENGINEERING WORKS: RECENT DEVELOPMENTS 61
TABLE 17 GLOBAL MAGNETIC TAPE MARKET VALUE BY END-USERS, 2015-2022 ($MILLION) 64
TABLE 18 GLOBAL MAGNETIC TAPE MARKET VOLUME BY END-USERS, 2015-2022 (KILOTONS) 65
TABLE 19 GLOBAL MAGNETIC TAPE MARKET VALUE IN DATA STORAGE BY GEOGRAPHY, 2015-2022 ($MILLION) 66
TABLE 20 GLOBAL MAGNETIC TAPE MARKET VOLUME IN DATA STORAGE BY GEOGRAPHY, 2015-2022 (KILOTONS) 66
TABLE 21 GLOBAL MAGNETIC TAPE MARKET VALUE IN PACKAGING & LABELLING BY GEOGRAPHY, 2015-2022 ($MILLION) 67
TABLE 22 GLOBAL MAGNETIC TAPE MARKET VOLUME IN PACKAGING & LABELLING BY GEOGRAPHY, 2015-2022 (KILOTONS) 68
TABLE 23 GLOBAL MAGNETIC TAPE MARKET VALUE IN CONSUMER APPLIANCES BY GEOGRAPHY, 2015-2022 ($MILLION) 69
TABLE 24 GLOBAL MAGNETIC TAPE MARKET VOLUME IN CONSUMER APPLIANCES BY GEOGRAPHY, 2015-2022 (KILOTONS) 69
TABLE 25 GLOBAL MAGNETIC TAPE MARKET VALUE BY GEOGRAPHY, 2015−2022 ($MILLION) 89
TABLE 26 GLOBAL MAGNETIC TAPE MARKET VOLUME BY GEOGRAPHY, 2015−2022 (KILOTONS) 90
TABLE 27 NORTH AMERICA MAGNETIC TAPE MARKET VALUE BY COUNTRIES, 2015−2022 ($MILLION) 91
TABLE 28 NORTH AMERICA MAGNETIC TAPE MARKET VOLUME BY COUNTRIES, 2015−2022 (KILOTONS) 91
TABLE 29 NORTH AMERICA MAGNETIC TAPE MARKET VALUE BY BASE MATERIALS, 2015−2022 ($MILLION) 92
TABLE 30 NORTH AMERICA MAGNETIC TAPE MARKET VOLUME BY BASE MATERIALS, 2015−2022 (KILOTONS) 93
TABLE 31 NORTH AMERICA MAGNETIC TAPE MARKET VALUE BY END-USERS, 2015−2022 ($MILLION) 94
TABLE 32 NORTH AMERICA MAGNETIC TAPE MARKET VOLUME BY END-USER, 2015−2022 (KILOTONS) 94
TABLE 33 EUROPE MAGNETIC TAPE MARKET VALUE BY COUNTRIES, 2015−2022 ($MILLION) 95
TABLE 34 EUROPE MAGNETIC TAPE MARKET VOLUME BY COUNTRIES, 2015−2022 (KILOTONS) 96
TABLE 35 EUROPE MAGNETIC TAPE MARKET VALUE BY BASE MATERIALS, 2015−2022 ($MILLION) 97
TABLE 36 EUROPE MAGNETIC TAPE MARKET VOLUME BY BASE MATERIALS, 2015−2022 (KILOTONS) 97
TABLE 37 EUROPE MAGNETIC TAPE MARKET VALUE BY END-USERS, 2015−2022 ($MILLION) 98
TABLE 38 EUROPE MAGNETIC TAPE MARKET VOLUME BY END-USERS, 2015−2022 (KILOTONS) 99
TABLE 39 ASIA PACIFIC MAGNETIC TAPE MARKET VALUE BY COUNTRIES, 2015−2022 ($MILLION) 100
TABLE 40 ASIA PACIFIC MAGNETIC TAPE MARKET VOLUME BY COUNTRIES, 2015−2022 (KILOTONS) 100
TABLE 41 ASIA PACIFIC MAGNETIC TAPE MARKET VALUE BY BASE MATERIALS, 2015−2022 ($MILLION) 101
TABLE 42 ASIA PACIFIC MAGNETIC TAPE MARKET VOLUME BY BASE MATERIALS, 2015−2022 (KILOTONS) 102
TABLE 43 ASIA PACIFIC MAGNETIC TAPE MARKET VALUE BY END-USERS, 2015−2022 ($MILLION) 102
TABLE 44 ASIA PACIFIC MAGNETIC TAPE MARKET VOLUME BY END-USERS, 2015−2022 (KILOTONS) 103
TABLE 45 REST OF THE WORLD MAGNETIC TAPE MARKET VALUE BY GEOGRAPHY, 2015−2022 ($MILLION) 104
TABLE 46 REST OF THE WORLD MAGNETIC TAPE MARKET VOLUME BY GEOGRAPHY, 2015−2022 (KILOTONS) 105
TABLE 47 REST OF THE WORLD BASE MATERIALS MARKET VALUE BY BASE MATERIALS, 2015−2022 ($MILLION) 106
TABLE 48 REST OF THE WORLD MAGNETIC TAPE MARKET VOLUME BY BASE MATERIALS, 2015−2022 (KILOTONS) 106
TABLE 49 REST OF THE WORLD MAGNETIC TAPE MARKET VALUE BY END-USERS, 2015−2022 ($MILLION) 107
TABLE 50 REST OF THE WORLD MAGNETIC TAPE MARKET VOLUME BY END-USERS, 2015−2022 (KILOTONS) 108
TABLE 51 MERGERS, ACQUISITIONS & JOINT VENTURES, 2013–2017 111
TABLE 52 EXPANSION, 2013–2016 112
TABLE 53 EXHIBITION & PRODUCT LAUNCH 112
TABLE 54 DIVESTMENT & DIVESTITURE 113
TABLE 55 AWARD & RECOGNITION 113
Charts
CHART 1 RESEARCH METHODOLOGY OF GLOBAL MAGNETIC TAPE MARKET: DATA COLLATION 13
CHART 2 RESEARCH METHODOLOGY OF GLOBAL MAGNETIC TAPE MARKET: MARKET TRIANGULATION 14
CHART 3 RESEARCH METHODOLOGY OF GLOBAL MAGNETIC TAPE MARKET: FORECASTING METHODOLOGY 16
CHART 5 MAGNETIC TAPE MARKET END-USER ANALYSIS: NORTH AMERICA V/S GLOBAL, 2016 (%) 18
CHART 6 TOTAL ADDRESSABLE MARKET (TAM): FLEXIBLE MAGNET 19
CHART 7 VALUE CHAIN: MAGNETIC TAPE MARKET 22
CHART 8 PESTLE ANALYSIS: MAGNETIC TAPE 22
CHART 9 PORTERS' ANALYSIS: MAGNETIC TAPE 24
CHART 10 MAGNETIC TAPE: PATENT ANALYSIS (2012–2017*) 24
CHART 11 MAGNETIC TAPE: PATENT ANALYSIS (2012–2017*) 25
CHART 12 MARKET SEGMENTATION: MAGNETIC TAPE 26
CHART 13 MARKET DYNAMICS: DRIVERS, RESTRAINTS, AND OPPORTUNITIES 27
CHART 14 DRO - IMPACT ANALYSIS OF MAGNETIC TAPE MARKET 29
CHART 15 GLOBAL MAGNETIC TAPE MARKET VALUE BY BASE MATERIALS 2015–2022 ($MILLION) 30
CHART 16 GLOBAL SYNTHETIC RUBBER BASED MAGNETIC TAPE MARKET VALUE BY GEOGRAPHY, 2015−2022 ($MILLION) 31
CHART 17 GLOBAL PVC BASED MAGNETIC TAPE MARKET VALUE BY GEOGRAPHY, 2015−2022 ($MILLION) 33
CHART 18 3M: OVERVIEW SNAPSHOT 35
CHART 19 3M: BUSINESS UNITS 36
CHART 20 3M: GEOGRAPHIC REVENUE 37
CHART 21 3M: SWOT ANALYSIS 39
CHART 22 TOSHIBA CORPORATION: OVERVIEW SNAPSHOT 40
CHART 23 TOSHIBA CORPORATION: BUSINESS UNITS 41
CHART 24 TOSHIBA CORPORATION: GEOGRAPHIC REVENUE 42
CHART 25 TOSHIBA CORPORATION: SWOT ANALYSIS 43
CHART 26 TDK CORPORATION: OVERVIEW SNAPSHOT 46
CHART 27 TDK CORPORATION: BUSINESS UNITS 47
CHART 28 TDK CORPORATION: GEOGRAPHIC REVENUE 47
CHART 29 TDK CORPORATION: SWOT ANALYSIS 49
CHART 30 HITACHI METALS: OVERVIEW SNAPSHOT 51
CHART 31 HITACHI METALS: BUSINESS UNITS 52
CHART 32 HITACHI METALS: GEOGRAPHIC REVENUE 52
CHART 33 HITACHI METALS LTD.: SWOT ANALYSIS 54
CHART 34 AMPEX: OVERVIEW SNAPSHOT 56
CHART 35 AMPEX: SWOT ANALYSIS 58
CHART 36 SANBROS ENGINEERING WORKS.: OVERVIEW SNAPSHOT 60
THE COMPANY IS PRIVATELY HELD, AND FINANCIALS ARE NOT AVAILABLE IN THE PUBLIC DOMAIN. 60
CHART 37 SANBROS ENGINEERING WORKS: SWOT ANALYSIS 61
CHART 38 GLOBAL MAGNETIC TAPE MARKET VALUE BY END-USERS, 2015-2022 ($MILLION) 64
CHART 39 GLOBAL MAGNETIC TAPE MARKET VALUE IN DATA STORAGE BY GEOGRAPHY, 2015-2022 ($MILLION) 65
CHART 40 GLOBAL MAGNETIC TAPE MARKET VALUE IN PACKAGING & LABELLING BY GEOGRAPHY, 2015-2022 ($MILLION) 67
CHART 41 GLOBAL MAGNETIC TAPE MARKET VALUE IN CONSUMER APPLIANCES BY GEOGRAPHY, 2015-2022 ($MILLION) 68
CHART 42 TOYOTA: OVERVIEW SNAPSHOT 70
CHART 43 TOYOTA: BUSINESS UNITS 71
CHART 44 TOYOTA: GEOGRAPHIC REVENUE 71
CHART 45 TOYOTA: SWOT ANALYSIS 72
CHART 46 GE: OVERVIEW SNAPSHOT 74
CHART 47 GE: BUSINESS UNITS 75
CHART 48 GE: GEOGRAPHIC REVENUE 76
CHART 49 GE: SWOT ANALYSIS 78
CHART 50 ECI TELECOM LTD.: OVERVIEW SNAPSHOT 79
CHART 51 ECI TELECOM LTD.: SWOT ANALYSIS 80
CHART 52 KONINKLIJKE PHILIPS N.V.: OVERVIEW SNAPSHOT 81
CHART 53 KONINKLIJKE PHILIPS N.V.: OVERVIEW SNAPSHOT 82
CHART 54 KONINKLIJKE PHILIPS N.V.: OVERVIEW SNAPSHOT 82
CHART 55 KONINKLIJKE PHILIPS N.V.: SWOT ANALYSIS 83
CHART 56 IBM: OVERVIEW SNAPSHOT 85
CHART 57 IBM: OVERVIEW SNAPSHOT 86
CHART 58 IBM: OVERVIEW SNAPSHOT 87
CHART 59 IBM: SWOT ANALYSIS 88
CHART 60 GLOBAL MAGNETIC TAPE MARKET VALUE BY GEOGRAPHY, 2015−2022 ($MILLION) 89
CHART 61 NORTH AMERICA MAGNETIC TAPE MARKET VALUE BY COUNTRIES, 2015−2022 ($MILLION) 90
CHART 62 NORTH AMERICA MAGNETIC TAPE MARKET VALUE BY BASE MATERIALS 2015−2022 ($MILLION) 92
CHART 63 NORTH AMERICA MAGNETIC TAPE MARKET VALUE BY END-USERS, 2015−2022 ($MILLION) 93
CHART 64 EUROPE MAGNETIC TAPE MARKET VALUE BY COUNTRIES, 2015−2022 ($MILLION) 95
CHART 65 EUROPE MAGNETIC TAPE MARKET VALUE BY BASE MATERIALS, 2015−2022 ($MILLION) 96
CHART 66 EUROPE MAGNETIC TAPE MARKET VALUE BY END-USERS, 2015−2022 ($MILLION) 98
CHART 67 ASIA PACIFIC MAGNETIC TAPE MARKET VALUE BY COUNTRY, 2015−2022 ($MILLION) 99
CHART 68 ASIA PACIFIC MAGNETIC TAPE MARKET VALUE BY BASE MATERIALS, 2015−2022 ($MILLION) 101
CHART 69 ASIA PACIFIC MAGNETIC TAPE MARKET VALUE BY END-USERS, 2015−2022 ($MILLION) 102
CHART 70 REST OF THE WORLD MAGNETIC TAPE MARKET VALUE BY GEOGRAPHY, 2015−2022 ($MILLION) 104
CHART 71 REST OF THE WORLD MAGNETIC TAPE MARKET VALUE BY BASE MATERIALS, 2015−2022 ($MILLION) 105
CHART 72 REST OF THE WORLD MAGNETIC TAPE MARKET VALUE BY END-USER, 2015−2022 ($MILLION) 107
CHART 73 COMPETITIVE LANDSCAPE: GEOGRAPHIC EXPOSURE 110
CHART 74 MARKET LANDSCAPE: MARKET ACTIVITIES 111
3M, Toshiba Corporation, TDK Corporation, Hitachi Metals Ltd.,