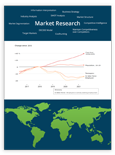 Supercapacitor Materials Market by Type (Activated Charcoal, Carbon Derivatives, Metal Oxides, Conductive Polymers and Others), By End Users (Consumer electronics, Transportation, Industrial and Others) and By Geography – Global Driver, Restraints, Opportunities, Trends, and Forecast to 2023
ID: 1242

June 8, 2018

121 pages

Infoholic Research
Supercapacitor Materials Market – Global Drivers, Restraints, Opportunities, Trends, and Forecasts up to 2023
The materials used in supercapacitors energy devices are the advanced engineered materials used for supercapacitor energy storage devices. These unique types of materials increase the power density of the energy storage devices and may partially replace the battery options in another 5–10 years. The increased demand for electric vehicles and power generation from wind turbines need supercapacitors to be placed to optimize their power density requirements. The market according to the material type used is divided into activated charcoal, carbon derivatives, metal oxides, conductive polymers, and others. The main application areas of supercapacitor materials covered in the study are consumer electronics, industrial, and transportation sectors.
The consumption of supercapacitor materials mostly comes from transportation and consumer electronics segments due to better adoption rate in the industry. Further, R&D in material enhancement for more power capacity effectiveness is expected to boost the growth in the next 5 years. Globally, the demand for supercapacitor materials is high in economically developing countries, whereas the developed regions are moving toward saturation.
The regional demand for supercapacitor materials is growing, especially in Asia Pacific and European regions. This growth is supported by the increasing awareness about sustainable power sources and high consumption of energy in these regions. Currently, Asia Pacific is the global leader in the supercapacitor materials market from the demand side. The European region has strict policies for the non-toxic materials consumption, providing the maximum usage of high-quality supercapacitor materials. From the supplier side, Asia Pacific is leading the market, followed by Europe. Developing and underdeveloped markets, such as Middle East, are also witnessing capital investments for R&D and product development of materials for supercapacitors, which is increasing the regional competition.
The study of the supercapacitor materials market by Infoholic Research provides the market size information and market trends along with factors and parameters impacting it in both short- and long-term. The study ensures a 360° view, bringing out the key insights of the industry. These insights help the business decision-makers to formulate better business plans and take informed decisions for improved profitability. In addition, the study helps venture capitalists in understanding the companies better and take informed decisions. The key players in the supercapacitor materials market are BASF, Arkema, Hitachi Chemicals, etc.
According to Infoholic Research, the global supercapacitor material market is expected to grow at a CAGR of 19.3% during the forecast period and reach $2.2 billion by 2023. Asia Pacific has the fastest growth rate and is likely to move toward greater adoption of advanced supercapacitor materials technology, which will directly boost the consumption value, majorly from China, Japan, and South Korea.
Report Scope:
By Material Type
• Activated Carbon
• Carbon Derivatives
• Metal Oxides
• Conductive Polymers
• Others
By End-users
• Consumer Electronics
• Industrial
• Transportation
• Others
Regions
• Asia Pacific
• North America
• Europe
• ROW
Industry outlook: Market trends, drivers, restraints, and opportunities

Table of Contents
1 Report Outline 14
1.1 Introduction 14
1.2 Report Scope 15
1.3 Market Definition 15
1.4 Research Methodology 15
1.4.1 Data Collation & In-house Estimation 16
1.4.2 Market Triangulation 16
1.4.3 Forecasting 17
1.5 Study Declarations 18
1.6 Report Assumptions 18
1.7 Stakeholders 19
2 Executive Summary 20
2.1 Asia Pacific Has Highest Growth Rate in the Supercapacitor material Market 20
2.2 Transportation segment has the highest market share by revenue and is growing exponentially in the forecast period 21
3 Market Positioning 22
3.1 Total Addressable Market: Global Supercapacitor Market 22
3.1.1 Market Overview 22
3.1.2 Major Trends 22
3.2 Segmented Addressable Market 23
3.3 Related Markets 23
4 Market Outlook 25
4.1 Overview 25
4.2 Value Chain Analysis 26
4.3 PESTLE Analysis 26
4.4 Porter 5 (Five) Forces 28
4.5 Patent Analysis 28
5 Market Characteristics 30
5.1 Market Segmentation 30
5.2 Market Dynamics 31
5.2.1 Drivers 31
5.2.1.1 Growing demand for end-use application 31
5.2.1.2 Decreasing conventional energy sources with rise in non-conventional alternatives 32
5.2.2 Restraints 32
5.2.2.1 High price of the material 32
5.2.2.2 Difficulties in laboratory scaling up operations for mass production 32
5.2.3 Opportunities 32
5.2.3.1 Technological development in the products 32
5.2.3.2 Large untapped market in developing and underdeveloped countries 33
5.2.4 DRO – Impact Analysis 33
6 By Material Type: Market Size and Analysis 34
6.1 Overview 34
6.2 Activated Carbon 35
6.3 Carbon Derivatives 37
6.4 Metal Oxides 39
6.5 Conductive Polymers 40
6.6 Vendor Profiles 42
6.6.1 BASF SE 42
6.6.2 Targray Technology International Inc. 48
6.6.3 NEI Corporation 53
6.6.4 Hitachi Chemicals Ltd. 57
6.6.5 ARKEMA 62
(Overview, business units, geographic revenues, product profile, recent developments, business focus, SWOT analysis, and business strategies have been covered for all vendors)
7 End-user: Market Size and Analysis 68
7.1 Overview 68
7.2 Consumer Electronics 69
7.3 Transportation 71
7.4 Industrial 72
7.5 Customer Profile 75
7.5.1 Tesla, Inc. 75
7.5.2 Toyota Motor Corporation 79
7.5.3 General Electric (GE) 82
7.5.4 Toshiba Corporation 88
7.5.5 TDK Corporation 93
(Overview, business units, geographic revenues, product profile, business focus, SWOT analysis, and business strategies have been covered for all customers)
8 Regions: Market Size and Analysis 97
8.1 Overview 97
8.2 Asia Pacific 99
8.3 North America 103
8.4 Europe 109
8.5 Rest of the World 115
8.5.1 Rest of the World Market by Regions 115
8.5.2 Rest of the World Market by Material Type 116
8.5.3 Rest of the World Market by Applications 118
(Market segmentation by countries, material type, and application have been covered for all regions)
9 Companies to watch for 120
9.1 BASF 120
9.1.1 Overview 120
9.1.2 BASF enters market for advanced carbon materials with acquisition of EnerG2 120
9.2 First Graphene opens up 120
9.2.1 Overview 120
10 Competitive Landscape 121
10.1 Competitor Comparison Analysis 121
10.2 Market Landscape 121
10.2.1 Mergers, Acquisitions, & Joint Ventures 122
10.2.2 Expansion 123
10.2.3 Exhibition & Product Launch 124
10.2.4 Divestment & divestiture 124
10.2.5 Awards & Recognition 124
10.2.6 Agreement & Partnership 125
11 Expert's Views 126
12 Annexure 127
Abbreviations 127
 

Tables
TABLE 1 GLOBAL SUPERCAPACITOR MATERIAL MARKET REVENUE BY TECHNOLOGY, 2016-2023 ($MILLION) 34
TABLE 2 GLOBAL SUPERCAPACITOR MATERIAL MARKET VOLUME BY TYPE, 2016-2023 (KILOTONS) 35
TABLE 3 GLOBAL ACTIVATED CARBON OF SUPERCAPACITOR MATERIAL MARKET REVENUE, BY GEOGRAPHY, 2016-2023 ($MILLION) 36
TABLE 4 GLOBAL ACTIVATED CARBON OF SUPERCAPACITOR MATERIAL MARKET VOLUME, BY GEOGRAPHY, 2016-2023 (KILOTONS) 37
TABLE 5 GLOBAL CARBON DERIVATIVES OF SUPERCAPACITOR MATERIAL MARKET REVENUE, BY GEOGRAPHY, 2016-2023 ($MILLION) 38
TABLE 6 GLOBAL CARBON DERIVATIVES OF SUPERCAPACITOR MATERIAL MARKET VOLUME, BY GEOGRAPHY, 2016-2023 (KILOTONS) 38
TABLE 7 GLOBAL METAL OXIDES OF SUPERCAPACITOR MATERIAL MARKET REVENUE, BY GEOGRAPHY, 2016-2023 ($MILLION) 39
TABLE 8 GLOBAL METAL OXIDES OF SUPERCAPACITOR MATERIAL MARKET VOLUME, BY GEOGRAPHY, 2016-2023 (KILOTONS) 40
TABLE 9 GLOBAL CONDUCTIVE POLYMERS OF SUPERCAPACITOR MATERIAL MARKET REVENUE, BY GEOGRAPHY, 2016-2023 ($MILLION) 40
TABLE 10 GLOBAL CONDUCTIVE POLYMERS OF SUPERCAPACITOR MATERIAL MARKET VOLUME, BY GEOGRAPHY, 2016-2023 (KILOTONS) 41
TABLE 11 BASF SE: PRODUCT PROFILE 45
TABLE 12 BASF SE: RECENT DEVELOPMENTS 45
TABLE 13 TARGRAY: PRODUCT PROFILE 50
TABLE 14 TARGRAY: RECENT DEVELOPMENTS 50
TABLE 15 NEI CORPORATION: PRODUCT PROFILE 54
TABLE 16 NEI CORPORATION: RECENT DEVELOPMENTS 54
TABLE 17 HITACHI CHEMICALS: PRODUCT PROFILE 59
TABLE 18 HITACHI CHEMICALS: RECENT DEVELOPMENTS 59
TABLE 19 ARKEMA: PRODUCT PROFILE 64
TABLE 20 ARKEMA: RECENT DEVELOPMENTS 64
TABLE 21 GLOBAL SUPERCAPACITOR MATERIAL MARKET REVENUE BY END-USER, 2016-2023 ($MILLION) 68
TABLE 22 GLOBAL SUPERCAPACITOR MATERIAL MARKET VOLUME BY APPLICATIONS, 2016-2023 (KILOTONS) 69
TABLE 23 GLOBAL SUPERCAPACITOR MATERIAL IN CONSUMER ELECTRONICS MARKET REVENUE, BY GEOGRAPHY, 2016-2023 ($MILLION) 70
TABLE 24 GLOBAL SUPERCAPACITOR MATERIAL IN CONSUMER ELECTRONICS MARKET VOLUME, BY GEOGRAPHY, 2016-2023 (KILOTONS) 70
TABLE 25 GLOBAL SUPERCAPACITOR MATERIAL IN TRANSPORTATION MARKET REVENUE, BY GEOGRAPHY, 2016-2023 ($MILLION) 71
TABLE 26 GLOBAL SUPERCAPACITOR MATERIAL IN TRANSPORTATION MARKET VOLUME, BY GEOGRAPHY, 2016-2023 (KILOTONS) 72
TABLE 27 GLOBAL SUPERCAPACITOR MATERIAL IN INDUSTRIAL MARKET REVENUE, BY GEOGRAPHY, 2016-2023 ($MILLION) 73
TABLE 28 GLOBAL SUPERCAPACITOR MATERIAL IN INDUSTRIAL MARKET VOLUME, BY GEOGRAPHY, 2016-2023 (KILOTONS) 74
TABLE 29 TOYOTA: PRODUCT PROFILE 81
TABLE 30 TOSHIBA CORPORATION: RECENT DEVELOPMENTS 90
TABLE 31 TOYOTA CORPORATION: RECENT DEVELOPMENTS 91
TABLE 32 TDK CORPORATION: PRODUCT PROFILE 95
TABLE 33 GLOBAL SUPERCAPACITOR MATERIAL MARKET VALUE, BY GEOGRAPHY, 2016−2023 ($MILLION) 97
TABLE 34 GLOBAL SUPERCAPACITOR MATERIAL MARKET VOLUME, BY GEOGRAPHY, 2016−2023 (KILOTONS) 98
TABLE 35 ASIA PACIFIC SUPERCAPACITORS MATERIALS VALUE, BY COUNTRY, 2016−2023 ($MILLION) 99
TABLE 36 ASIA PACIFIC SUPERCAPACITOR MATERIAL MARKET VOLUME, BY COUNTRY, 2016−2023 (KILOTONS) 100
TABLE 37 ASIA PACIFIC SUPERCAPACITOR MATERIAL MARKET VALUE, BY TYPE, 2016−2023 ($MILLION) 101
TABLE 38 ASIA PACIFIC SUPERCAPACITOR MATERIAL MARKET VOLUME, BY TYPE, 2016−2023 (KILOTONS) 101
TABLE 39 ASIA PACIFIC SUPERCAPACITOR MATERIAL MARKET VALUE, BY APPLICATIONS, 2016−2023 ($MILLION) 102
TABLE 40 ASIA PACIFIC SUPERCAPACITOR MATERIAL MARKET VOLUME, BY APPLICATIONS, 2016−2023 (KILOTONS) 103
TABLE 41 NORTH AMERICA SUPERCAPACITOR MATERIAL MARKET VALUE, BY COUNTRY, 2016−2023 ($MILLION) 104
TABLE 42 NORTH AMERICA SUPERCAPACITOR MATERIAL MARKET VOLUME, BY COUNTRY, 2016−2023 (KILOTONS) 105
TABLE 43 NORTH AMERICA SUPERCAPACITOR MATERIAL MARKET VALUE, BY TECHNOLOGY, 2016−2023 ($MILLION) 106
TABLE 44 NORTH AMERICA SUPERCAPACITOR MATERIAL SEALANT MARKET VOLUME, BY TECHNOLOGY, 2016−2023 (KILOTONS) 106
TABLE 45 NORTH AMERICA SUPERCAPACITOR MATERIAL MARKET VALUE, BY END-USER, 2016−2023 ($MILLION) 107
TABLE 46 NORTH AMERICA SUPERCAPACITOR MATERIAL MARKET VOLUME, BY APPLICATIONS, 2016−2023 (KILOTONS) 108
TABLE 47 EUROPE SUPERCAPACITOR MATERIAL MARKET VALUE, BY COUNTRY, 2016−2023 ($MILLION) 109
TABLE 48 EUROPE SUPERCAPACITOR MATERIAL MARKET VOLUME, BY COUNTRY, 2016−2023 110
TABLE 49 EUROPE SUPERCAPACITOR MATERIAL MARKET VALUE, BY TECHNOLOGY, 2016−2023 ($MILLION) 111
TABLE 50 EUROPE SUPERCAPACITOR MATERIAL MARKET VOLUME, BY TECHNOLOGY, 2016−2023 (KILOTONS) 112
TABLE 51 EUROPE SUPERCAPACITOR MATERIAL MARKET VALUE, BY END-USER, 2016−2023 ($MILLION) 113
TABLE 52 EUROPE SUPERCAPACITOR MATERIAL MARKET VOLUME, BY APPLICATIONS, 2016−2023 (KILOTONS) 114
TABLE 53 REST OF THE WORLD SUPERCAPACITOR MATERIAL MARKET VALUE, BY GEOGRAPHY, 2016−2023 ($MILLION) 116
TABLE 54 REST OF THE WORLD SUPERCAPACITOR MATERIAL MARKET VOLUME, BY GEOGRAPHY, 2015−2022 (KILOTONS) 116
TABLE 55 REST OF THE WORLD SUPERCAPACITOR MATERIAL MARKET VALUE, BY TECHNOLOGY, 2016−2023 ($MILLION) 117
TABLE 56 REST OF THE WORLD SUPERCAPACITOR MATERIAL MARKET VOLUME, BY TECHNOLOGY, 2016−2023 (KILOTONS) 118
TABLE 57 REST OF THE WORLD SUPERCAPACITOR MATERIAL MARKET VALUE, BY APPLICATIONS, 2016−2023 ($MILLION) 119
TABLE 58 REST OF THE WORLD SUPERCAPACITOR MATERIAL MARKET VOLUME, BY APPLICATIONS, 2016−2023 (KILOTONS) 119
TABLE 59 MERGERS, ACQUISITIONS, & JOINT VENTURES 122
TABLE 60 EXPANSION 123
TABLE 61 EXHIBITION & PRODUCT LAUNCH 124
TABLE 62 DIVESTMENT & DIVESTITURE 124
TABLE 63 AWARDS & RECOGNITION 124
TABLE 64 AGREEMENT & PARTNERSHIP 125
Charts
CHART 1 RESEARCH METHODOLOGY OF SUPERCAPACITOR MATERIAL MARKET: DATA COLLATION 16
CHART 2 RESEARCH METHODOLOGY OF GLOBAL SUPERCAPACITOR MATERIAL MARKET: TRIANGULATION 17
CHART 3 RESEARCH METHODOLOGY OF GLOBAL SUPERCAPACITOR MATERIAL MARKET: FORECASTING 18
CHART 4 GLOBAL SUPERCAPACITOR MATERIAL MARKET: REGIONAL ANALYSIS (2017 - 2023) 20
CHART 5 GLOBAL SUPERCAPACITOR MATERIAL APPLICATION MARKET 2017-2023 21
CHART 6 TOTAL ADDRESSABLE MARKET (TAM): GLOBAL SUPERCAPACITOR MARKET 22
CHART 7 VALUE CHAIN: SUPERCAPACITOR MATERIAL MARKET 26
CHART 8 PESTLE ANALYSIS: SUPERCAPACITOR MATERIAL MARKET 26
CHART 9 PORTER 5 FORCES ANALYSIS: SUPERCAPACITOR MATERIAL MARKET 28
CHART 10 SUPERCAPACITOR MATERIAL: PATENT ANALYSIS (2013–2018*) 29
CHART 11 SUPERCAPACITOR MATERIAL: PATENT ANALYSIS, BY REGION (2013–2018) 29
CHART 12 MARKET SEGMENTATION: SUPERCAPACITOR MATERIAL 30
CHART 13 MARKET DYNAMICS – DRIVERS, RESTRAINTS, AND OPPORTUNITIES 31
CHART 14 DRO - IMPACT ANALYSIS: SUPERCAPACITOR MATERIAL MARKET 33
CHART 15 GLOBAL SUPERCAPACITOR MATERIAL MARKET REVENUE BY TTECHNOLOGY, 2016-2023 ($MILLION) 34
CHART 16 GLOBAL ACTIVATED CARBON OF SUPERCAPACITOR MATERIAL MARKET REVENUE, BY GEOGRAPHY, 2016-2023 ($MILLION) 35
CHART 17 GLOBAL CARBON DERIVATIVES OF SUPERCAPACITOR MATERIAL MARKET REVENUE, 2016-2023 ($MILLION) 37
CHART 18 GLOBAL METAL OXIDES OF SUPERCAPACITOR MATERIAL MARKET REVENUE, 2016-2023 ($MILLION) 39
CHART 19 GLOBAL CONDUCTIVE POLYMERS OF SUPERCAPACITOR MATERIAL MARKET REVENUE, 2016-2023 ($MILLION) 40
CHART 20 BASF SE: OVERVIEW SNAPSHOT 42
CHART 21 BASF SE: BUSINESS UNITS 43
CHART 22 BASF SE: GEOGRAPHIC REVENUE 44
CHART 23 BASF SE: SWOT ANALYSIS 46
CHART 24 TARGRAY: OVERVIEW SNAPSHOT 48
CHART 25 TARGRAY: SWOT ANALYSIS 50
CHART 26 NEI CORPORATION: OVERVIEW SNAPSHOT 53
CHART 27 NEI CORPORATION: SWOT ANALYSIS 55
CHART 28 HITACHI CHEMICALS: OVERVIEW SNAPSHOT 57
CHART 29 HITACHI CHEMICALS: BUSINESS UNITS 57
CHART 30 HITACHI CHEMICALS: GEOGRAPHIC REVENUE 58
CHART 31 HITACHI CHEMICALS: SWOT ANALYSIS 60
CHART 32 ARKEMA: OVERVIEW SNAPSHOT 62
CHART 33 ARKEMA: BUSINESS UNITS 62
CHART 34 ARKEMA: GEOGRAPHIC REVENUE 63
CHART 35 ARKEMA: SWOT ANALYSIS 65
CHART 36 GLOBAL SUPERCAPACITOR MATERIAL MARKET REVENUE BY APPLICATIONS, 2016-2023 ($MILLION) 68
CHART 37 GLOBAL SUPERCAPACITOR MATERIAL IN CONSUMER ELECTRONICS MARKET REVENUE BY END-USER, 2016-2023 ($MILLION) 69
CHART 38 GLOBAL SUPERCAPACITOR MATERIAL IN TRANSPORTATION MARKET REVENUE BY GEOGRAPHY, 2016-2023 ($MILLION) 71
CHART 39 GLOBAL SUPERCAPACITOR MATERIAL IN INDUSTRIAL MARKET REVENUE, BY GEOGRAPHY, 2016-2023 ($MILLION) 72
CHART 40 TESLA: OVERVIEW SNAPSHOT 75
CHART 41 TESLA: BUSINESS UNITS 76
CHART 42 TESLA: GEOGRAPHIC REVENUE 77
CHART 43 TESLA: SWOT ANALYSIS 77
CHART 44 TOYOTA: OVERVIEW SNAPSHOT 79
CHART 45 TOYOTA: BUSINESS ACTIVITIES 79
CHART 46 TOYOTA: GEOGRAPHIC REVENUE 80
CHART 47 TOYOTA: SWOT ANALYSIS 82
CHART 48 GE: OVERVIEW SNAPSHOT 83
CHART 49 GE: BUSINESS UNITS 84
CHART 50 GE: GEOGRAPHIC REVENUE 85
CHART 51 GE: SWOT ANALYSIS 87
CHART 52 TOSHIBA CORPORATION: OVERVIEW 88
CHART 53 TOSHIBA CORPORATION: BUSINESS UNITS 89
CHART 54 TOSHIBA CORPORATION: GEOGRAPHIC REVENUE 89
CHART 55 TOSHIBA CORPORATION: SWOT ANALYSIS 91
CHART 56 TDK CORPORATION: OVERVIEW SNAPSHOT 93
CHART 57 TDK CORPORATION: OVERVIEW SNAPSHOT 94
CHART 58 TDK CORPORATION: GEOGRAPHIC REVENUE 94
CHART 59 TDK CORPORATION: SWOT ANALYSIS 96
CHART 60 GLOBAL SUPERCAPACITOR MATERIAL MARKET VALUE, BY GEOGRAPHY, 2016−2023 ($MILLION) 97
CHART 61 ASIA PACIFIC SUPERCAPACITOR MATERIAL MARKET VALUE, BY COUNTRY, 2016−2023 ($MILLION) 99
CHART 62 ASIA PACIFIC SUPERCAPACITOR MATERIAL MARKET VALUE, BY MATERIAL TYPE, 2016−2023 ($MILLION) 100
CHART 63 ASIA PACIFIC SUPERCAPACITOR MATERIAL MARKET VALUE, BY APPLICATIONS, 2016−2023 ($MILLION) 102
CHART 64 NORTH AMERICA SUPERCAPACITOR MATERIAL MARKET VALUE, BY COUNTRY, 2016−2023 ($MILLION) 103
CHART 65 NORTH AMERICA SUPERCAPACITOR MATERIAL MARKET VALUE, BY TYPE, 2016−2023 ($MILLION) 105
CHART 66 NORTH AMERICA SUPERCAPACITOR MATERIAL MARKET VALUE, BY APPLICATIONS, 2016−2023 ($MILLION) 107
CHART 67 EUROPE SUPERCAPACITOR MATERIAL MARKET VALUE, BY COUNTRY, 2016−2023 ($MILLION) 109
CHART 68 EUROPE SUPERCAPACITOR MATERIAL MARKET VALUE, BY TECHNOLOGY, 2016−2023 ($MILLION) 110
CHART 69 EUROPE SUPERCAPACITOR MATERIAL MARKET VALUE, BY APPLICATIONS, 2016−2023 ($MILLION) 113
CHART 70 REST OF THE WORLD SUPERCAPACITOR MATERIAL MARKET VALUE, BY GEOGRAPHY, 2016−2023 ($MILLION) 115
CHART 71 REST OF THE WORLD SUPERCAPACITOR MATERIAL MARKET VALUE, BY TECHNOLOGY, 2016−2023 ($MILLION) 116
CHART 72 REST OF THE WORLD SUPERCAPACITOR MATERIAL MARKET VALUE, BY APPLICATIONS, 2016−2023 ($MILLION) 118
CHART 73 COMPETITIVE LANDSCAPE: GEOGRAPHIC EXPOSURE 121
CHART 74 MARKET LANDSCAPE: MARKET ACTIVITIES 121
BASF, Arkema, Hitachi Chemicals, etc